George Santayana, poet and philosopher, advised that, "Those who cannot remember the past are doomed to repeat it." And who better to take advice from in December than a guy with "Santa" in his name? Then again, there are parts of 2008 that we'd probably like to forget, as well as some we'd like to repeat.
Standouts for this nearly ended year are the election of the first African-American president on the up side, and a disturbing string of homophobic attacks in the District on the other. The economy is tanking, but D.C. is enjoying new post-election cachet.
With any luck, you'll have some time off before we start off a whole new year Jan. 1, 2009, to sit back and take a gander at the year that was. Metro Weekly is happy to sit with you and remind you of what we saw during 2008, from warts to wonderful. And whether it was good or bad, with Metro Weekly's first full year of glossy covers, at least it all looked a little bit sharper.
JANUARY
IN AN EERILY prescient placement, Metro Weekly began the year with Michael Roike serving as cover model, Jan. 3, 2008. Little did anyone know at the time that, of the multiple hate crimes to plague D.C.'s GLBT community in the months to come, his would be one of them, come August.
That attack was preceded, however, by one at the HRC Corner Store and Action Center. On Jan. 18, the clerk at that Dupont-area store was bound and pistol-whipped, with his assailant making off with about $400. Meanwhile, homophobic graffiti was discovered in a Metropolitan Police Department (MPD) bathroom Jan. 31 — Fifth District, to be exact.
"We have come too far this past year building trust within the department, and within the community, to allow a hateful member to set us back," said MPD Chief Cathy Lanier.
On the political front, members for the GLBT Gertrude Stein Democratic Club ended the group's Jan. 14 meeting with no presidential endorsement, which would have required support of 60 percent of the vote, though Sen. Hillary Clinton ended ahead with 51 percent to Sen. Barack Obama's 41 percent.
On Jan. 10, Whitman-Walker Clinic announced sweeping changes, to include laying-off more than 10 percent of clinic staff.
Maryland's GLBT community lost a strong ally when state Sen. Gwendolyn T. Britt (D-Prince George's Co.) died suddenly Jan. 12. Two days later, Jan. 14, E. Denise Simmons was sworn in as the first openly lesbian, African-American mayor, serving Cambridge, Mass.
January ended with a bang: the Appellate Division of New York's State Supreme Court ruled Jan. 31 that the state must recognize same-sex marriages performed elsewhere, while on the same day Metro Weekly debuted its "Domestic Partner" section. Only time will tell which was of greater gravity.
FEBRUARY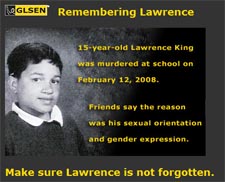 GLSEN's website featuring Lawrence King
AN ANTI-GAY hate crime on the other side of the country grabbed national attention. On Feb. 12, openly gay Lawrence King, 15, of Oxnard, Calif., was shot to death in his classroom. About 150 gathered in Dupont Circle Feb. 25 for a vigil, as did countless mourners around the country.
Later in the month, Feb. 24, it was time for the gay Super Bowl: Oscar night. Green Lantern saw the biggest party, The Center's third annual "Glamour, Glitter and Gold" event, while Freeheld, the heartbreaking yet uplifting story of lesbian police Lt. Laurel Hester, won the Oscar for best documentary short subject. And comic Jimmy Kimmel used his post-Oscars show to counter his girlfriend Sarah Silverman's music-video confession of infidelity,"I'm Fucking Matt Damon," with his own, "I'm Fucking Ben Affleck."
In nightlife news, the city ordered Club Chaos to honor its liquor license restrictions and end all entertainment, Apex celebrated its 25th anniversary, Dyke Night at the D.C. Eagle marked five years, and methamphetamine-distribution charges against DJ Rob Harris — a local gay favorite — were dismissed entirely. "I hope that no one is falsely accused like I was and has to go through what I did the past few months," Harris said at the time. "I was fortunate enough to have people who believed in me despite so many people jumping to conclusions and declaring me guilty without the benefit or knowledge of the facts."
Over at the notoriously homophobic Washington Times, the editorial department decided to make some style changes: "Homosexuals" were allowed to finally be "gay," and no more panic quotes around "marriage" when between spouses of the same sex.
MARCH
IT'S NOT CERTAIN exactly when Chaos closed — resulting from the city's crackdown on the venue's drag shows and dancing — but by the beginning of March, the lights were off. The 1409 Playbill Café, meanwhile, celebrated 10 years in business, and Freddie's Beach Bar celebrated seven over in Crystal City.
Along with flowers, March also sprouted plenty of schisms. Chocolate City Fest popped up as a direct competitor to D.C. Black Pride's Memorial Day Weekend celebration; and members of the D.C. Trans Coalition began meeting with officials from the Department of Corrections regarding complaints about the treatment of transgender and gender-variant inmates.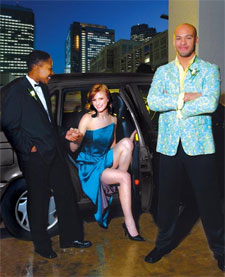 Preparing for the Queer Prom
On March 7, bullets broke windows at the Metropolitan Community Church of Washington, D.C., while about 20 people were in the Shaw-neighborhood church for Lenten study. "I'd like to think that it's not targeted at us because of us being a predominantly gay and lesbian congregation," MCC-DC's Rev. Mark Byrd said. "But we're also not naïve. We live in a realistic world."
Later in the month, D.C. Public Schools released data showing high school students who identified as gay, lesbian or bisexual were four times as likely to attempt suicide as their straight-identified peers.
In more pleasant news, GLBT locals got the chance to recast high-school memories with the second annual Capital Queer Prom on March 8; Whitman-Walker Clinic announced March 11 that it had selected the Capital Pride Alliance to assume ownership of the Capital Pride Festival; and March 30 saw D.C.'s first Stonewall Seder.
Turning attention to a number of years before 2008, Butch Merritt told Metro Weekly his stories of living in D.C. in the 1960s and '70s as an informant on the gay community, as well as his foreknowledge of the Watergate break-in for the March 13 cover story, "Inside Man."
APRIL
APRIL PROVED TO be perhaps the most diverse month on D.C.'s 2008 calendar, bringing to Washington homophobic Pope Benedict XVI, Perez "Queen of all Media" Hilton, and the legendary tennis titan and lesbian Billie Jean King. But only one could grace the cover of Metro Weekly. That honor went to Hilton, who gave the pope a run for his supposedly benevolent money: "I think that my Web site entertains people, so on a very basic level I think that I'm making the world a better place."
King was here making the world a sportier place, announcing the formation of the Washington Kastles, D.C.'s very own pro team in the World Team Tennis league, which she founded in 1974.
April 26 marked Scott Barker's final performance with D.C. Different Drummers Capitol Pride Symphonic Band after a decade as artistic director, while the Helen Hayes Awards on April 28 added a category honoring a deceased local gay man and theater enthusiast — the John Aniello Award for Outstanding Emerging Theatre.
The D.C.-based National Black Justice Coalition got electrified in Baltimore late in the month for the organization's "Power of Us" conference, including the Third Annual Black Church Summit, at the Ebenezer A.M.E. Church. "It was the first African-American church in the area. We were welcomed by members of that congregation who attended that service," said H. Alexander Robinson, CEO of NBJC. "That was definitely an inspiration to me."
MAY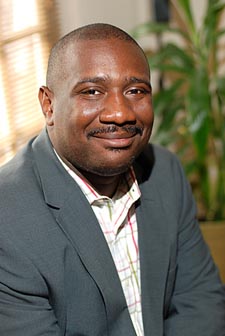 Lawrence Webb
MAY 6 MARKED a historic first: Lawrence Webb's election to the Falls Church City Council, making him the first openly gay African American elected to office in Virginia.
History was made again on May 15, when the California Supreme Court ended marriage discrimination, perhaps thanks to bisexual MTV maven Tila Tequila, who told Us Magazine, "It is because of me — I definitely think [my show] has helped the movement…. Before it came out, everyone was still a little apprehensive about [same-sex relationships]…. The next thing you know, [gay marriage] is legal."
On May 1, the Alliance for a Safe & Diverse D.C. released survey data in which transgender people, among others, said they were disproportionately mistreated by police. Acting Lt. Brett Parson, the gay commander of the Washington Metropolitan Police Department's community-liaison units, attended the press conference, reporting that he hand-delivered the report to Chief Lanier.
Parson's peers landed in Washington May 10 to 12 for the 12th Annual LEGAL (Law Enforcement, Gays and Lesbians) International Conference of GLBT Criminal Justice Professionals, including Fabrizio Chiazza, an Italain motorcycle cop voted "sexiest man on earth" by European users of the Internet service, Gaydar.UK.
But May was more about the kids than the cops, with the 12th Annual Youth Pride Day festival on May 3. On the 18th, Brian Watson of Transgender Health Empowerment announced that his group would soon be opening the Wanda Alston House, D.C.'s first transitional home specifically for GLBT youth and one of only a very small handful around the country.
D.C. got more pride at the end of May with D.C. Black Pride's 18th festival, "Empowered and Poppin'." "Take the energy, excitement, and empowerment of the weekend back to your communities," wrote then-D.C. Black Pride President Courtney Snowden in her welcome letter. "Make it official — let the world know that you are perfect just the way you are!"
On the nightlife front, south Dupont's Club Five — venue for some after-hours gay parties — came to an abrupt end with a city-mandated closing. But when God closes a door, she brings back Lizard Lounge, which ended a two-year hiatus May 4, returning as D.C.'s big, gay, Sunday-night party. Promoter Mark Lee closed Lizard after D.C.'s smoking ban went into effect, but his newfound venue, Lima, allowed for lighting up. Annie's Upstairs, a glamorous, trendy new space for the 17th Street stalwart, opened May 22.
Finally, Allen Carroll announced plans to reopen legendary drag showbar Ziegfeld's/Secrets — shuttered in 2006 to make room for the National's Stadium — at 1824 Half St. SW, a location that, in the '70s, was home to a major gay dance club known as The Pier. Rumors abound that Ziegfeld's will be open before year's end — or at least shortly thereafter.
JUNE
PERHAPS THE GAYEST month of the year, June marked Capital Pride — but also D.C. Leather Pride, Trans Pride and D.C. Latino Pride. And rather than pink, the 2008 Capital Pride Festival went green, thanks to "Recycle with Pride," an effort from Burgundy Crescent Volunteers to help manage all that trash generated by the massive affair.
On the heels of a May 17 "Out for Obama" garden party in D.C., June saw the political season getting in gear. On June 3, Barack Obama became the presumptive Democratic nominee for president. On June 26, his wife, Michelle Obama, sweetened the deal, telling her audience at a Manhattan fundraiser for the Democratic National Committee's Gay and Lesbian Leadership Council, "We are all only here because of those who marched and bled and died, from Selma to Stonewall."
Sweet was followed with bitter, when on June 29 the Mormon church kicked off its push for California's Proposition 8 in a letter to members across the country that read in part, "We ask that you do all you can to support the proposed constitutional amendment by donating of your means and time to ensure that marriage in California is legally defined as being between a man and a woman."
The friction between the transgender community and the Department of Corrections continued in June with trans activist Jeri Hughes filing an official complaint against the DOC.
Whitman-Walker Clinic announced June 17 that the clinic would be selling its headquarters at 1407 S St. NW, while the Centers for Disease Control and Prevention released data on June 27 showing a 12 percent annual increase in HIV infections among young gay men, with the steepest rise in that cohort among black males ages 13 to 24.
The most shocking event of June may have been the death of Wayne M. Nesbitt on June 14. Nesbitt, the first black Mr. D.C. Eagle, holding the title for the 1997-'98 cycle and serving as a judge for the 2007 Mr. Mid-Atlantic Leather Contest, was at the Eagle with friends when he collapsed suddenly, never to regain consciousness.
In happier news, locals lapped up the 15th annual Pride of Pets pageant — a gay favorite — June 21, to benefit PETS-DC, an organization that helps people with HIV/AIDS care for their pets. And from June 18 to 22, the metro area played host to the International Gay and Lesbian Aquatics Championships.
JULY
ON JULY 4, America turned 232, Malia Obama turned 10 and former Republican North Carolina senator and notorious homophobe Jesse Helms ceased to turn at all. At 86, he was dead, and few gay tears — if any — were shed.
Presidential candidate Barack Obama was clear in his response to a July 1 letter from the Alice B. Toklas LGBT Democratic Club of San Francisco: "I oppose the divisive and discriminatory efforts to amend the California Constitution, and similar efforts to amend the U.S. Constitution or those of other states." Later in the month, Obama's rival, Sen. John McCain, came out against adoption by gays.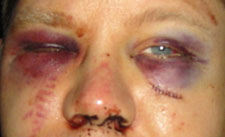 Todd Metrokin
There was another blow to the local community on July 13. That night, three gay men were attacked in Adams Morgan. One, Todd Metrokin, was beaten so brutally an imprint of his assailant's boot could be seen in his face. The viciousness of the attack grabbed the community's attention in ways that had not been seen since the 2004 spate of anti-gay attacks that left Adrien D. Alstad dead.
As the GLBT community worries about street thugs, corners also find themselves defending the community from the opposite end of the spectrum as the D.C. Commission on Human Rights votes July 11 to recommend changes in the city's Human Rights Act that would seem to limit transgender rights in favor of the Department of Corrections, leading to a meeting with the D.C. Trans Coalition on July 15. Councilmember Carol Schwartz (R-At large) also sent a July 23 letter to Mayor Adrian Fenty: "I believe the [DOC] can and should work to ensure that the safety of transgender inmates is as assured as it is for every other inmate, and that it can do so without altering the provisions of the Human Rights Act."
Beyond the violence and bureaucracy, Ted Hobart, of Whitman-Walker Clinic, ran a 50-mile "ultrathon" on July 25. He was raising money to begin a scholarship fund in honor of Laura "Lollie" Winans and Julie Williams, a lesbian couple murdered in Virginia in 1996 as they hiked the Appalachian Trial. Hobart had gone to college with Winans.
Also celebrating scholarship and athleticism, the gay group Team DC awarded its first scholarships in July to three local students: Dan Martinelli of Vienna,
Michael Hull of Reston, and Brittany Reynolds of Alexandria.
AUGUST
JULY THEMES WERE revisited in August. First, gay Councilmember Jim Graham (D-Ward 1) joined Schwartz on Aug. 4, siding with protecting transgender people rather than changing the language of the city's Human Rights Act. Together, opposition managed to prevent weakening transgender protections, but the conversation with the DOC regarding transgender rights will likely continue in 2009.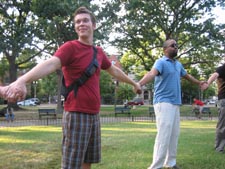 Roike and Burrell
Then, the theme of violence continued in the early hours of Aug. 10. That night, Metro Weekly's January cover model, Michael Roike, and his friend, Stevon-Christophe Burrell, were pounded to the ground in front of Yum's Carryout, 1413 14th St. NW, by some guys fond of the word "faggot." Burrell and Roike turned the tables Aug. 24 with a rally for nonviolence in Logan Circle.
Ron MacInnis, another gay local, fought back, in a sense, at the 17th International AIDS Conference in Mexico City, Aug. 4 to 8. Speaking about the United States' HIV travel ban, he said, "It's blatantly discriminatory to single out people with HIV. It's stupid and ridiculous. These restrictions are really impeding our ability to control HIV and AIDS." The quote was repeated around the world, thanks to the Associated Press. Back in Washington Aug. 13, MacInnis added for Metro Weekly, "It's been a dark spot on U.S. foreign policy for a long time to discriminate against people with HIV."
In lighter news, the DC Cowboys, taking the summer spotlight by competing in America's Got Talent, got cheekier with the release of the gay dance troupe's 2009 calendar-DVD combo, "Wet & Wild" — all color, and certainly continuing their tack to ever-racier fare. And Nellie's Sports Bar celebrated its first full year of business.
Back to sad news, Del Martin, a pioneer of the modern gay movement, died Aug. 27, at the age of 85. It was just long enough to have California legally recognize her marriage to Phyllis Lyon, her partner of 55 years.
Then, in news that took much of America by surprise, McCain on Aug. 29 announced Alaska Gov. Sarah Palin as his running mate for the White House. From Joe Solmonese, head of the Human Rights Campaign: "[B]ased on what our community has seen of her, we know enough." And from Log Cabin Republicans' Patrick Sammon: "Gov. Palin is an inclusive Republican who will help Sen. McCain appeal to gay and lesbian voters."
SEPTEMBER
PALIN PUTS HER feelings about the GLBT community into her own words — sort of — telling CBS's Katie Couric that she has a gay friend, "who happens to have made a choice that, um, isn't a choice that I have made."
But the presidential race takes a back seat locally in September as GLBT attention turns to yet another attack. On Sept. 7, Tony Randolph Hunter was attacked near Eighth and N Streets NW by a group of youths as he and a friend walked from their car to Be Bar. Coincidentally, a small meeting at The Center had already been called for Sept. 8 to discuss local violence against gays. On Sept. 17, Hunter, 37, died from his injuries.
On Sept. 22, that initial meeting at The Center had snowballed into a much larger effort. This second meeting attracted the attention of City Council members, the MPD and the community. A Sept. 28 vigil in Hunter's honor attracted about 200 people.
The night before, Sept. 27, there was yet another attack. This time, it was a gay couple at the intersection of 15th and P Streets NW. Though they were not hurt, they said their assailant hurled a large brick at them. The U.S. Attorney's Office for the District of Columbia responded by saying that name-calling is not a crime.
California Gov. Arnold Schwarzenegger (R) closed out September by vetoing a measure in that state to make the birthday of assassinated, gay political icon Harvey Milk, a San Francisco Supervisor in 1978, a statewide "day of significance."
While September had enough awful news to fill far more than a single month, at least it wasn't all bad. The Atlantic Stampede gay rodeo returned and Be Bar celebrated its second anniversary. Mayor Fenty, Councilmember Jack Evans (D-Ward 2) and Councilmember Graham cut the red ribbon on Halo's re-launched, renovated "Ultra Lounge," Holly Woodlawn entertained at the second Ganymede Arts Festival, and a Florida Circuit Court judge ruled the Sunshine State's ban on gay adoption unconstitutional.
OCTOBER
A CREEPY COINCIDENCE came in October. As the community marked the 10-year anniversary of the murder of Matthew Shepard, a gay college student tied to a remote Wyoming fence, pistol-whipped and left for dead in freezing temperatures, MPD announced an indictment in D.C.'s own pistol-whipping. For that January attack at the HRC store, the District of Columbia Superior Court issued an Oct. 7 indictment against a 50-year-old Virginia man on multiple charges, including assault with a dangerous weapon.
Another attack occurred Oct. 3, near the C&O Canal in Georgetown in which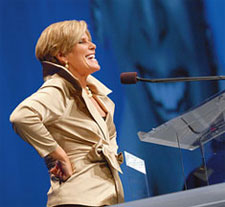 Suze Orman at 2008 HRC Dinner
one gay man was attacked with a bottle and injured. Ruddad Abdulgader would plead guilty to that "unprovoked hate crime attack" in November.
In the midst of worsening economics, lesbian finance guru Suze Orman toasted the Human Rights Campaign's national dinner Oct. 4, while Dan Gainor, a conservative pundit, told Fox News that gay Rep. Barney Frank (D-Mass.), chair of the Financial Services Committee, avoided scrutiny during the meltdown because he's gay. "He was voting on Fannie Mae at a time when he was involved with a Fannie Mae executive," said Gainor. "If this had been his ex-wife and he was Republican…this would be considered germane. But everybody wants to avoid it because he's gay. It's the quintessential double standard."
Like Orman, Gay Olympian Greg Louganis was also in town on the 4th, serving as grand marshal of Whitman-Walker Clinic's AIDS Walk. The clinic also used the occasion to announce the release of a new outreach and education campaign, the edgy Project Red.
Cobalt offered up a redesign of both its third-floor dance club and posh second-floor lounge, 30 Degrees, as well as launching Level One, its new restaurant. One in Ten, meanwhile, offered up the 18th Reel Affirmations Film Festival, branching out to include screenings at the swank AFI Silver Theatre in Silver Spring. The Gaylaxicon GLBT Sci-fi/Fantasy Convention returned to the area for the first time since 2000, mothertongue marked a full decade of open-mike events, and the DC Sentinels gay basketball club launched a national tourney. The height of October athleticism was found at on Oct. 28 at the 23rd annual High Heel Race — thanks to the folks at JR.'s — featuring plenty of Palins as well as a number of polygamist brides. Is it a coincidence that the race ran the same day the Federation of Gay Games announced that D.C. was in the running to host the 2014 games? You decide.
NOVEMBER
THERE WAS NO mistaking the biggest news of 2008: Election Day. Metro Weekly's Nov. 13 feature, "We Won! We Lost!" looked at what it might mean for the GLBT community with Obama as president, while California voters rolled back marriage equality.
In his acceptance speech, Barack Obama poignantly included "gay" and "straight" in his verbal tableau of Americans.
"Clearly we are excited that we are likely to see fewer proactive attacks against all LGBT people from an Obama administration," said Mara Keisling, executive director of the National Center for Transgender Equality.
On the other hand, said Rea Carey, executive director of the National Gay and Lesbian Task Force, "With so many other bright spots and celebrations coming out of this election…it is particularly painful to have these ballot-measure losses."
At a more local level, longtime gay-ally Councilmember Carol Schwartz (R-At large) was unsuccessful in her write-in campaign after losing the September Republican primary to Patrick Mara. Then again, Mara wasn't able to win the non-Democrat seat, either. That went to Michael Brown, running as an independent and leaving the Council with no Republican representation.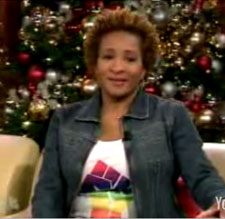 Wanda Sykes discussing same-sex marriage on the 'Tonight Show'
Gay people countrywide fought back against California's Proposition 8 with protest rallies, including the thousands who made their collective voice heard over a storm on the National Mall Nov. 15. Comic Wanda Sykes used a similar event in Las Vegas to announce that she's a lesbian.
Keeping the momentum going, Milk, the Harvey Milk biopic, hit theaters Nov. 26. Gay screenwriter Dustin Lance Black spoke at the time about he impact he hopes his movie will have: "I hope this can be a useful piece of recorded history for future fights, because God knows it's not over."
Also in November, swank hotspot Town Danceboutique celebrated its first anniversary; Us Helping Us marked 20 years of fighting HIV in the black community and helping those infected; and Kathy Wone, whose husband, Robert, was found killed in the home of three gay men he knew in 2006, filed a civil suit seeking $20 million damages from those men, a week after they were indicted by a grand jury on charges relating to obstruction of justice. No one, however, has been charged with killing Robert Wone.
DECEMBER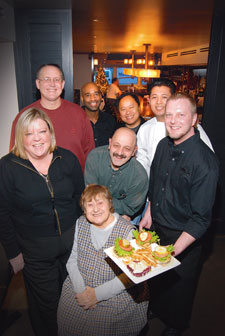 (Clockwise from center) Annie Kaylor, Leigh Hendricks, Paul Katinas, David Terry, Raul de Guzman, Adam Ocon, Bill Cooper and Mano
WHILE IT'S NOT quite finished — neither December nor 2008 — we're almost there. Dec. 1 again marked the somber occasion of World AIDS Day. And Lizard Lounge, re-launched in May, couldn't manage the souring market, holding a "Great Recession Closing Night Party" on Dec. 14. "The sudden and rapid financial meltdown has had an incredibly negative impact on almost everyone, but particularly the hospitality industry," explained Lizard promoter Mark Lee.
Gay-fave Annie's Paramount Steakhouse on 17th Street, which has survived riots and recessions, marked its 60th anniversary on Dec. 15, showing that there is always hope for a brighter tomorrow.
With eyes on that brighter tomorrow, a coalition of several GLBT organizations, including HRC and the Task Force, said Dec. 3 that there will be a grand, GLBT-themed ball at the Mayflower Hotel for Inauguration Day, Jan. 20. And on Dec. 10, the Lesbian and Gay Band Association announced that the group has been invited to form a contingent to march in the Inauguration Day Parade. Local favorites DC Different Drummers will be part of that contingent.
On that marching-band note, Metro Weekly wishes you a Merry Christmas, Happy Hanukkah, Glorious Kwanzaa, Serendipitous Solstice and a Fabulous New Year — Western, Islamic or Buddhist — whichever you prefer.