"I was kind of the black sheep of the family — they didn't think I could do anything," says Annie Kaylor. "And here I made this successful." Successful, in this case, is an understatement. Kaylor is referring to the 17th Street institution that bears her name, which has been a de-facto gay landmark and will celebrate its 60th year in business with a party this Monday, Dec. 15. Annie's brother George started the restaurant in November 1948, in the building that now houses the bar JR.'s.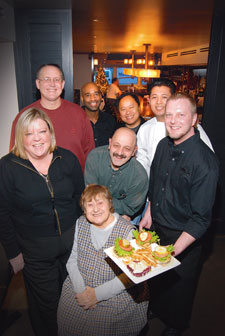 (Clockwise from center) Annie Kaylor, Leigh Hendricks, Paul Katinas, David Terry, Raul de Guzman, Adam Ocon, Bill Cooper and Mano
"I believe we're the third oldest restaurant in D.C.," says the 80-year-old Kaylor. "And also the newest restaurant in town," interjects her nephew Paul Katinas, George's son and successor as the restaurant's owner. This year, the restaurant has undergone a top-to-bottom renovation, the first since it moved to its present location in 1985.
What was once a comfy yet dowdy two-level space now features an inviting front patio and elegant first-floor dining area. Upstairs is a downright swanky bar and lounge, perfect for happy hour and special occasions.
The menu has also been upgraded to be less of a greasy spoon and more of a veritable steakhouse, with an emphasis on higher-quality steaks, at higher but still reasonable prices. Norman Wade, a longtime customer and the executive chef at the Mayflower Hotel, helped Katinas revamp the menu, while Brad Weesner — another longtime customer — handled the redesign.
"My nephew is doing a great job for all of our customers," Kaylor says. "We just felt like we could treat our customers nicer and give them finer things. Annie's has the same atmosphere as it always has, where everyone feels love, like family." — Doug Rule
The 60th anniversary party is a way for the restaurant to give thanks to its loyal customers, offering free wine, beer and generous hors d'oeuvres. Annie will sign autographs at 7 p.m., the Gay Men's Chorus of Washington will sing, and a DJ will spin from 9 p.m. Monday, Dec. 15, from 6 to 11 p.m. at Annie's Paramount Steakhouse, 1609 17th St. NW. Free and open to all. Call 202-232-0395.