'Tis the season for traditions. The stories behind some family traditions are unpacked every year like a favorite Christmas tree ornament. Others are observed because "that's what we've always done."
What is certain — regardless of the how or why — is that if you decide to do a ham instead of a turkey someone is going to make you live to regret it. Whatever else happens that day it will forever be the holiday you did not make a green-bean casserole. Some traditions are simply not to be touched.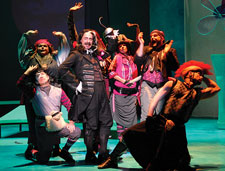 Cast of 'Peter Pan'
The argument could be made that, among this vast treasure trove of untouchables, is the green suit worn by that boy who won't grow up, Peter Pan. It's as classic as a Chanel suit, the calling card of a character who has achieved mythic status thanks in no small part to the worldwide machinery that is "The Mouse."
But the folks at Olney Theatre Center have decided to put apricots in the stuffing this year and have given everyone from Peter to the pirates a striking new look for their production of Peter Pan — The Musical. It's an aggressive restyling that works more often than it fails, but does leave a good bit of confusion in its wake.
The story is the one you remember. Peter Pan (Daniel Townsend) arrives in the nursery of the Darling household looking for his missing shadow. The arrested adolescent has been spying on John (Dan Stowell), Michael (Aviad Bernstein) and Wendy (Patricia Hurley) for some time now, listening to Wendy's bedtime stories and then taking those stories back to Neverland to share with his fellow Lost Boys. With a bit of persuasion and a sprinkling of pixie dust Peter and the Darling children are soon flying past the second star on the right and straight on to morning.
Townsend's Pan is a great piece of casting, teaming the actor's youthful looks with a simple and clean voice. His performance of "I'm Flying" is good but "I've Got to Crow" is his center stage moment. Outstanding is how gracefully he takes to the air. It makes for a convincing and magical effect.
Also dead-on are Hurley's Wendy and Mitchell Hébert as Hook. All the motherly innocence that Hurley brings to the stage collides head-on with Hébert's grim one-handed pirate king. He is dreadfully evil and, surprisingly, a master of Latin dance.
Missing the mark is the decision to have Ethan T. Bowen play the role of Nana the nursery dog in a baffling costume that completely fails to communicate. Also troubling is the second act arrival of the Indian princess Tiger Lily and her tribe of female Indians. Dressed and choreographed like a second-string high school pep squad, they are jarringly ill-fitted to the overall production. And the less said about the mermaids (who are only identifiable as mermaids by those following the cast notes) the better.
Visuals play a crucial role in this production and costume designer Pei Lee (whose past work includes Synetic Theatre's Hamlet: the rest is silence and Forum Theatre's The Last Days of Judas Iscariot) has re-imagined Peter Pan in an outfit that is equal parts hipster bike messenger and Alexander McQueen couture. Done up in a flash of white and blue, the only green remaining is Pan's shock of green hair. Tradition be damned, it works.
PETER PAN

To Jan. 1, 2009
Olney Theatre Center
$25-$48
301-924-3400
Equally successful is his dashingly tailored Hook and Hook's cadre of punk-rock pirates. Unexpectedly suited in pinks and grays (including one in an argyle sweater vest paired with kilt and heavy boots — perfect for a night at the Neverland Eagle), the Jolly Roger crew is pulled from the imagination of a street-smart child. It's an interesting vision that comes together flawlessly.
Utterly underwhelming, however, are the sets created by scenic designer Tijana Bjelajac. Sparse and poorly drawn, they add nothing to the overall production and seem amateurish alongside Lee's largely solid work. There's simply no magic or imagination to be found.
And this is how Olney's Peter Pan – The Musical sails through the evening. Something that is finished and exceptionally well done, gritting uncomfortably alongside something that lacks. Peter Pan takes flight, but contends with bouts of turbulence along the way.
---
GLENGARRY GLEN ROSS

To Dec. 20
Church Street Theatre
$17-$22
703-892-0202
A David Mamet play is about language. The writer's work is a closely mitered jigsaw puzzle of clipped phrases, unfinished thoughts and profanity that demands a cast ready to walk the knife edge between being exquisitely choreographed and entirely spontaneous.
For the most part, producing artistic director Mark A. Rhea and his team at The Keegan Theatre have assembled just such a cast for their production of Mamet's Glengarry Glen Ross. An evening of solid performances with some standout moments, it's the perfect antidote for those already feeling overwhelmed by visions of sugarplums and the saccharine notes of the season.
Glengarry Glen Ross unfolds around a quartet of real-estate agents locked in competition to score their next big sale in a poor market. It's a Greek tragedy with wood paneling and a Chinese restaurant down the street.
Rhea plays Richard Roma, the slick alpha male who's the man to beat. Cocky and quick-tempered, Rhea's Roma is brilliantly depicted. He can work a stream of profanity like a poem and can say more with a cocked eyebrow than a lot of actors can with 10 pages of dialogue.
Displaying exceptional chemistry with one another are Peter Finnegan and Stan Shulman as agents Moss and Aaronow. Early in the show, the two engage in an exchange of dialogue that is the spoken equivalent of a jam session. They both have the chops and the punch to make whole cloth out of half sentences.
Warming up and coming through by the end of the show is Kevin Adams as Shelly Levene. Not finding his footing at all is Michael Innocenti as Lingk. Granted, his character is a lonely counterpoint to his fellow cast mates, but his work never quite comes into its own.