The newly re-formed GLOV — Gays and Lesbians Opposing Violence — on Dec. 17 sent a letter to Mayor Adrian Fenty asking that he take a more public position regarding violent crimes, including the deaths of Tony Randolph Hunter and Durval Martins, perpetrated against the local gay community in recent months.
"GLOV … has requested on numerous occasions … to meet with you, but we have been repeatedly informed that you are not interested in a meeting at this time," the letter, signed by GLOV Co-Chairs Chris Farris and Todd Metrokin, reads in part. "We write to ask that you reconsider. The community is nervous and on edge, as violence around us continues to increase. We have met with the [Washington Metropolitan Police Department], the United States Attorney's Office [for the District of Columbia], community organizations, and members of the City Council, but we have not heard from our Mayor. This is not acceptable. We need to meet with you to present our concerns personally, to hear that you understand the issues, to learn what your plans are to address them, and to see how we can all — city agencies, the police, the prosecutors, community organizations, and business leaders — work together to end the hate-filled violence that is plaguing our community."
Underscoring the urgency of GLOV's request, the family of Martins — killed in the early hours of Dec. 16 as he walked from the 17th Street NW strip of gay venues to his home near Q and Third Streets NW — held a news conference Dec. 18 at the crime scene at 11th and Q Streets NW.
About half a dozen of Martins' friends and family arrived around 2:30 p.m. at the intersection Thursday afternoon, dressed in black and weeping. With a backdrop of flowers and candles placed to memorialize the tragedy, Martins' twin brother, Pedro Martins, of Arlington, addressed the small crowd. He explained that he and his brother, both gay, had moved from Rhode Island, where much of their family still lives, about a year ago.
"I want to thank everyone who's been sending their prayers and thoughts," Pedro Martins said. "This has been a very hard time for my family and myself. I feel like part of my heart has died. But I'm thankful to [MPD Acting Lt. Brett] Parson, and I have faith that the police are going to find the monster that did this tragedy. I know that justice will prevail, eventually."
Pedro Martins also said that his brother, who worked as a waiter, most recently at the newly opened Posto Ristorante at 14th and Church Streets NW, would usually take cabs home after work because of the cash tips he carried. But the night of his murder, after visiting bars along 17th Street, that was not the case.
"He was just walking home … minding his own business. He was a nice person. … He was not a violent person. I don't understand this. Some cowards did this, some horrible monsters did this."
Farris, also at the press conference, warned that such a crime could happen to anyone and urged the community involvement.
"Every single one of us needs to do everything we can to help the police solve this particular case, because there are murderers on the loose on our streets," Farris said. "Regardless of what the city is saying right now, these streets at night are not safe for someone to walk around by themselves."
A second press conference, held immediately afterward at MPD headquarters downtown, revealed little more about the case. Rodney Parks, head of MPD's homicide branch, did say that there is little evidence to go on as yet, with no reason to consider the murder a bias crime or gang-related. With his wallet, phone and other possessions still on his person, nor would Durval Martins' murder appear to be the result of a robbery.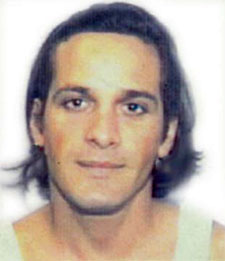 Durval Martins
(Photo courtesy Metropolitan Police Dept.)
Michael Benardo, a gay man who serves as the ANC (Advisory Neighborhood Commission) commissioner for ANC206, which borders the crime scene, was out Wednesday night, Dec. 17, with Phil Attey, another gay activist in that neighborhood, and others. They handed out MPD fliers seeking information in the case, offering a $50,000 reward, along 14th Street NW.
Looking at this recent attack and GLOV's letter to Fenty, Benardo said Dec. 18 that it might help to ease tensions if Fenty were to take a higher profile now.
"I think it would help to show solidarity with the community," he said, referring to both the gay community and to all residents in the Logan Circle-Shaw area. "Citizens always have a right to ask their elected officials what they're doing. If they're feeling they're not getting answers, they should call.
"Two murders within four months of each other, within four of five blocks of each other, is alarming," Benardo added, referring to both Martins and Hunter, attacked Sept. 7 near Eighth and N Streets NW, and who later died of his injuries.
According to the Mayor's Office of GLBT Affairs, as of late Dec. 18, a formal response has not yet been issued to GLOV.
Anyone with information in Durval Martins' murder is asked to call MPD Detective Paul Regan at 202-425-5563, or the Command Information Center at 202-727-9099. Callers wishing to remain anonymous may call 1-888-919-2746. Anonymous tips may also be sent as text messages to 50411.
The GLOV letter should be available soon in its entirety at www.glovdc.org.