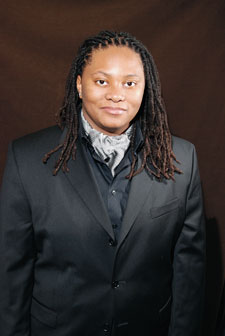 Paquita Wiggins
Paquita Wiggins feeds off of adversity.
Even before the 31-year-old Chicago native came out as a lesbian, she was advocating for gay equality as a freshman at Tuskegee University in Alabama.
"It's a predominately black institution and it's in Alabama," she says. "The first time I got there, the president said something very anti-gay about how, 'There will be no gay organizations at this institution.' I was pretty young and not even out. But when you hear those things, you feel compelled to do something. I heard him say, 'No gay groups,' so that made me want to develop one."
And she did.
"We changed Tuskegee by being out and allowing people to see the different types of people who are gay or lesbian."
Today the Beltsville, Md., resident who shares a home with her cat, Tiger, is setting her sights on improving things for Maryland's GLBT residents by collaborating with other Maryland activists in establishing a chapter of the Stonewall Democrats, the national grassroots organization for GLBT Democrats. In the District, for example, the prominent Gertrude Stein Democratic Club is affiliated with Stonewall.
But the operation is in its early stages. The priority right now is simply to pull in members. To that end, the chapter will be holding an organizational meeting Jan. 7 in Baltimore.
"We're still trying to get everything together before we vote people in to do different things," she says.
Wiggins is known among members of the GLBT community for her work with the Barack Obama presidential campaign as co-chair of Obama Pride Metro D.C. But even before the Nov. 4 election, Wiggins was working hard to establish the new Stonewall chapter, participating in meetings in Montgomery and Prince George's Counties.
And while some might look to her Stonewall efforts and ask, "What about Equality Maryland-" there is an important distinction. Equality Maryland may be the state's premier GLBT organization, lobbying in Annapolis and fighting transphobic ballot measures and the like, but the group's legal status mandates certain restrictions. A Maryland chapter of the Stonewall Democrats, on the other hand, would be free to fly its partisan flag on any Maryland battlefield organizers saw fit.
"Equality Maryland is a great organization, but they can't do anything federal and they don't do anything locally. They only deal with state issues, so of course they can't touch presidential elections, congressional elections and Senate elections. They can do local stuff, but they pretty much focus on statewide issues."
Dan Furmansky, now wrapping up five years as executive director of Equality Maryland and due to step down Dec. 31, says that his group's nonpartisan mission also serves to keep Equality Maryland out of some of the fights that the Maryland chapter of Stonewall might take on.
"We work on both sides of the aisle, when appropriate," he explains. "And while we give money to Democratic candidates, we welcome the opportunity to work on both sides of the aisle when fair-minded officials support the issues.
"I think it's wonderful," he adds, regarding the development of a Maryland chapter of the Stonewall Democrats. "In a state with a 73 percent Democratic super majority, we should expect far more out of the Democratic leadership than what the LGBT community gets. I hope that the Stonewall Democrats can be a force for forward movement in the Democratic Party, as well as to vocally criticize the tepid-at-best support of the Democratic leadership in this state."
Luke Clippinger, a gay attorney who lives in Baltimore, helped organize the upcoming meeting in Baltimore.
"I think we need to have a seat at the table," he says. "It helps to have more LGBT people at the table. Paquita and I have been working together a lot, with everything that we've done. I know her energy has really gotten us off the ground."
One way to assess the success of the nascent chapter is to look at its membership: 158 people — at least on Facebook.
"I wouldn't want to say that one person has been responsible for the Stonewall Democrats [Maryland chapter]," Clippinger adds. "There have been a lot of us who have been getting involved. But she really did a great job with the Obama campaign, and she brought a lot of people to the Obama organization from the LGBT community in Maryland."
On Inauguration Day, Wiggins plans on attending the People's Inauguration, an event co-sponsored by the Gertrude Stein Democratic Club. And while she doesn't completely agree with President-elect Barack Obama's pick of the homophobic Rev. Rick Warren to deliver the invocation, she understands Obama's modus operandi.
"[Obama] has a proven record with what he's doing for the LGBT community, so I'm not as concerned about who he associates with," she says. "If he only associated with people he agreed with, then that would be a narrow group of people."
In the meantime, Wiggins, with a master's degree in engineering and a federal job as a contractor, will be focusing on the chapter. Samantha Master will be helping her. The 20-year-old is a student at Baltimore's Morgan State University, serving on the college's Gay-Straight Alliance board. She's also completing an internship at Equality Maryland.
"I met Paquita back in June at the Wanda Alston House opening," says Master. "She was working on Obama Pride then, and when I got back to school I decided that I wanted to do something to help the Obama campaign. She suggested that we go do some campaigning and canvassing so I organized for about 50 LGBT students to go up to Pennsylvania, and we did canvassing for Obama. Since then she's pulling me to every project she has. But I don't mind it. It's great."
Wiggins came out as a lesbian when she was 18, but knew she was different at the age of 10.
"I remember asking my mother about how she would feel if I were gay, and she said she was going to either kill me or disown me," she says."She was the most anti-gay person I have ever known in my life. But my mother changed. I think 70 percent of the black community are against homosexual rights because many people aren't out to their families. My mother wouldn't do anything against our issues now. She was so upset about Proposition 8, she's the one who called me about it.
"People change."
The Stonewall Democrats, Maryland Chapter, meeting is scheduled for 7 p.m. at 2640 St. Paul St., in Baltimore. For more information, e-mail baltimorestonewall@gmail.com or call 410-800-8109.