Ethan Reynolds doesn't look at all like Santa Claus. But the 28-year-old gay model and actor is coming to town as the plump, jolly old elf anyway.
"I'm going to be sexy Santa," he says. "A naughty Santa, in black and red, instead of traditional white and red." He's describing what he'll wear this Friday when he makes a special appearance at Be Bar.
It's not all that much different than the last time the Las Vegas resident was here, in March 2007. On that trip, he even walked down 17th Street with his then-boyfriend and fellow model Ben Bradley in nothing but his Ginch Gonch underwear — in 30-degree weather. "I'm looking forward to the cold," the desert dweller said, adding he hopes to see snow. "I haven't seen snow in forever."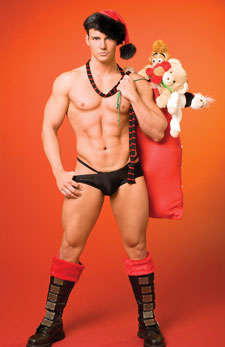 Ethan Reynolds
Since his last stop, Reynolds has become a regular on The Lair, the vampire soap from the on-demand gay channel Here! TV. And he's appeared in photo spreads in various gay magazines around the world, including the newest issue of reFRESH. He's about to announce a new sponsorship, having moved on from Ginch Gonch. And he's also lined up a couple new acting projects, one for a TV show and the other a movie. Both are so new that he can't reveal them just yet.
"I'm very excited about it," Reynolds says of dropping down Be Bar's chimney. Reynolds will help the club present a new Friday night party, Be: Deep, touted as a "Friday night place of worship for house music." Local gay DJ Yiannis is the party's chief promoter as well as its resident DJ, and future plans include an emphasis on featuring local talent.
But first up, here comes Vegas Santa. "[Patrons] can totally sit in my lap, that's fine. Isn't that what you do with Santa?" Reynolds laughs. He says boys will get extra presents if they're naughty. But in his Santaland, "no one gets coal."
Ethan Reynolds will appear this Friday, Dec. 19, at the Be: Deep preview party at Be Bar, 1318 Ninth St. NW. For more details, visit www.bebardc.com or call 202-232-7450.