Among the signs of the holiday season is the appearance of "family friendly" shows meant to bridge the divide between serious grown-up work and (the generally overlooked and under appreciated) genre of children's theater.What does this mean for those trying to navigate around mouse kings and Christmas ghosts who aren't seeking to help hook a new generation of theatergoers? It means a chance to finally see the handiwork of all those people in the program book whose efforts you might not always notice.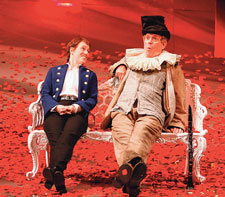 'Twelfth Night'
(Although, even if you don't have children of your own to nestle all snug in their beds this holiday season, maybe there's a niece or nephew or cousin's son or daughter who is ready to have his inner-theater fan let out. GM might get a bailout, but there's little chance that the theater community will. Someone has to keep the house lights on.)
Local evergreens and store windows aren't the only things getting dressed up for the holidays, and two area theaters have gone all out. One show has a little more for the kids. One's got a lot for the grown ups. Both are showcases of how sometimes you need to clap loud enough so the folks backstage can take their bows as well.
Anyone looking to convince the teenager in his or her life that Shakespeare can be a great deal of fun needs to grab some seats at Shakespeare Theatre Company's new production of Twelfth Night. The play emerges on the Harman Center stage like a great color-soaked cinematic vision.
Twins Sebastian (Peter Katona) and Viola (Samantha Soule) are separated by a shipwreck with both believing the other has died in the storm. Because Shakespeare characters are fonder of cross-dressing than Bugs Bunny, Viola pledges herself to the service of a local nobleman while disguised as a young man. Orsino (Christopher Innvar), thinking he has found a good and loyal servant in Viola (now going by the name Cesario), sends the young "man" off to woo the beautiful Countess Olivia (Veanne Cox) on Orsino's behalf. The Countess has been mourning the death of her own brother for some time and is utterly inconsolable.
Inconsolable, that is, until she meets and falls for the young Cesario. Who is really Viola. Who is actually in love with Orsino. Who thinks Viola is a man.
And that's just the start of things.
Director Rebecca Bayla Taichman has brought an outstanding cast of actors to the stage, including area favorites J. Fred Shiffman and Nancy Robinette — and Rick Foucheux in a highly successful turn as Olivia's drunken uncle, Sir Toby Belch. Tom Story is Sir Andrew Aguecheek, who hysterically out-buffoons Floyd King's clown, Feste. While Aguecheek is meant to also be chasing the hand of Olivia, he seems more likely to be pining for a shot at her wardrobe.
Soule is a spirited Viola and points for the decision to have Katona play her twin brother Sebastian. While some suspension of disbelief is required to convince one that the siblings are indistinguishable — matching waistcoats aside — there is a delightful likeness at work there. Particular kudos must be given to Cox who goes from cold mourning to what might be the most elegant and well-executed Shakespearean pratfall ever. She's an unexpectedly cunning comedienne.
Taichman takes her liberties, but not at the expense of the show itself. Twelfth Night is a comedy and the director adjusts the volume to make that very point to her contemporary audience. Her work, and that of the cast, is further amplified by some outstanding design.
From the opening image of Viola struggling against the ocean tides to flurries of rose petals to costumes that evoke the careful geometry of a Velázquez painting, Twelfth Night is filled with visuals you wish would stand still for just a moment longer. Played out over the aural background painted by composer/sound designer Martin Desjardins and the chilling vocals of Stacey Cabaj, costume designer Miranda Hoffman and set designer Riccardo Hernandez have built a stunning canvas of color and texture, lyrically animated by the lighting design of Christopher Akerlind.
Beautifully imagined and played like the comic piece it is, this Twelfth Night is fantastic.
---
An unexpected gift for audience members of all ages is Round House Theatre's surprisingly sophisticated Alice. Playwright and director Mary Hall Surface's adaptation of Lewis Carroll's Alice's Adventures in Wonderland is a canny mix where text and dialogue dance with one another as deftly as the elements of Tony Cisek's clever set pieces.
With a mix of puppets, props and deeply imaginative costumes (by designer Marianne Custer) a six-member ensemble brings Alice's (Meghan Grady) tumble down the rabbit hole vividly to life. Alice grows giant, shrinks to the size of a duck, nearly drowns in her own tears and escapes beheading thanks not to hyper-mechanized effects, but the most efficient and elegantly choreographed of gestures.
These elements work as closely together as the ensemble cast Surface has gathered. Hugh Nees is a tremendous Mad Hatter done up in Custer's pastel interpretation of the classic character. Tonya Beckman Ross charms whenever she takes the stage, as does Marcus Kyd. Lise Bruneau is a fine and comically threatening Queen of Hearts while Bill Largess is cool as the mushroom-pushing caterpillar. Chris Wilson rounds out this exceptional cast as the White Rabbit.
Leading the adventure is Grady who plays her Alice as both clever and brave. In a culture where we worry about the role models young girls have (welcome back, Ms. Spears) this Alice is bringing smart, not sexy, back.
It would not be surprising, in the bustle of the season, if one were to have passed over Round House Theatre's world-premiere production of Alice as something for the kids. Fortunately, to borrow from the Rabbit, you're not too late. While Alice offers a great deal for young theatergoers, there's plenty of room at the tea table for adults.