Let's face facts — a horror movie being released in January is a bad omen. But The Unborn boasts a writer/director with a track record and some well-known actors, so hope springs eternal. Unfortunately, no such luck.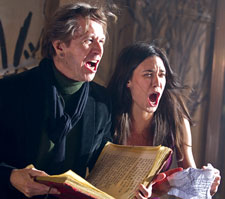 'The Unborn'
Writer and director David S. Goyer (Blade: Trinity) has created one of the most clichéd, trite, boring horror flicks in recent history. The title alone invites too many jokes that wallow in bad taste, but the safest one is that The Unborn makes morning sickness seem like a picnic.
Perky and sultry Casey Beldon (Odette Yustman) is doing just fine in life until she begins to have weird dreams involving a lost mitten, a dog wearing a mask, and a baby floating in formaldehyde. Enter the best friend (Meagan Good) who translates what the dream might mean and makes ominous predictions while spooky music plays. Then, when Casey's eye starts to turn blue, she discovers that she's suffering from genetic mosaicism, meaning she was going to be a twin but the other fetus didn't survive the full term. Maybe, just maybe, that's why she keeps seeing a weird boy in her medicine cabinet.
Casey ultimately turns to Rabbi Sendak (Gary Oldman) who agrees to try and exorcise the spirit from her body. Oldman, who worked with scribe Goyer on The Dark Knight, is possibly the oddest part of the movie; he's clearly acting down to the lowest common denominator in the film and that's pretty low. His portrayal of the rabbi discovering great evil in his temple is so half-hearted, you almost expect to see him yawn in the middle of the scene. If he did, he would be joining half the audience.
When Casey finally unravels the sordid past that haunts her, it's a convoluted tale involving concentration camps, a string of dead twins in her family, and a spirit that can inhabit those around her. It starts in the neighbor boy across the street (a somewhat creepy Atticus Shaffer), moves to her best friend, and so on. By the end, it has passed through more bodies than the common cold.
Yustman's performance is oddly wooden, and it seems that all she's really required to do is look good while walking around at night. Not that she's given much of a character to inhabit. In the scheme of horror-movie heroines, Casey is right up there with some of the dumbest characters in the genre. Which is what makes Goyer's film so dull: He resorts to three of the most clichéd and tired of horror-film devices.
First, Casey is a babysitter. Even before Scream skewered the "babysitter" routine, it had been done to death. Second, Casey examines every scary noise wearing the skimpiest of underwear. If that's the only way to keep your audience engaged, just make a different type of film. And third, she has sex with her boyfriend (Twilight's Cam Gigandet) and it had horrible consequences. Creating a horror film that involves crossing astral planes means that there are no limitations. Where's the originality in The Unborn–
THE UNBORN

Starring Odette Yustman, Gary Oldman
Rated PG-13
87 Minutes
Area Theaters
As horrible as The Unborn is, there are moments that provided such great post-movie mocking that it almost seems worthwhile to sit through it. First is Casey screaming to her rabbi, "I'm not looking for a Christian exorcism here!" Next, when puking in the bathroom, Casey puts her face up to the glory hole in the stall wall to see what the weird noise is on the other side. I thought the film was about to change genres for a minute, but no. Finally, Casey finds a rare book of Jewish Mysticism — the only thing that will save her life — at the local library. Unless you're Buffy the Vampire Slayer, you need to work a little harder to find rare texts. The list could go on and on, but it gets less funny and just becomes sad.
One of the central questions in the film is how do you get rid of the undead- Now we know. You play The Unborn on a continuous loop in the haunted location. Any ghost, ghoul, phantasm, lost soul or audience member is going to run screaming back to the place from which he came in order to escape the torture.