When the phrase "Breakfast at Tiffany's" is uttered it is almost assured that most will leap to an image of Audrey Hepburn peering into the window of the little blue box purveyor more quickly than they will picture a copy of the slim novella penned by Truman Capote. Odds are just as good that there are a number of people who aren't even aware that there was a book, a literary Holly Golightly who traipsed around the streets of New York long before they were the domain of Carrie Bradshaw.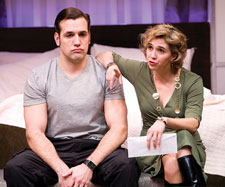 'The Little Dog Laughed'
And that seems to be the way things go. Even when a contemporary movie grows out of the foundation laid by a literary author, the clever folks in marketing quickly dress that dowdy stepsister in a new, sleek cover. One with a soft-focus image from the movie and a proud stamp announcing that it is "now a major motion picture." The movie is the more modern sister, the one who goes to red carpet parties and drinks champagne with the Hollywood sign framed in the background. The book sits on a shelf till it is moved to the retirement village at the front of the store, also known as the remainder bin.
But for a time, armed with that new cover, the mystery of the novel is solved. We don't have to imagine what any of the characters look like or try and see the house they live in or the car they drive. It's imagined for us. Hollywood has done the thinking.
The Little Dog Laughed, now at Signature Theatre, is a fast-paced and bitingly sharp comedy about the mighty struggles waged on all fronts to keep the Hollywood imagination factory running. It's about the transformation of a piece of creative work to a "property." It's about the struggle to frame perfect and envy-inspiring scenes both on and off the motion-picture lot. It's a tale of two coasts where we see the best of times and the worst of human nature.
Diane (Holly Twyford) is a ruthlessly focused agent whose star client, Mitchell (Matthew Montelongo), is poised on the edge of great success. The problem, as Diane puts it, is his "slight recurring case of homosexuality." It's during one of his chronic lapses that Mitchell calls Alex (Ivan Quintanilla), a rent boy who insists that he is only gay for pay. After all, he has a girlfriend. Sure, his girlfriend Ellen (Casie Platt) also has an elderly boyfriend, but she and Alex have been best and inseparable friends since they moved to the city "40 New York clubs ago."
The character of Diane is the show's lynchpin and from the moment she hits the stage, the audience knows that she is tough, driven and makes no mistake or apology for what she'll do to get ahead. At the same time, however, there are glimmers that playwright Douglas Carter Beane wants us to like her. It seems reasonable enough as Diane acts as our guide and narrator.
THE LITTLE DOG LAUGHED
To March 8
Signature Theatre
$44-$71
703-820-9771
www.sig-online.org
This means the role of Diane demands an actor who can convince us, as she does her client, that she is our friend. While director Michael Baron has assembled a pitch-perfect cast, he has scored full marks with the choice of Twyford, who brings to the stage a Diane whose humor is so dry it demands a splash of gin and an olive. Even while delivering a character whose entire world is loud and over-the-top, Twyford carefully keeps Diane rooted in reality and recognizable in our world. It's an outstanding performance that leaves a lasting impression.
Montelongo fares equally well in giving shape to Mitchell. There's an anxious, nervous quality he brings to even the smallest of interactions, whether it's trying to fasten his pants or help Diane through a pitch or find a way to imagine his own future.
Platt and Quintanilla are both solid, but it is their scenes together that have a particular warmth and success. There's a complete believability to their friendship and a marvelous connection between the two actors. Together they are a delight to watch.
The Little Dog Laughed makes for a tremendously funny night at the theater. It's only a matter of time before someone snatches it up for a movie. But don't wait for that. Catch it now before the studio wrecks it.
---
For those making the theater rounds in D.C., you might be wondering something: Is everyone in Ireland a belligerent drunk living in a down-at-heels and dirty house? Is everyone perpetually unhappy? Does life really look so utterly hopeless when viewed from the rolling hills of the Emerald Isle?
Before the letter-writing campaign begins, that is, of course, not the case. But Studio Theatre's new production of Conor McPherson's The Seafarer is probably not going to be cited as inspiration for any "Visit Ireland" campaigns. Not only does the audience contend with a circle of cantankerous and extremely drunk Irishmen, there is the tiny matter of the devil.
It's Christmas Eve and James "Sharky" Harkin (Billy Meleady) and his brother Dick (Floyd King) have found themselves playing hosts to a card game. While Ivan (Edward Gero) and Nicky (Jeff Allin) are longtime acquaintances, Nicky has brought along a man he's just met that evening.
That man is the devil. But you can call him Mr. Lockhart (Philip Goodwin).
McPherson's play is one of those stealthy constructions where a good deal of the friendly chatter and rambling stories serve atmosphere more than plot. It's a tricky device that in unsure hands can result in a handful of loose string rather than a tightly knit play.
Unfortunately, Studio has a pile of string on its hands. While King and Meleady turn in very good performances and Gero and Allin are respectable though not truly noteworthy, Goodwin is hitting none of the marks. It's as though he hasn't fully settled on what his character should be, so he's trying out all manner of approaches while onstage. He even swaps his accent a few times for good measure.
It's easy to see why there was an attraction to McPherson's play and a desire to put it onstage. Unfortunately, with Studio production, the devil simply isn't letting them do it.