There have been other Inauguration Days in U.S. history and many are yet to come. But on Jan. 20, 2009, America will break a long streak of white, male presidents. The gender barrier may not have been broken, but the race barrier certainly has — to say nothing of some cultural barriers, considering that the name of 44th president drives spell-checking software nuts in ways that Roosevelt or Quincy or Eisenhower don't.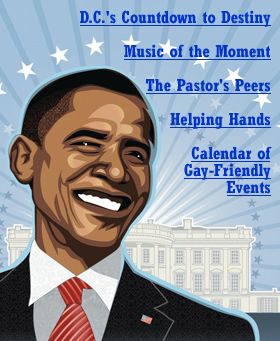 While Barack Obama may elicit the squiggly red line in your Word document, that's certainly not the quality that has gone so far in galvanizing a nation or earning him a nearly 80 percent approval rating, according to CNN. Ahead of his swearing-in, several GLBT leaders and activists — most local, some not — reflect on the significance of installing Barack Obama as America's first African-American president, a choice generally applauded by the GLBT community.
One of those coming to town for the occasion, a name probably not familiar to the metro D.C. gay community, is Lisa Hazirjian. With her partner, Michelle, she'll be rolling into Washington Jan. 17 on the same train carrying President-elect Obama and his family, as well as the vice president-elect, Joe Biden.
"It's actually incredibly emotional for me," says Hazirjian, a professor of modern U.S. history at Case Western Reserve University and the volunteer director the Cleveland chapter of Obama Pride during the presidential campaign. "During the past eight years, things were a little gloomy. I'm just elated to have these obstacles removed, to have someone who understands that gay rights are civil rights."
From his Midwestern heritage to spending his days on campus, Amari Ice shares plenty with Hazirjian. Ice is the president of the Bisexual, Lesbian and Gay Organization of Students at Howard, aka "BLAGOSAH." But while Ice shares much with Hazirjian, at 20, his youth perspective contrasts Hazirjian's examination of timelines.
"I don't know if this is ongoing with every generation, but I was always taught I could be or do whatever I wanted, that I would always have people who support me," says Ice, who like Obama is of mixed racial heritage, granting that other students he's met at Howard University have shared with him tales of far-less supportive upbringings and environments. "I come from a place where anything is possible. I'm growing up in a time where that's evident."
Ice says Obama's ability to bring different people to the table and accept them all is evidence of an idealism that others have been unable to muster.
"He's accepting of all people's differences, it seems. He cares about people's rights, their well-being. An Obama presidency, it just makes sense to me. It's like, 'duh.' I just don't understand how we've tolerated otherwise."
Some of those who've spent longer in the fight than Ice have somewhat different experiences and perspectives.
"In a very personal way, as a community member with almost 20 years in Washington, I do expect this inauguration weekend to feel different [from past inaugurations], if for no other reason than how historic it is that we've elected the first person of color to be president of the United States," says Rea Carey, the D.C.-based executive director of the National Gay and Lesbian Task Force.
Carey says she's lucky to be alive at such a historic time.
"I'm 42. I grew up when schools were being integrated, when neighborhoods were more segregated than they are now in some cities. We still have so far to go, but on a very personal level it gives me hope having someone in the White House who has lived through some of those experiences."
Chuck Wolfe, who as the head of the D.C.-based Gay and Lesbian Victory Fund lives and breathes elections while working to get qualified GLBT candidates into office, also gives a nod to the past to put this Inauguration Day into perspective. It will be hard, he says, to witness Obama's swearing-in and not think of the scope of the African-American Civil Rights Movement, adding that GLBT witnesses to the event will likely turn their thoughts to gay America's history, too, taking comfort in this evidence of the country's progress.
"I'm still left with a sense of awe, how cool it is that this is happening in our country. It's not only transitioning out of the politics of the last eight years, but moving in a direction the electorate knows is dramatically different. It gives me a lot of hope. In securing the rights of LGBT Americans, we have a long way to go. This helps us know we can get there."
When it comes to marking progress by Obama's installation as America's 44th president, Aubrey Sarvis of the Servicemembers Legal Defense Network, the D.C.-based organization advocating for gay and lesbian members of the military to serve openly, and Rachel Tiven, of New York's Immigration Equality group fighting for bi-national, same-sex couples, both have good reason to think Obama's taking office is just the beginning.
Sarvis has noted previously that Obama ran opposing the "Don't Ask, Don't Tell" policy that mandates gay military personnel hide their sexual orientation, though he has also acknowledged that SLDN's goals may not be on the top of Obama's to-do list. Tiven, whose group has recently expanded its efforts in D.C. by opening a new office here, says that Obama's background should be helpful in creating a federal government more sympathetic to Immigration Equality's mission.
"It's really poignant for Immigration Equality to have a president who is the son of an immigrant, of a bi-national couple, a couple whose relationship wasn't valued as equally at the time his parents met, fell in love and had him," says Tiven.
Like most, Sarvis also returns to that powerful Obama campaign theme: hope.
"Whether you come from the North or South, gay or straight, veteran or not, most Americans couldn't have envisioned this even a decade ago," he says. "It's an extremely hopeful message for all Americans."
For all the hope and excitement pinned to Jan. 20, activists who have taken their knocks and leaders who have navigated political minefields don't make progress without a bit of realism for balance.
"With Barack Obama's inauguration, it's such an exciting time, a time that holds enormous potential," says Joe Solmonese, head of the country's largest GLBT organization, the Human Rights Campaign. "I try, given some disappointment at the outset about appointees and Rick Warren, to remain optimistic to see this event in the historic context it's meant to be seen."
While laughing about the large number of people he has coming from out of town to stay at his home for the Inauguration — versus the tiny number of tickets he has for any related events — Solmonese guesses that despite some disappointments, four years from now the country will have seen more progress made on GLBT issues under the Obama administration than at other point in history.
Mara Keisling, founder and executive director of the National Center for Transgender Equality, shares the measured optimism, and says she's "thrilled" and "optimistic" about having Obama as president.
"That being said, despite what I think we all believe will be some change, it is still the federal government and he's still a politician. There will be some disappointments. What those disagreements are will depend on some part how well we all do our work, have the groundwork laid to make policy."
The head of the National Black Justice Coalition, a GLBT-advocacy group, H. Alexander Robinson, agrees that Obama is a man, not a panacea.
"I think that we have turned a corner, but there are still clearly gaps," he says. "I believe we've made extraordinary progress on issues of race, and in many ways on issues of sexual orientation. While I think the election of the first African-American president speaks to the country's desire for change and progress on race, not that many layers below that we still have wide disparities. There's still a lot of work to do."
Robinson adds that whatever his reservations, come Jan. 20 they will likely dissipate, if only for a day, as all the excitement of Election Day comes rushing back.
Lawrence Webb had some reservations himself about attending the swearing-in. Why not stay home in Falls Church, where it's warm and the TV will provide a close-up of all the action? Then he got the call that told him tickets were waiting so that he, the first openly gay African American elected to office in Virginia, and his partner, Clifton Taylor, could attend in person and the Falls Church City Council member just couldn't turn his back on history in the making.
"I'm antsy to figure out where we're going to be, if we'll get lucky and have seats," Webb wonders aloud. "Not even in my wildest imagination would I imagine such a thing happening. It makes me feel really blessed about how far we've come. It's fulfilling to see that the country has moved to a point where they have entrusted a person of color, an African American, to run the only superpower left in the world. More and more, people are going to become comfortable with the idea that it doesn't make any difference — race, ethnicity, gender, sexual orientation — as long as you're going to do the best job for them. I would dare say anything is possible at this point."