Antony Hegarty has a voice you won't forget – and a presence you just might not remember. More than probably any other singer-songwriter you've ever encountered, Hegarty is an enigma. He's alternately referred to as gay and transgender, for starters. And his androgynous multi-octave voice definitely leaves you puzzled. Perplexed.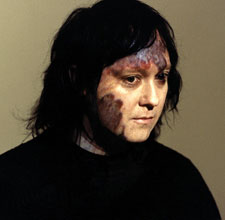 Antony Hegarty
(Photo by Don Felix Cervantes)
Is he to be the next Nina Simone — or Dame Edna? No, Hegarty doesn't dress in drag or even laugh while performing, but his singing voice has an affected, almost comical, old-lady timbre to it, in a way akin to Barry Humphries' vintage drag character. Entertainment Weekly, meanwhile, says it resembles Simone with a frog in her throat.
Hegarty – who generally just goes by his first name Antony – has come to fame almost in spite of himself, earning far greater recognition for his talent than he seemingly wants. He went almost un-credited as a guest vocalist on last year's acclaimed debut album from the disco-fied group Hercules and Love Affair. Antony is the man singing the group's most memorable tracks, from "You Belong" to "Blind." Well before that, the U.K.-born American, with his New York band, The Johnsons, earned the United Kingdom's most prestigious music award, the Mercury Prize. The band's winning 2005 set, I Am A Bird Now, bested sets from Coldplay and MIA for the honor. On the album, Antony dueted with pretty much all of his influences and contemporaries, from Boy George to Devendra Banhart. And yet, chances are you haven't heard, to cite one example from the album, "Fistful of Love," his stunning punk duet with Lou Reed – yes, the rock legend.
Antony isn't much of a boastful sort. He's as shy and demure as a pop star can get. His new album with The Johnsons isn't as revelatory as was I Am A Bird Now. That last album was sadder, but also a bit livelier. There was less candlelight and more of a hazy glow to the proceedings, as if coming from a smoky, basement speakeasy.
The Crying Light is not loaded with guest vocalists as was the previous set. Now, Antony has enough of his own fame. It's strictly Antony's show. The Crying Light reveals a singer-songwriter fully immersed in his own craft, aware of his own unique talent. "Daylight and the Sun," for example, starts out as a dramatic piano stormer, optimistic but haunting. But soon, it becomes a sweet elegy to a love: "Kissed by kindness," Antony sings. "Your fire becomes a kiss."
For the new set, Antony offers a too-precious thematic focus – specifically, his relationship with the elements and nature. Gay, avant-garde, classical composer Nico Muhly helped Antony arrange the set, and bring to musical life his ideas, from "One Dove" to "Dust and Water" to "Aeon." On the closing track, "Everglade," the music builds to a kind of pastoral glee and strange reverie as it works its way toward a tribute not just to a marsh but also, apparently, the pioneering Japanese dancer Kazuo Ohno, whose visage, in white-body paint, gives The Crying Light its cover image. Other photos in the album package include one of Antony's profile, with his right eye aglow, and a woman dripping in what appears to be blood. Exotic, eccentric – just downright eerie.
ANTONY AND THE JOHNSONS
The Crying Light
Secretly Canadian
$14.98

It's a bit of a fool's errand trying to describe the group's sound and style. It's melancholic chamber pop for sure, with a full band featuring cello, bass, horns and violin. It's often subtle, intimate, moving. But that doesn't even convey how unusual it can be. Opening track "Her Eyes Are Underneath The Ground" sounds like a traditional church hymn from the earliest days of the American colonies. As familiar as it can be to any scholar, the sound is almost foreign to the average listener. And as somber, even sorrowful, much of his music can be – Antony's a connoisseur of the torch song – there is hope and joy to be found.
At least, it often sounds like hope and joy. Even more difficult than pinning down his sound is deciphering his lyrics. Antony often sings in a dramatic warble, pronouncing his words for effect, not enunciation. So mostly, it's better not to bother. Just listen to his music, try to understand why it is the way it is. It's certainly an acquired taste, and you may find yourself appreciating his voice and his music long before you ever actually like it. But you can't deny its singularity.