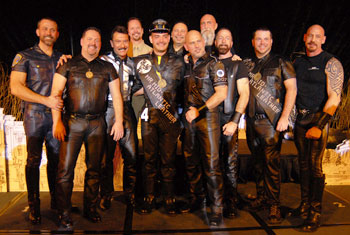 At this year's Mr. Mid-Atlantic Leather contest, the eventual winner, Kip Hollar, was asked to cite his qualities if called on to serve as President Barack Obama's new puppy.
"I have short hair, I don't shed and I'm hypo-allergenic — it's leather, not latex," he said off the cuff to the judges' intentionally farcical question. Dressed in full leather, with a bright-yellow tie, he was sure to call attention to what he said should be the first pup's first order of business. "As my first duty, I'd piss on you, George W. Bush."
Held last weekend — and every year during the holiday weekend commemorating Martin Luther King Jr.'s birthday — this year's M.A.L. overlapped with the historic and hotly anticipated Obama Inauguration, giving the event a special energy. "There's a lot of excitement in the air — of course it's because everyone knows it's our 25th anniversary," M.A.L. Promotions Chair Larry Barat joked at Friday night's opening press reception.
The Washington Plaza, the event's host hotel, teemed with leather life as usual, from the Leather Exhibit Hall to the expansive lobby. "We're very satisfied with attendance," said Steve Kenney, the new president of the Centaur Motorcycle Club, which produces M.A.L. While attendance was slightly down this year as anticipated, given the economy and the competing Inauguration festivities, Kenney still estimated some 2,000 leather folk attended this year's many M.A.L.-related events. All of them went off without a hitch save for a private sex party that sex-toy company Fort Troff had planned to hold at the Doubletree Hotel. The company's M.A.L. Maneuvers party – an event not directly affiliated with M.A.L. – was cancelled due to pressure from anti-gay activists.
Chris Dyer, Adrian Fenty's liaison to the gay community, presented the mayor's proclamation formally recognizing the weekend. "I must be the only member of the mayor's team who gets asked if he's wearing underwear," Dyer said to the crowd at Saturday's Leather Cocktails formal event at downtown's Almas Temple, referencing the fact that as far as the eye could see he wasn't wearing any leather. He further teased the crowd that they should help serve the many thousands of men in uniform who came to town for activities beyond M.A.L.
From one event to the next, it was a banner week to see uniforms in D.C.
"Thank you for coming to the Silver Jubilee of the Mid-Atlantic Leather Weekend," said Frank Nowicki, who once again served as the Mr. M.A.L. contest's emcee. Some 80 or so leather and fetish clubs from California, New Mexico, New Orleans, Canada, Chicago, Baltimore, Pittsburgh and elsewhere around the country were represented in the Leather Cocktails "Parade of Colors" event. The clubs range from those with mundane-sounding names such as the Jersey Boys of Leather and Potomac Motorcycle Club, to those more risqué, from the Men of Discipline to F.I.S.T. – which, in this case, is actually a women's organization, Females Investigating Sexual Terrain.
"It's been absolutely phenomenal," said Chris Grasso, about his year as Mr. M.A.L. 2008. "I don't want to sound corny, but it has been a life-changing event."
During his emotional step-down speech on Sunday afternoon, Grasso said, "I stood on this stage last year, and they said a leather bear couldn't win this contest. And so I say, thank you." He displayed a very touching selection of photos taken during his reign and dedicated it to those leather men who died in the past year, including D.C.'s own Wayne Nesbitt. When the photos concluded, Grasso presented bouquets of flowers to Patrick Grady, chair of the Centaur's M.A.L. Committee, and Nowicki. "It's easy to go through the whole year and not realize the bonds you made," Grasso said. That was clearly not the case for him.
There was lots of good-natured ribbing among the Centaurs at M.A.L., a symbol of just how much the organization has become a tight-knit community – like a fraternity, though some bonds appear as tight as family.
During the interview round of the Mr. M.A.L. contest, the judges forced contestant Jim Kuser to play American Idol's Simon Cowell and critique Nowicki's performance as emcee. Kuser said Nowicki, almost beyond critique as a natural-born host, needed to add some color to his drab leather wardrobe, and most critically, to get a makeover. "It's 2009. What's up with the William Shatner haircut?" said Kuser, to which Nowicki responded, "You can only hope you have this much hair when you get to be my age."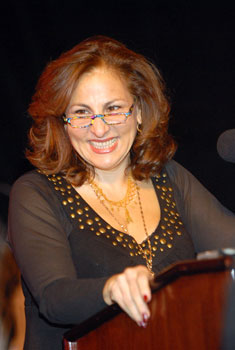 Later, actress and gay-rights advocate Kathy Najimy ran her hands through Nowicki's hair to verify that it was real. Najimy performed earlier during the Mr. M.A.L. contest, then came back to co-host with Nowicki as they announced the winners and rattled off the many prizes for the winners, from the likes of Leather Exhibit Hall vendors Nasty Pig, Dick Wadd and Priape.
"I love how you're saying this like it's for Macy's," Najimy chided Nowicki. "Oh, and under your seat, keys to your brand-new car!" she joked to the crowd. She then led everyone in a final round of applause for the contestants. "You're all very handsome and wonderful."
Baltimore's Dan Noël, celebrating his 20th year as a former Mr. M.A.L., led the Invocation of new Centaur leaders. Centaur's new President Steve Kenney said that he hopes to help "breathe new life into the organization," with a particular focus on Olympia, the Centaur's biannual Labor Day retreat held at a private camp in Pennsylvania. He's also working to have the club's history digitized to ensure it's not lost and can be better appreciated.
"I want to evaluate everything we do to make sure they're supporting our core values as brothers," he said of having fun in the company of other leather men. While only about 10 percent of Centaur members actually own motorcycles, Kenney, a Harley man, also hopes to enhance the motorcycle aspect of the club by establishing a regular ride schedule.
International Mr. Leather 2008 Gary Iriza, International Ms. Leather 2008 Hobbit and Jim Plante, a reserve officer in the Metropolitan Police Department, were among those who judged this year's Mr. M.A.L. contest. Another judge was Marcus Hernandez, better known as Mr. Marcus. Little known outside San Francisco and the leather community, Hernandez is one of the leather community's leading advocates, as a perennial judge on the circuit and as a longtime columnist for the Bay Area Reporter. Nowicki called him the "first emperor of San Francisco."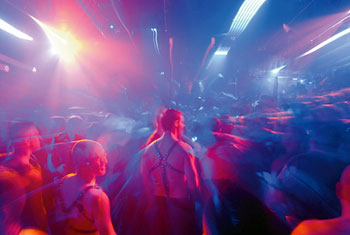 "I'm shocked. I honestly didn't expect to win," said Baltimore's Holler immediately after winning Mr. M.A.L. 2009 and posing for an endless stream of photos. "It's been an amazing journey in finding myself in the leather community." The 32-year-old Hollar has only been a part of the leather scene for about six months and his goal is to help bridge the gap between newcomers like himself and what he calls "seasoned leather folk."
"Unfortunately, with what happened in the '80s, we missed out on a lot of history and relationships," he said. Hollar celebrated his victory by parading around M.A.L.'s Reaction Dance Sunday night at Apex wearing his new sash and a leather jock. He definitely made all the leather men proud, as well as eager to see how he'll do representing M.A.L. at International Mr. Leather come Memorial Day.