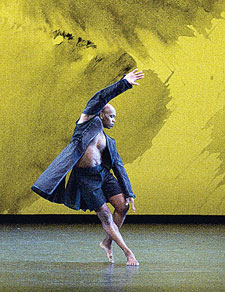 Mark Morris Dance
(Photo by Gene Schiavone)
As Gene Kelly belts out in Singin' in the Rain, "Gotta dance!" Mark Morris does too, but his muse is the music — more so than the moves. "I dance because of music, let's put it that way. I don't dance just to dance. I've always loved music."
At 52, Morris has mostly retired from dancing himself, but his eponymous dance company, which performs to live music exclusively, is one of America's most celebrated.
Returning to the Kennedy Center for the first time in a decade, performing "Mozart Dances," 16 of Mark Morris' dancers will perform to two piano concertos and a sonata by Mozart. Pianists Ursula Oppens and Amy Briggs will be joining the Kennedy Center Opera House Orchestra to provide live musical accompaniment.
"It's a big, beautiful show, and of course everyone should come see it," says Morris. But don't take his word. A New York Times critic called the performance "magical," while a Village Voice critic wrote, "Morris' musicality is indisputable."And with a personality perhaps as big and beautiful as the show, Morris says he's never been in the closet about being gay.
"I'm a queer artist," he says. "A couple decades ago, it was a bit different, a time when many would deny or hide. I guess I was a bit more confrontational about being queer because I didn't do that."
Today, Morris is working on new choreography to selections from Beethoven and Ives, as well as to a couple operas. He also says he will undoubtedly be choreographing into the foreseeable future.
"Oh, yeah. I have no other skills," he jokes. "This is it."
Mark Morris Dance Company will perform Thursday, Jan. 29, Friday, Jan. 30, and Saturday, Jan. 31, at 8 p.m. in the Kennedy Center Eisenhower Theater. Tickets are $22 to $65. Call 202-467-4600 or visit www.kennedy-center.org.