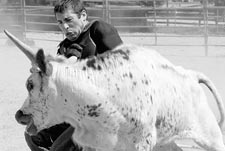 As images of the infamous Dust Bowl of the 1930s served as a backdrop to the Great Depression, D.C.'s GLBT community now has its own dusty icon to mark economic hard times: an empty rodeo ring.
For the first time in 18 years, the Atlantic States Gay Rodeo Association (ASGRA) will not be hosting its signature event, the annual Atlantic Stampede. Through the years, the early September weekend, centered at the Montgomery County Fairgrounds in Gaithersburg, has attracted the cowpoke set and their fans to one of the country's great gay rodeos.
"We've had the rodeo for 17 years in the D.C. area and this is the first time we have been unable to have one," says ASGRA President Mike Sanders.
"It's a little disturbing. But at the same time, for us to even consider doing anything right now would be irresponsible," Sanders says, adding that ASGRA made the decision in August, one month before the 2008 event.
"We've been keeping track of all of our presale tickets. I've got records dating back to 2002, and presale has been dropping on a continual basis," says Sanders. "Gate sales have also been going down. Those aren't as easily tracked, but those numbers have also gone down. It's been gradual."
While Sanders cannot pinpoint exactly why there's been this gradual decline in attendance, he and Patrick Hunter, organizer of ASGRA's monthly trail rides, agree that Hurricane Hannah, which paved a path through Virginia during the 2008 Atlantic Stampede, hurt attendance.
"Not only was that a problem for our Saturday events, but it was also a little bit of a problem for our Sunday events too," Hunter says.
Another financial factor in making the decision to cut the 2009 rodeo was simply the high production cost. Sanders says its costs upwards of $100,000 to produce a rodeo weekend — certainly a risky enterprise when attendance is slipping in a sour economy.
In 2008 organizers tried to lower costs and increase attendance by moving the host hotel from Capitol Hill to McLean. Miss ASGRA 2004 and 2006 Richard Legg, who performs in drag regularly as "Destiny B. Childs" and currently sits on ASGRA's all-volunteer board, says the move to McLean is not to blame for the quiet turnout.
"I think it was all revolving around the weather," Legg says, adding that the state of the country's economy added some wallop to Mother Nature's punch.
Says Sanders: "Everything is costing a lot more. And with fewer people coming, it's hard to make ends meet." Sanders declined to offer an exact accounting of rodeo revenues, citing a decision made by the ASGRA board.
Organizers are currently deciding how to handle other events usually presented during the rodeo weekend, such as ASGRA's popular Harvest Moon Ball at the host hotel.
"We are looking at the possibility of doing some type of dance or something in the September time frame, but right now, with the timing the way it is just around the holidays, and just seating two new officers two weeks ago, we have not planned that far," Sanders says.
Hunter points out that a year without the Atlantic Stampede doesn't translate to a year off for ASGRA's planning committee.
"Even though we're not doing a rodeo in 2009, we're not sitting at home and just twiddling our thumbs," Hunter says. "We're still out there, we're still active, we're still country."
For Legg, keeping active means doing everything he can to raise funds for ASGRA.
"We just threw a benefit for ASGRA and were able to make $600," Legg says of a recent holiday fundraiser at Freddie's Beach Bar & Restaurant in Arlington, where he is an entertainer.
"We do a benefit every year called 'Christmas for Children,' and usually it goes to Grandma's House and Pediatric AIDS. But this year I split it between Grandma's House and ASGRA. We just split it right it right in half."
While pulling the 2009 rodeo is a definite, some things are a bit less certain. For example, there's the question of rodeo royalty. The Atlantic Stampede weekend includes a pageant to name Miss ASGRA and MsTer ASGRA, but without a rodeo, it's unclear what will happen to the 2008 title holders or their successors. Sanders says it could be as simple as not having a royalty team in 2009. Hunter says he predicts the current titleholders will serve two years. It's something the board will discuss in an upcoming board meeting on Jan. 21.
More importantly, though, Sanders wants ASGRA followers to remember one thing: "We are not dead. Just because we're not having a rodeo, doesn't mean we have disbanded."
For more information about ASGRA visit www.asgra.org.