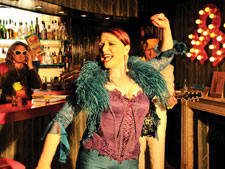 Who you calling a bimbo: Bimbo Jones
Katherine Ellis is a powerhouse vocalist, as self-assured and larger-than-life as if ripped straight out of a gay man's dream. In many ways, she sounds like the British equivalent of Kristine W: Grittier, bawdier, more playful and definitely more of a shouter. But if you've somehow missed her or her work in the British dance trio amusingly named Bimbo Jones, time to catch up. Ellis is the group's lyricist and all-around frontwoman, teamed with British music producers Lee Dagger and Marc Jackson Burrows, or JB for short. The band will finally cross the pond to play a few gigs in the United States in the coming months, to — finally — properly promote its debut album, Harlem 1 Stop, released this past October. The album was my pick as the best all-out dance album of 2008. Chances are, you'll still be savoring it come 2010. The songs are mostly all in the four-minute range, gone too soon. It wouldn't take much work to extend them to become full-length club remixes. Already, they're primed and ready to bob heads and shuffle feet.
Prior to this, Ellis co-wrote and sang on various notable dance tracks, including Joey Negro's "Make A Move on Me," Lee Coombs' "Shiver," Tom "Superchumbo" Stephan's "Dog" and Roger Sanchez's "Lost." Meanwhile, Dagger and JB have churned out mostly just fair to average remixes under the Bimbo Jones moniker for the likes of Janet Jackson, Pink, Ultra Nate and Annie Lennox. But put the three together, and you have some of the most vibrant dance music, alive with rich instrumentation – yes, they play actual instruments on here in addition to electronic knob-twiddling. On Harlem 1 Stop, as the trio hopscotches around dance's various sub-genres, from techno to trance to house to chill-out, with poignant lyrics throughout.
Harlem 1 Stop starts with several seconds of light jazz, and a vintage-style male voiceover. And then Ellis busts in to start the dance proceedings. It never lets up. You can listen to these songs in any order, but the album does put a structure around them. The album tells a story, about losing love, and then smarting from it, yet eventually trying again. And then again.
BIMBO JONES
Harlem 1 Stop
Silver Label/Tommy Boy
$16.98

"You love me with a poison heart, keep leading me on, I will follow," she sings on the heart-wrenchingly beautiful house ballad "Poison Heart." The song is flavored by melancholic strings, and sweet Middle Eastern-style chants, like a desert mirage. "I'm kept in the dark 'cause it's just where I want to be. Yeah, that's just what love is."
Halfway through, it's time for a break. "Harlem 1 Stop" is a funky, bluesy disco gem, which finds Ellis in an orgiastic state – she's still not quite right, but she's fired up about it, trying to be carefree. The album continues on in the more typical dance mien of looking for love and lust, and feeling carefree and giving in. The lyrics are still charming, the music every bit as fetching and festive as before. And then comes the album's closing tracks, the kiss-off rocker "Fuq-U" and the smooth yet seething chilled-out atmospherics of "Tell Me My Name." You don't exactly see what's coming, as she lectures her departing ex. "Babe, you've got a lot to learn, and it wouldn't take long if you cared," Ellis sings. "But you can start right now. And tell me my name." Stand up and take notice.
---
LULA
The Underground Sounds of Portugal and Me
Kult Records
$16.99

Lula, meanwhile, is part of New York's fading underground dance royalty, along with her pseudo-rival Alan T, and then others, such as Kevin Aviance. The whole lot of them is an acquired taste, true. And Lula is not really out to win over new club converts with The Underground Sounds of Portugal and Me, her full-length debut of full-length club mixes. Her music is dark and dry and a little dull. Only a subset of dance music fans will like it, with many more finding it a bit too monotonous. You could call it abstract dance music – much like abstract art of other forms, Lula's music requires a level of appreciation and understanding.
But it shouldn't be too hard to appreciate what she's done here. Though the explicit concept is an album made with Portuguese dance producers, more noteworthy is the fact that she's made a whole album of dance music about dance music – about her love of an inanimate object. Not one of these tracks is about human love or relationships; all are about her love of and relationship with music, the tools and attitudes needed to hear it, and the places where one can hear it – or at least where one used to be able to hear it. "Twilo," for example, is her reminiscing ode to the long-gone Manhattan club where the Austrian native – with the thick Austrian accent – discovered the club scene and her club persona.
"I feel it throbbing inside of me," she talk-sings – she rarely truly sings – but as always, she's not specifically talking sex but about the beats, and the bass, of dance music. It's a nice feeling.