If Election Day 2008 was the wedding between the GLBT community and President-elect Barack Obama, his subsequent choice of the Rev. Rick Warren to deliver the Inauguration Day invocation marked the end of the honeymoon. Granted, the highly GLBT-affirming Rev. Joseph Lowery will be delivering the inaugural benediction, and — announced Jan. 12 — openly gay Episcopalian Bishop Gene Robinson will deliver a prayer at the Jan. 18 opening ceremonies, to be broadcast on HBO. But the point of contention in the GLBT community has been Warren.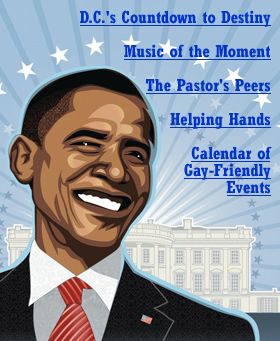 As Human Rights Campaign Executive Director Joe Solmonese wrote, in part, in his Dec. 12, 2008, letter to Obama urging him to reconsider the choice, "[W]e feel a deep level of disrespect when one of the architects and promoters of an anti-gay agenda is given the prominence and the pulpit of your historic nomination."
It was not an uncommon response to Obama choosing Warren, a pastor who has likened homosexuality to bestiality and who championed Proposition 8, repealing marriage equality for gay Californians.
"Though I think that the larger LGBTQ community organizations were correct to raise an issue that he chose such a person, I think in Obama's overview in trying to bring people together, it was a good move on his part," says Imam Daayiee Abdullah, a gay imam in D.C. who moderates the "Muslim Gay Group" listserv online and who has served on the National Gay and Lesbian Task Force Religious Leadership Roundtable.
Polling some local clergy — either themselves gay-identified, or who serve largely GLBT congregations — reactions to both Obama's choice of Warren and the fallout are mixed.
"There's no perfect answer for the first African-American president," Abdullah adds. "Whatever he does is not going to be liked by someone. … I think sometimes that the white, gay establishment expects other people — particularly people of color — to jump to their line of thinking. It's not always going to happen."
Rabbi Robert J. Saks, who has served the local Bet Mishpachah congregation of GLBT Jews on a part-time basis since the early '90s, sits on the opposite end of theological perspectives when it comes to Warren.
"I think the choice of Rev. Warren is insensitive and offensive," says Saks, who may end up in the crowds Jan. 20 if his Brooklyn-based son makes it down for the Inauguration. "Both President-elect Obama and those around him who made the selection of Rev. Warren seem to be oblivious to the pain the election brought to the GLBT community. For the right of marriage to have been taken back by the voters of California was a real slap in the face. … I think that Election Day made GLBT people feel alone and marginalized, and soured the euphoria of the day.
"The selection of Bishop Robinson cannot really be sufficient reason to shrug off the poor choice of Rev. Warren. Bishop Robinson does not see himself as having been chosen to counterbalance Rev. Warren — though one wonders if he's correct. But he's speaking at the Lincoln Memorial. It's not a main-stage event. It won't get nearly the attention Rev. Warren will get on the TV screens of the world."
Moving to a Christian corner, Rev. Elder Dr. Charlie Arehart, interim pastor at the Metropolitan Community Church of Washington, D.C., seems sympathetic to both sides.
"Personally, I'm disappointed to see Rick Warren as his choice," Arehart says. "However, I believe it was probably a very shrewd political move on his part. Because of all the leaders on the religious right, Rick Warren is probably among the most moderate of them. By welcoming him at least into the outside of the tent, I believe he is opening the door to greater dialogue. I believe it's a real opportunity for our community to negotiate with Rev. Warren, a real sociological and theological dialogue."
The Rev. Nathan A. Harris, pastor of the open, affirming and multicultural Lincoln Temple United Church of Christ echoes Saks' disgust, Arehart's nod to political realities and Abdullah's suggestion that race may play a bigger part than is readily acknowledged.
"I and most members of my congregation find Rev. Warren disgusting on many fronts, but they don't deny the wisdom of having him at the table." says Harris. "My position tends to be the opposite of his at every turn. But when it comes to this invocation, Mr. Obama comes from a tradition that welcomes to the table people you don't agree with. … It would be virtually impossible to find a European American who was totally free of racism to deliver the invocation. Homophobia and racism are in the air that we breathe. Some people get bigger gulps than others."
One of the best-known GLBT faces in Washington is Bishop Kwabena Rainey Cheeks, a longtime activist in the community, as well as the founder of Inner Light Ministries. For Cheeks, there are bigger fish to fry.
"The prayer is so secondary when I'm dealing with people in my congregation trying to keep their jobs, trying to keep their homes from going into foreclosure. To me, it's not a big deal. Obama said he was going to try to work with everybody. He didn't name him to a Cabinet position. He's asking the man to say a prayer. Let him say a prayer — and then get him off the stage!"