While Cancun is Mexico's most popular tourist destination, the resort city has undergone many Sybil-esque changes in its nearly 40-year history.
Until 1970, the area that is now Cancun was just a small fishing village surrounded by jungle, with more mosquitoes and snakes than people. A study by the Mexican government determined it would be an ideal location for a resort city: easy access from the United States, excellent weather most of the year and 14 miles of beach.
During Cancun's first decade as a destination, the city grew steadily. A hotel zone was created along a stretch of land between the Caribbean Sea and a large lagoon, and a "downtown" was developed to serve as the local hub for the workers.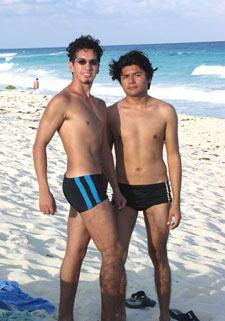 Cancun beach
A big boost came in the 1980s, thanks to changes in laws north of the border raising the U.S. drinking age from 18 to 21. Many U.S. cities that had been popular spring break destinations for drunken college students became less tolerant. Thus, Cancun took the mantel and became the new destination for those seeking to partake in their collegiate rite of passage. The influx of people and money helped the city continue its growth well into the '90s.
Now, Cancun is working to attract a higher-end traveler. Hurricane Wilma, a Category 5 storm that hit the city in 2005, actually helped Cancun make a big leap in that direction. While it caused millions of dollars in damage, it also created an opportunity for rapid development. Old hotels, restaurants and stores were either replaced or remodeled, allowing the city to be reborn, bigger and better.
As for the issue of being gay-friendly, Cancun – unlike some of its Caribbean neighbors – has a reputation for welcoming all. In the past few years, Mexico as a whole has become increasingly accepting of gays. There are now a number of legal protections for gays across the country and civil unions are permitted in Mexico City and the state of Coahila.
Stay
Cancun does not have any "gay" hotels. There are, however, many properties that gay travelers will find very comfortable. One such property is the Hyatt Regency (www.cancun.regency.hyatt.com), which offers luxury seaside accommodations at the northern tip of the Cancun peninsula. As a public nod to its openness, the hotel is a member of the International Gay and Lesbian Travel Association. For travelers who favor a gay-owned property, Casa Sirena (www.sirena.com.mx) is a six-room boutique hotel that is located on the neighboring Isla Mujeres. Getting to the hotel requires taking a 20-minute ferry ride from Cancun.
Eat
The wide assortment of available cuisine is a testament to Cancun's growing reputation as an international destination. Consistent favorites among locals and visitors include: Cambalache (www.grupocambalache.com), an Argentinian steakhouse; La Parrilla (www.laparrilla.com), offering authentic Mexican; and La Dolce Vita, (www.cancunitalianrestaurant.com), an Italian seafood restaurant.
Do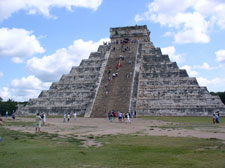 Cancun
(Photo by Chichen Itza)
Tempting as it may be to simply spend your time enjoying the blessings of the Maya Sun God, lounging lazily by a pool or on the white-sand beaches, to not partake in a little adventuring would be regrettable. Cancun and its surrounding area have much to offer.
A boat ride through the lagoon's twisted mangroves and out to the world's second largest reef to snorkel is fun and only takes about three hours from your day. For a taste of ancient Maya culture, a day trip to the ruins of Chichen Itza or Tulum is unforgettable. Tulum can easily be combined with a visit to Xel-Ha (www.xelha.com), a natural adventure park.
If a shopping adventuring is more your style, there are the high-end shops of Kukulcan Plaza (www.kukulcanplaza.com), or the traditional handicrafts of Mercado 28 to be conquered.
Play
For more than 20 years, gay nightlife in Cancun has centered around two downtown establishments: Karamba (www.karambabar.com) and Picante (www.picantebar.com).
Karamba is a second-story dance club overlooking Tulum Avenue, downtown Cancun's main street. It suffered extensive damage from Hurricane Wilma, but came back strong with an improved state-of-the-art sound-and-light system, while continuing its famed, live entertainment.
As for Picante, it is best described as a neighborhood, well… dive. Though not in a completely bad way. It is small and far from upscale, but the staff is friendly and the drinks are cheap. Visitors to either place should not plan to arrive before midnight, as Cancun's nightlife has a very late start. There is also a sub-section of beach, Playa Delfines, popular with local and visiting gays. It is located just south of the Hilton.
For more information about Cancun, visit www.cancun.travel.