It's Oscar time — let the judging begin! The clothes, the hair, the jewelry… and if there's any time left you might get around to reacting to who actually won the awards. So before the red carpet is unfurled and the distractions begin, here are some predictions.
Film. While it would be wonderful to have Milk – and its gay subject matter – recognized with an Oscar, as a film it pales to the underdog story of orphans in India. Frost/Nixon, Benjamin Button and The Reader are all worth seeing, but Slumdog is the one that deserves to win the big jackpot. And the Oscar will go to: Slumdog Millionaire.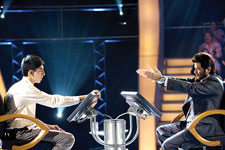 Director. While it could be a split year, as when Ang Lee won Best Director for Brokeback Mountain but Crash took home Best Picture, it's more likely that Boyle will beat out his competitors. Gus Van Sant could prove to be a formidable opponent, but it's unlikely that he'll make it out of his seat other than to shake Boyle's hand. And the Oscar will go to: Danny Boyle for Slumdog Millionaire.
Actor. For the most part, this category is either about actors playing elected officials – Frank Langella as Nixon and Sean Penn as Milk – or actors playing characters whose lives are similar to their own – down-and-out Mickey Rourke and gets-better-with-age Brad Pitt. (Richard Jenkins is the fifth nominee, but even he doesn't think he's got a shot at it.) If it's down to Penn and Rourke in the ring, brute force is going to win out over democracy. And the Oscar will go to: Mickey Rourke in The Wrestler.
Actress. At this point it would take an iceberg to stop Kate Winslet from cruising up to the stage to collect the Oscar. Divine intervention could allow Doubt's Meryl Streep to pull an upset, and good girl Anne Hathaway showed a new side with her druggie role in Rachel Getting Married, but Winslet is on the road to victory. And the Oscar will go to: Kate Winslet in The Reader.
Supporting Actor. Bravo for Robert Downey Jr. earning a well-deserved nomination for Tropic Thunder, but funny doesn't cut it this year. Heath Ledger's electrifying turn as The Joker probably would have gotten a nomination regardless, but there's no denying that the actor's untimely passing significantly boosts his front-runner status. His last chance at an Oscar will likely result in the win he should have gotten for Brokeback Mountain. And the Oscar will go to: Heath Ledger in The Dark Knight.
Supporting Actress. This is one of the few categories where a coin toss is just as likely to predict a right answer as an educated guess. Narrowing it down to Penelope Cruz and Viola Davis, it's neck-and-neck between the sexy artist and the struggling mother. Having doubted that Tilda Swinton could win last year, it's time to find faith again and assume that the mother is going to be superior. And the Oscar will go to: Viola Davis in Doubt.
Original Screenplay. Last year's winner, Juno, was a sure thing, but this year is more competitive. In Bruges was a thoroughly enjoyable story, Frozen River was a riveting look at an unexplored subject matter, while Happy-Go-Lucky could sail through on optimism alone. And WALL-E is just wonderful. But Milk captured the life and achievements of Harvey Milk in a manner both moving and captivating. Besides, it deserves to win something. And the Oscar will go to: Dustin Lance Black for Milk.
Adapted Screenplay. Another tough category. Benjamin Button was a little too long and meandering to warrant the award, and Doubt's strong cast wasn't fully served by the script. Of the remaining three, Frost/Nixon relied most on Peter Morgan's screenplay to carry forward a mostly verbal interaction between interviewer and interviewee. And the Oscar will go to: Peter Morgan for Frost/Nixon.
Animated Feature. Come on, WALL-E is in a totally different stratosphere from its competitors. No contest. And the Oscar will go to: WALL-E.
Art Direction. When time periods are recreated so meticulously, it's hard to distinguish which stands out as the best. Though The Dark Knight was the only film to imagine a new city, The Curious Case of Benjamin Button pulls ahead for capturing multiple times and places. And the Oscar will go to: Donald Graham Burt for Benjamin Button.
Cinematography. All of these films were visually stunning, but one was breathtaking. From shots of Cate Blanchett dancing in front of the fountain to battles on the open seas, Benjamin Button was mesmerizing. And the Oscar will go to: Claudio Miranda for Benjamin Button.
Costume Design. This category is all about the little details that most audience members won't ever notice. Since the winners tend to be the more opulent designs, it's likely that The Duchess's extravagant clothes will be "in" this year, while the others get an auf wiedersehen. And the Oscar will go to: Michael O'Connor for The Duchess.
Documentary Feature. It's hard to imagine anything winning other than Man on Wire, a doc that captures the amazing triumph of Philippe Petit walking on a tightrope between the Twin Towers. And the Oscar will go to: Man on Wire.
Film Editing. That a film exists so beautifully in turbulent worlds – and jumps through time so effortlessly – means that underdog Slumdog Millionaire is going to take home the prize in yet another category. And the Oscar will go to: Chris Dickens for Slumdog Millionaire.
THE 81ST ANNUAL ACADEMY AWARDS
ABC
8 p.m.
Sunday, Feb. 22
www.oscar.com
Foreign Language Film. Having a day job makes seeing every nominated film nearly impossible — it's too bad there aren't lifelines to use when picking Oscar winners. So for a complete guess. And the Oscar will go to: The Class, France
Makeup. Too much has been made of Brad Pitt's aging to think that Big Red or the Bat can contend. They're based in fantasy and over the top, but playing with age requires a more delicate hand, or a great plastic surgeon. And the Oscar will go to: Greg Cannom for Benjamin Button.
Original Score: As the owner of two of these soundtracks, it's easy to narrow the field to Slumdog Millionaire or WALL-E. While Slumdog's music matches the chaotic and vibrant life in India, WALL-E's score ensures that dancing in space is magnificent. With so little dialogue, it's the music that helps you fall in love with this little fella. And the Oscar will go to: Thomas Newman for WALL-E.
Original Song. While WALL-E is the stronger compilation, Slumdog Millionaire still has some wonderful individual songs. "Jai Ho," featured in the awesome Bollywood dance scene during the credits, is infectious. And the Oscar will go to: "Jai Ho" from Slumdog.
Visual Effects. While it would tempting to think that The Dark Knight's explosive visuals would beat out Benjamin Button's timeless shots, it's highly unlikely. Button captures decades seamlessly and that time commitment is bound to be recognized. And the Oscar will go to: Eric Barba, Steve Preeg, Burt Dalton and Craig Barron for Benjamin Button.