Capturing a mood somewhere between Clive Barker's cult-classic Hellraiser and Ken Russell's hilariously creepy Lair of the White Worm, Synetic's no-holds-barred Dante's Divine Comedy is, without doubt, the perfect night out for the visiting in-laws.
Personal devilry aside, it isn't often in this buttoned-down metro area that we escape the ubiquitous American cultural controls, both overt and subliminal, that inform our theatrical experience. Although it's not all bad – every country needs a cultural identity – mainstream American theater can nevertheless be quite the cultural island. It is good to get the occasional message in a bottle.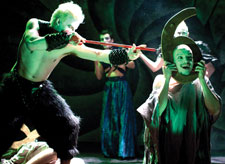 Synetic Theatre's production of 'Dante's Divine Comedy'
(Photo by Raymond Gniewek)
And Synetic Theater, born of the Georgian (Eurasian, versus peanut) couple Paata Tsikurishvili and Irina Tsikurishvili, continues to deliver just such "other-worldly" missives. Telling stories predominantly through movement, dance and sound, Synetic is by its very nature a different interpretive medium. Add to this the concentrated and unique artistic vision of the founders and the result is incomparably refreshing. At its best, Synetic weaves extraordinary visual and aural tapestries capable of reaching distant, wonderful shores of mood and angst. And what better vehicle than Dante's descent into, and eventual escape from, Hell?
There is an attractive ambitiousness to Mr. Tsikurishvili's direction and Mrs. Tsikurishvili's choreography of this Dante that pays off. Despite a modest set, the clever, highly imaginative choreography, stylized visuals and evocative sound and music often suggest a mystery, dimension and sense of space more often found in the caverns of the opera house. Instead of noticing the concessions made to space and resources, we are absorbed into a near-limitless catalogue of innovation, from the clever use of the trap doors to the inventive uses of the human body.
Having said that, there are the odd moments when the magic and the fiction falter. When Dante and his guide, Virgil, begin to pop in and out of a red fabric river of fire, the complex logistics become a distraction. Other times, Dante seems to linger on the edges of the "rooms" of Hell, both emotionally and physically, and this eventually weakens the impact of his climactic battle with Lucifer. Still, Benjamin Cunis cuts an impressive figure as Dante with spectacular arms and long-skirted costume and he moves with compelling, clear lines and heart-felt emotion.
But this is truly an ensemble production and the cast of Souls who populate the rings of Hell in all manner and incarnation must be lauded for their superbly rendered and cohesive performances. Without these dancer/players, the intensity of mood and purpose of this piece would have been impossible. Orchestrating the action like the naughty school-boys of Hell, the three demons, Alex Mills, Philip Fletcher and Ryan Sellers, deserve much credit for their superb interpretations as the keepers of the Damned. They bring the humor, but also much of the nightmare.
Greg Marzullo makes for an interesting Virgil – a creature with little left in common with what he must have once been above-ground. Yet, unless one is familiar with the fable, it is not altogether clear why he stays at Dante's side throughout this journey. Though rarely heard, it must also be said that the voices of Marzullo and Cunis were jarringly parochial as compared with the universal fluency of their theatrical movement and expression. Even speaking Italian with (or without) subtitles would have been preferable.
DANTE'S DIVINE COMEDY
To March 22
Rosslyn Spectrum
1611 N. Kent St.
Arlington
$35-$40
800-494-8497
www.synetictheater.org
Excellent vignette performances are offered by Salma Qarnain as Francesca, Chris Galindo, positively priceless as the Corrupt Pope, and Natalie Berk as the ephemeral Beatrice. Finally, mention must be made of the quite wonderful Vato Tsikurishvili as Minos and most especially the Angel, where he fends off a pair of spectacularly agile (and uncredited) devil-spiders. Vato is a remarkable stage presence and a sensational mover.
Prepared to be entertained, transported, repulsed and perhaps even redeemed.