Step into Freddie's world for a night — with splashes of blue and purple, flamingoes and cocktail umbrellas — and it's easy to forget you're in Crystal City. Stay awhile, and the buoyant camaraderie of karaoke and drag shows will make it easy to forget your woes, as well.
The man behind Freddie's Beach Bar & Restaurant, Freddie Lutz, gearing up to celebrate his venue's eighth birthday in March, obviously knows what he's doing. Maybe it's his 25 years as maitre d' and manager of Café Italia down the street ("I was a mere child when I stared working there," he teases). Maybe it's his 55-years' worth of roots in this Arlington neighborhood, living a stone's throw from Freddie's in the home he grew up in, now joined by his partner of 11 years, Johnny Crevantes.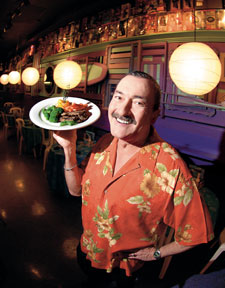 Freddie Lutz
That home is bit like Lutz, who does not leave a first impression of being exuberant and playful, but instead as someone relaxed and perhaps even reserved. The facade is stately and respectable, the lawn is trimmed and the interior tidy. Pull open a door on suburban traditional, however, and there's the drag closet, with dozens of wigs, rows of shoes and frocks of every sort.
"There's Dorothy, Tina, Sarah Palin," Lutz points out, wig-wise, adding he has no drag name of his own. The art on the walls — Pollock-esque paintings, abstract photography, detailed drawings of iguanas — reveal that the creative streak goes far beyond lipstick and lashes for this former student of the prestigious Rhode Island School of Design. More telling, however, are the nearly endless photos and mementos signed with best wishes, such as the shot of designer Nicole Miller with a penned greeting to her old college buddy, or the restaurant menu signed by Richard Nixon.
It's those connections to people that are truly Lutz's stock-in-trade. When he's not at Freddie's, he might be meeting with the Crystal City Business Improvement District, for which he sits on the board; or with the 23rd Street Business Group, where he's president. Sitting down to talk with Lutz ahead of Dinging Out for Life, a March 5 fundraiser for Food & Friends, an organization that began for people living with HIV/AIDS but now delivers thousands of meals to people across the region living with debilitating diseases, and people are ever-present. Ray Martin, operations manager at Freddie's, pulls up a chair and can't resist needling his boss a little. The bartender chimes in playfully, as do other members of his obviously familial staff. Arthur Dougherty of the Crystal City Sports Pub passes by and offers his two cents, calling Lutz an integral part of the neighborhood.
As a 2008 Capital Pride Hero, owner of Northern Virginia's only gay bar and restaurant, and a philanthropist, he's also an integral part of metropolitan Washington's GLBT community.
METRO WEEKLY: With your restaurant being one of only three 100 percent donors to this year's Dining Out For Life, I'm wondering if you have especially strong feelings about HIV/AIDS and Food & Friends' mission.
FREDDIE LUTZ: It's always been close to my heart. I had an ex-lover who died of AIDS. I ended up taking care of him for a while. And I did some stuff with the [AIDS Memorial] Quilt years ago, and AIDS Walk and all that.
MW: You also served on the board of the Northern Virginia AIDS Ministry for a time?
LUTZ: It was relatively short-lived. They asked me to do it. They thought it would be a good match, and it was. My problem is that I'm already on the board of the Crystal City BID [Business Improvement District], and a lot of the meetings were on the same day. I'd go to Crystal City BID, and then I'd have to run over to the NOVAM meeting.
I own a restaurant, I'm busy. The funny thing is that when they asked me to join, I told them I was really busy with the restaurant and that it would be too much. But we sort of agreed that we would just try it. I think we parted on very good terms. I ended up saying that anything I could do to help them, raising money or doing events here, anything like that, I'd be more than happy to help them in that capacity.
MW: Have they taken you up on that offer?
RAY MARTIN: They're going to do an "Imagine" party here.
LUTZ: They've done HIV testing here.
MW: In March, your restaurant will celebrate eight years. So you opened your doors not long before 9/11. The economic downturn right after the attack hurt plenty of new businesses. Did that happen to you?
LUTZ: It kind of did, actually. We're fortunate because we're a destination: the only gay bar in Northern Virginia. We have that going for us, which is very much in our favor. But, yeah, 9/11 took a toll. It took a toll on this whole street, I would say. I don't think we've ever particularly recouped at lunch.
That's not the only factor. Other places have opened: Pentagon Row, Potomac Yards, Crystal City has a bunch of restaurants. There's more competition, too. But, really, the downturn on lunch business happened around 9/11.
MARTIN: I remember coming here as a customer and you could smell [the Pentagon] burning when you came in the front door. You could smell it burning for days.
MW: And now we've got another economic downturn, but you're managing to give 100 percent for Dining Out for Life.
LUTZ: We just decided that we should be giving 100 percent because we're the only gay bar in Northern Virginia. It's a lot to do, especially this year, in this economy. But it's something that we really feel is important.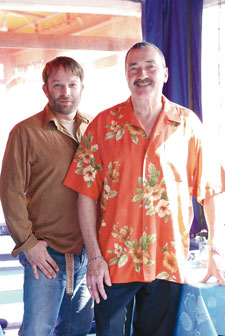 Ray Martin with Freddie Lutz
MW: I think you started off as a 25 percent donor. When did you join the top tier, and why?
LUTZ: What changed our minds? I don't know. A lot of places don't give 100 percent and maybe we were just seeing what everybody else was doing, going with the flow. But then we decided a couple years back, "You know what? We really should be giving 100 percent."
MARTIN: It wasn't last year, but the year before, 2007. Last year, I saw that some restaurants that had done 100 percent in year's past were cutting back to 50 percent or 30 percent. We just didn't want to take that step backward. It's not coming easy. But we discussed it, and it's a good cause. And you reap what you sow.
MW: Do you have any ballpark idea on how much you might be able to raise for Food & Friends?
LUTZ: I think this year — for some reason, we're up in sales — is going to be busier than others. Plus we're trying to squeeze in the three seatings, which I think will be successful. I'm confident that we'll be able to fill up those three seatings.
MARTIN: It will probably be about $20 for the buffet — and we can fit 200 people if everyone shares a seat. [Laughs.] Then people are also donating with the envelopes on the tables. It all gets lumped together.
MW: Business is up?
MARTIN: We're up, but so are the bills. It's kind of relative.
LUTZ: I was just saying to somebody, the more depressed people get, the more they want to drink. Fortunately, they're eating, too. I think the moderately priced restaurants are doing okay. I think it's the more expensive ones that are suffering the most right now. We're doing okay.
Something we're doing this year that we didn't do the last couple of years is three seatings. Last year we had two, and I said, "You know what? We could squeeze in another seating." Some people, I think, want to come early. So we're doing five o'clock, seven o'clock and nine o'clock. And if those girls don't get out in time for me to seat the next seating, I'm going to kick 'em out. Because it's for a good cause. "Get out! We need to make more money." [Laughs.] I've always found that people are very much in that mode of thinking that night. They want us to raise a lot of money. If they have to eat faster to get more people in here, they will.
We do a buffet because we're very good at it. The other reason we do it is because we're extremely busy that night and we want to guarantee people get great service. A buffet is an easy way to do that.
MARTIN: One thing different this year than in years past is that this event will be nonsmoking.
LUTZ: I've already made Sunday brunch nonsmoking, and I've had smokers come up to me and thank me because they say, "We don't like to smoke while we're eating anyway." So everybody's happy with that, and we decided to do the Dining Out for Life nonsmoking as well.
I quit smoking maybe three years ago. I don't have any desire to go back. I think being in this atmosphere has actually helped me to quit, being surrounded by smoke the whole time I was trying to quit. Now I'm used to being around smoke. I hope I'm not going to turn into one of those bitchy ex-smokers, because I hate those people.
I quit smoking and I knew that I'd put weight on, so I incorporated an exercise regime at the same time. I put a little weight on anyway, but I'm slowly taking it off and putting on new muscle. Plus, I have a gorgeous trainer. That keeps me motivated. [Laughs.]
MW: Despite the festivity, some Marylanders and Washingtonians maintain a sort of unofficial boycott of Virginia in the wake of the 2006 ballot measure that makes Virginia one of the worst states for GLBT people, legally speaking.
LUTZ: That's very interesting you should say that, because I had somebody at Capital Pride come up to me and say, "Why should we support a business in Virginia? They're terrible over there." And blah, blah, blah. And I said, "Because we're a gay bar in Virginia."
We're making progress. But without help and support, how are we ever going to make more progress in Virginia?
MW: There's never been any trouble?
LUTZ: We've had very, very little trouble here. I can count on one hand the number of little incidents we've had.
One of my favorite stories is when I first opened, we had a handful of rednecks walk in one night. They were walking around saying, "faggots," and this and that. I anticipated something was going to happen. Sometimes it's easier for me to call down to the sports pub down the street than to actually call the Police Department, because all the cops hang out down there. So I called down there: "Do you have any off-duty or uniformed cops down there?" "Why, are you having trouble?" "Well, I'm anticipating trouble." The [owner] came up with five of his football-player buddies and kind of nicely escorted those guys right out of here. I think that's incredible.
MARTIN: We get a very mixed crowd.
MW: Mixed crowd meaning straight and gay, or Virginians, Marylanders and Washingtonians?
LUTZ: I'll be standing out front and straight people will come up and they'll see the flags and say, "Oh, is this a gay bar?" I have a standard line: "We like to think of it as straight-friendly." And then they laugh and they'll come in. The most magical thing about Freddie's, I've always said, is just the way everyone gets along. It's incredible.
MARTIN: I remember a few years back when Rolling Thunder [the POW/MIA awareness organization, with many motorcycle-riding members] came to town. We had the bikers in here, and the gays and the straights, and three nuns from the U.K.
LUTZ: They still send me gifts.
MW: The nuns or Rolling Thunder?
LUTZ AND MARTIN: [In unison.] The nuns.
MW: Why are the nuns sending you gifts?
LUTZ: Because they liked us so much.
MARTIN: They'll send us Virgin Mary key chains, and we'll send them Freddie's coffee mugs.
LUTZ: Kitschy nuns.
MARTIN: That speaks to the diversity. Where else can you find a gay, biker, nun bar?