Miguel Marin helped start the Flamenco Festival in 2000. "The idea from the beginning was to have a date with Spain," the festival's director says by phone from his home in Cordoba, Spain. "To allow you to see what is happening in Spain today."
Nine years later, the festival focusing on Spain's most internationally known style of song and dance has grown in size and scope. Along with multiple performances at Lisner Auditorium, there are several food and wine tastings courtesy of D.C.'s Jaleo Restaurant. In addition to annual stops in D.C. and New York, the festival has expanded to other U.S. cities, including Miami and Los Angeles, as well as London and Paris abroad.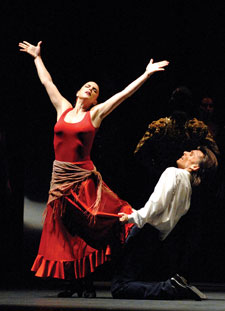 Flamenco Fest
(Photo by Paco Manzano)
This year's festival offers classic and contemporary takes on the genre, including what Marin calls "one of the most important pieces of choreography in flamenco": Antonio Gades Company's "Carmen." Drawn from the 1983 Oscar-winning film in which the late Gades also starred, "Carmen" features a score with captivating melodies from Bizet's famed opera.
Carl Graci, Lisner's marketing manager, says the festival attracts a wide audience, including those who just appreciate the beauty and artistry of the art form — from the costumes to the choreography to the dancers themselves.
"When we started it, I'll be honest, I didn't know a lick about flamenco," Graci says. It didn't take him long to learn to appreciate it. According to Graci, you fall for it the moment you see it. "Flamenco is a very approachable form of dance. You don't have to study it beforehand – just see it."
The Ninth Annual Flamenco Festival features performances from various troupes beginning Thursday, Feb. 12. All performances at GW's Lisner Auditorium, 730 21st St. NW. Tickets range from $35 to $65 for each performance. Call 202-994-6800 or visit www.lisner.org for a full schedule and more details.