Local gay resident Daniel Guilbeault takes a deep breath and makes a startling revelation: "I've dated a driver before."
Of course, that's dating. It would be a bigger challenge in a relationship.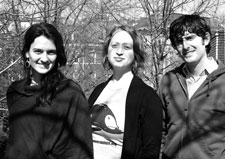 'Power Shift'
"If I was to be partnered with someone," he adds, "I would not want a car to be a part of my life. That would be pretty close to being the deal breaker for me."
Guilbeault doesn't suffer from a fear of automobiles or the inevitable rise of gas prices. He's an environmentalist, trying to live as "green" of a life as possible.
What does it mean to live green?
As Guilbeault, 29, defines it, green is "working on an individual level to make sure you're impacting the environment as less as possible and that you're taking steps to improve it."
His partner Andrew Mariotti has agreed to join in on Guilbeault's eco-friendly efforts when the couple moves in together this spring. Along with the furniture, Guilbeault will be a bringing a list of environmental friendly do's and don'ts.
Don't use paper towels or napkins; do use rags and cloths. That's just one example and one that Mariotti has already gotten down.
"He actually bought cloth napkins recently, which I was really proud of him for."
Guilbeault's green efforts aren't limited to energy efficient light bulbs and low-pressure showerheads. He's the deputy program director for Power Shift '09, a four-day event scheduled to kick off in the District on Friday, Feb. 27. The main purpose of Power Shift '09, according to the Energy Action Coalition (EAC), the entity organizing the event, is to "push leaders to pass a bold climate policy that prioritizes green jobs and renewable energy."
The second bi-annual event is slated to include speakers, workshops, panel discussions, and lobbying training, in addition to entertainment: That includes performances by the Roots, Santogold, as well as an "eco fashion show" organized by Howard University.
Organizers of Power Shift '09 are expecting more than 10,000 people to descend on Washington for the event.
"There's just now this new kind of idea that the green movement is a lot more open and anybody can be an environmentalist," Guilbeault says of the large number of supporters that came out in 2007.
"You don't have to be the dirty hippy who only eats granola" to participate, he says with a laugh.
It's an assumption Brianna Cayo Cotter admits to having when she was in college, and heavily involved in social advocacy groups. A self-identified queer, she despised environmentalist groups on campus.
"I just thought they were a bunch of hippies."
That attitude changed when she realized the "arrogant assumption" she had made.
"My entry point was starting to understand how the environment is connected to every other issue. And so whether or not you care about reproductive justice, racial justice, or healthcare, world peace … all of those things are directly impacted … by climate change. And I think that's why you will see all sorts of people in our coalition."
Cotter, 27, who currently resides in San Francisco, is the communications director for Power Shift '09.
"I've always been an activist," she says. "I grew up in D.C. and from a very young age I was volunteering at the DC Rape Crisis Center," and other organizations specializing in gender-based violence prevention among youth.
"I was much more focused on social justice stuff."
What bridged the gap between social justice advocacy and environmental work for Cotter, was learning about indigenous people, and how climate change impacts where and how they live.
"Whether or not it's climate change, indigenous rights, or making sure that corporations are not acting in an irresponsible way, all three of those things are all directly related, and so for me that was the first time that I started to see those connections," Cotter says, adding that lobbying for environmental-friendly legislation is crucial.
"I think we need to change our politicians more than we need to change our light bulbs, although changing our light bulbs is also important."
Shadia Fayne Wood, a 21-year-old who identifies as queer, has been advocating for environmental protections ever since she was seven years old.
The native of Newport, N.Y., says environmental issues have been at the forefront of her consciousness since childhood, because there was a landfill in the community she lived in.
"It was actually a landfill and an incinerator, and the incinerator burns trash," she recalls. "As it was, my neighborhood already had toxic waste sites, so we had large rates of cancer, and many other different diseases."
Her efforts to clean up the neighborhood at an early age generated enough buzz to land her an invitation to the World Summit on Sustainable Development when she was 15.
She has not slowed down since, as she is currently working to promote Power Shift '09 and the importance of having such an event.
"My life is dedicated to this struggle, on climate change, that's my primary contribution to the work and activating other people to get involved."
Cotter says being aware of the "cool parallels" between the GLBT and environmental movement helps foster a better understanding of the history of previous activist movements.
"We look to the earlier struggles of queer rights, during the civil rights movement, or as well as the tactics and strategies used by ACT UP in the 80s, as real examples for how we want to build a movement that's strong and powerful."