In his somewhat overlong, overdone comic-poignant The Dog in the Manger, now at The Shakespeare Theatre Company's Lansburgh Theatre, Spanish Renaissance playwright Lope de Vega gives us his version of the noble woman falling for a commoner. Though few of us can relate to the prohibitions of 17th century society, who among us can't relate to the drama of a seemingly impossible romance? With such a universal theme at its heart, this de Vega holds emotional interest for the modern audience and 21st century actors alike.
Still, despite the potency of its theme, purists will not fail to notice that translator and adapter David Johnston has chosen to bump some of the key language into the here-and-now. Is this necessary? Does it diminish the work? It's an answer that perhaps balances on the importance of drawing modern audiences to classical works and the considerable ease with which the wit, irony and, of course, the pathos, of most Shakespeare plays translates to current audiences. Then again, just because a playwright was born before the motor car does not make them Great in the way of Shakespeare.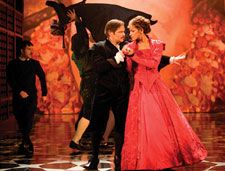 'Dog in the Manger'
(Photo by Scott Suchman)
Perhaps the bottom line here is whatever your view on modernizing the work of master playwrights, the changes made here ensure that this is an relatively easy-to-follow experience regardless of whether you've ever heard of de Vega or the courtship strictures of his day.
Complementing these modernizations are director Jonathan Munby's inventive and evocative suggestions of the strange world in which noblewoman Diana, the Countess of Belflor, finds herself. Foremost is the judicious use of singer Julie Craig who appears throughout as a charmingly poignant manifestation of the melancholy and pain of unanswered love. The simple but haunting choices in set are also effective.
Ultimately, however, The Dog in the Manger is defined by its Diana, and thanks to actress Michelle Hurd, we are presented with a complex portrait of a woman almost undone by her personal and societal power. With refreshing originality, Hurd gives us this strong, passionate, also quite confused Diana without ever resorting to the clichéd Shrews and hand-wringers so often seen in such roles. She is recognizable — strong women do share certain traits — but she is decidedly nuanced. Most crucial to this subtlety is that, despite her movie-star looks, Hurd refuses to paint from the standard actress palette of facial expressions. And thus, unlike many beautiful women these days, her face is fascinating to watch. Perhaps the only place in which we see how hard she works is in her voice. There is room for quieter moments.
The sparks cannot really fly without an equally compelling actor in the role of Diana's love object, her male secretary Teodoro. Although Michael Hayden's neurotic Teodoro has combustive comic value and a certain 21st century-confused male credibility, it's hard to see what this Diana finds so irresistible about him. Hayden gives good angst but doesn't exude the kind of ultimate core-strength that one feels would attract the high-octane Diana.
As Tristan, Teodoro's personal manservant, David Turner (who could be Beck's first cousin) walks a fine line in this surprisingly big role. Tristan carries the comedic backbone of the piece and Turner's excellent handling of the original material is much cleverer than the directorially imposed SNL-style nods to modern humor. This production, indeed this play, are just not witty enough to carry mock-outrageous scenes such the one in which Turner spoofs a Greek carpet-seller to musical-theater heights. Still, Turner has the kind of comic dimension one only gets with a very good underlying actor, and thus he continues to deliver even with the poor directorial choices.
The other comedic standout here is Jonathan Hammond as Marquess Ricardo, one of Diana's ardent but wholly unrequited suitors. Hammond has fun with his flamboyant Marquess, drawing on the opera tradition of the buffo with enough charisma to make one wonder why he didn't get the role of Teodoro. Miriam Silverman, as Marcela, the lady-in-waiting who waits in vain for Teodoro, is a solid comic presence if a tad Broadway-ish in her delivery.
All told, these strong performances, as led by the fully-committed Hurd, are nearly enough to disguise what is in reality de Vega's treatment of Diana's inability to cope with her passion for Teodoro and the thinly contrived solution. Those used to the airtight qualities of the Bard may find Dog a bit long and weak. Consider it a pleasurably warm and occasionally witty vehicle for Ms. Hurd, however, and you will have found a good late winter's evening entertainment.