While it would be a stretch to say that it is the main question on the minds of Washingtonians discussing the re-opening of Ford's Theatre, it was a recurring subject of conversation among opening-night audience members. And so, yes, the seats are very comfortable.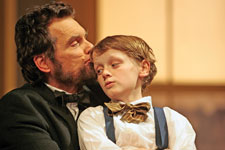 'The Heavens are Hunge in Blade' at Ford's Theatre
(Photo by Charles Erickson)
In fact, a sense of gracious comfort permeates the space newly revived by an 18-month renovation. There's something about the scale of Ford's that makes sitting in the audience an entirely unique experience. Brighter and far more airy than the main source of its worldwide reputation would suggest — the site of the assassination of President Lincoln — Ford's occupies a powerful place in Washington, D.C.
The theater is both historic site and living memorial, a place that reverberates not with the snarky volleys of our not quite post-partisan Capitol Building, a place not weighed down with the suffocating security limits of the White House or the screening lines of the museums lining the National Mall. Instead, Ford's is a monument that rings with laughter and applause and ovations and celebrates the creative and very much living energy of this city.
And it now has really comfortable seats.
This is of crucial importance to those settling in to see the world premiere of James Still's The Heavens Are Hung in Black. Coming in at just under three hours (with two intermissions), Heavens has positioned itself to be a monumental and creatively-fueled exploration of the mind and character of Abraham Lincoln. This ambitious agenda is well-supported by the decision to focus on the narrow but critical five-month span between late spring and summer of 1862.
The Civil War continued to rage, Lincoln's son, Willie, had died just months prior and his grief-ridden wife, Mary Todd, was slowly slipping toward what their eldest son Robert would one day categorize as insanity. It's actually Mary Todd's documented fascination with the occult that provides the underpinnings for this play that melds historic fact and writerly imagination.
This is not a passion play for Lincoln, but an attempt to give full-throated voice to the legacy of those whose lives (whether real of fictional) continue to shape this country's ideas of dignity and equality. Consider that Lincoln struggled with who would be allowed to serve in his armed forces. What should be done with those who were freed? Does being free mean one is equal?
If there is an argument to be waged against Heavens, it's the set-up nature of some of the dialogue; places where the impulse to include one more of the real Lincoln's quotes or stories seems too artificial. But that may also mark the dividing line between those whose motivation to see Heavens is purely for the theater of it and those for whom Lincoln and those surrounding him are a source of utter fascination. Mary Todd's fashionable consumption, for example, could put Confessions of a Shopaholic's Rebecca Bloomwood to complete and miserable shame.
Even with these occasional missteps, the team at Ford's has crafted a rich and fully-realized fantasy world in which outstanding players like David Selby (Lincoln), Robin Moseley (Mary Todd) and Edward James Hyland (Secretary of State William Seward) move with great purpose and determination.
Selby, who some may remember from his roles on the soap operas Dark Shadows and Falcon Crest, brings the full weight of his some 40 years of theater work to bear. Neither caricature nor historic park extra, Selby's Lincoln is a man who finds himself in remarkable and daunting times. Charismatic and eminently likeable, the actor affectionately transforms President Lincoln into an engaging, humble everyman.
THE HEAVENS ARE HUNG IN BLACK

To March 8
Ford's Theatre
511 10th St. NW
$16-$52
202-347-4833
Moseley's Mary Todd has a sense of desperation — a frenzied energy that communicates both the grief she feels for the loss of her son and the terror that sits beside her on a daily basis. Asked to jump from emotion to emotion like a snap of electricity, Moseley maintains both character and craft.
Finally, mention must be made of the dynamic and quicksilver work done by David Emerson Toney in multiple roles. The actor effortlessly morphs from servant to soldier to Dred Scott himself. Much like watching a trained magician appear and disappear, Toney is a fascinating and powerful figure to observe. It's an amazing performance.
The Heavens Are Hung in Black is an inventive and, while the word seems misplaced given the subject matter, enchanting telling of the Lincoln story. It's a fairy tale more in the tradition of the Brothers Grimm than the sweetened versions most children are fed. Endings aren't always happy. Agreement may involve heartrending compromise. And sometimes it's hard to know who the real wolf might be.
---
In the original myth of Orpheus and Eurydice, Eurydice steps on a viper on her wedding day and is sent to the underworld. The musician Orpheus, despondent at the thought that his new bride has been taken from him so quickly, goes down to convince Hades to release her. Hades — unexpectedly moved by Orpheus' musical mourning — says that he will release Eurydice so long as Orpheus walks out in front of her and does not look back. If he looks back at any time Eurydice will die a second death and will remain in the underworld forever. Naturally, he looks back.
EURYDICE

To March 1
Round House Bethesda
4545 East-West Highway
$25-$60
240-644-1100
Sarah Ruhl's Eurydice, now on stage at Round House Theatre, uses this myth as a jumping-off point for a more modern interpretation of the tale. Eurydice (Jenna Sokolowski) is still madly in love with Orpheus, but not so much that she fails to realize that she will always come after his music. Orpheus (Adriano Gatto) is that guy that can't quite get his head around what it is he wants to say. He's the guy who would tell you he loves you with a mix tape rather than actually saying it.
This is a fast-moving and erudite show that uses beautifully rendered wordplay to examine the inadequacy of words. Sokolowski and Gatto are joined by a fantastically game cast that includes Mitchell Hébert in a wonderful turn as the Lord of the Underworld. Apparently, he likes death metal and rides a tricycle. (In terms of visuals, it's pretty fantastic.)
Round House Theatre's production is simple but exceptionally clever. And it even contributes to what seems to be D.C.'s new cottage industry of interesting theatrical devils. Draw your own conclusions.