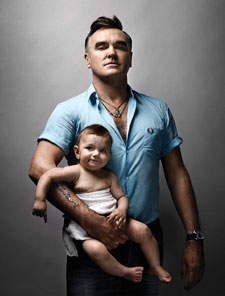 Morrissey
(Photo by Travis Shin)
Why is Morrissey (barely) holding a contented little boy on the cover of his new album? And what is the significance of the jewelry on Moz's arm and the boy's forehead? Oh, the mystery of Morrissey. He's still got it.
The international man of mysterious misery turns 50 this year, after more than three decades of having been at this game – a game of creating a serious cult out of making music that's either mopey or mad, and lyrics that are either painfully autobiographical or just a ruse. Is Morrissey gay? Is he still celibate? Has he ever been in love? Will we ever know the truth?
Don't look to Morrissey's new album, Years of Refusal, for answers. All he offers here is good music and bon mots – which, of course, is more than enough. It's more than he offered on his previous two sets this decade, though it does build on the almost-sweet vibe of 2006's Ringleader of the Tormentors, where moments of modest optimism crept in to tamp down the usual despair.
It's not clear here what Morrissey references in the title – and whether, actually, he means it in the past or present tense. Perhaps it's happiness, or even just peace of mind? "I know by now you think I should have straightened myself out — Thank you, drop dead," he retorts on the album's blistering opening track, "Someone Is Squeezing My Skull." He's still refusing.
"You hiss and groan, and constantly moan, but you never go away, but that's because all you need is me," Morrissey sings on "All You Need Is Me," another fired-up rock song here, with serious heat. Later, on the heaving "Sorry Doesn't Help," he sings, "Sorry will not bring my tears back to me anytime soon." Notice he's not crying over lost joy, just spilt tears.
Morrissey
Years of Refusal
Lost Highway
$13.98

Moz gets deceptively playful elsewhere on Years of Refusal, even fun. The rooster crows in "When I Last Spoke to Carol," which includes just enough touches of mariachi to give this punchy rock tune even more of a delicious kick. It's time for a fiesta! Well, it'll be a Day of the Dead fiesta, at best: Carol just died, having apparently just offed herself after years of struggle. "To the rescue, nobody ever comes," Morrissey sings at the end of the song, followed by a crying "woo-ooh-woo-ooh" chant.
Morrissey sounds positively in love on the album's first single, "I'm Throwing My Arms Around Paris." But he's singing about his love for the famed city of lovers' "stone and steel" – no living, breathing thing wants his love, he whines. Ah yes, he's still wallowing in the shameless self-pity and endless, self-absorbed sorrow that he trademarked as lead singer of the popular '80s band The Smiths.
Toward the end of the album comes a torch song, "You Were Good In Your Time," which contemplates overstaying one's welcome. Second-guessing himself is second nature to Morrissey — though maybe he needed a little more of it here. The track is more cinematic than melodic, a song only in the abstract, as if a shadow of its former self. It ends with eerie sounds and French dialogue, as if his new love, Paris, just died. Or maybe he just died in Paris? Oh, how the Morrissey mystery lingers.
---
GUILT BY ASSOCIATION, VOL. 2
Engine Room Recordings
$13.98

Any covers collection that suggests the music of Madonna, Justin Timberlake and Soft Cell, among others, is a guilty pleasure will have trouble ingratiating itself with gay pop fans. But look past that slight with Guilt by Association Vol. 2 – and the slight inherent in the whole concept, that anyone should feel guilty for liking music of any stripe, mass-produced or not – and you'll uncover several true gems of re-imagined pop tunes. Engine Room Recordings released the first volume in this series in 2007, and apparently already has a third in the works. Hopefully, they'll invite back the Brooklyn-based folk-rock band Lowry. One listen to the band's shifting, moody, harmonious take on the '80s hit "Africa" impels you to want to hear more. They give that song a level of sophistication that eluded it in its original glossy form, as performed by Toto. The meaning is still mostly a mystery, though.
The D.C. band Jukebox the Ghost, who will help the hipster hotspot DC9 celebrate its fifth anniversary next weekend, contributes a Queen-esque dramatic cover of "It's A Beautiful Life," the overproduced but undeniably sensational song from Ace of Base.
The set ends with Max Vernon's doo-wop-py, piano-driven take on Katy Perry's "I Kissed A Girl." Vernon didn't change the lyrics at all, and so, with the reference to "my boyfriend" and his soft-spoken delivery, it becomes a song from the perspective of a gay man. The song, in other words, is finally subversive in a smart way.