Tell someone you will be visiting Phoenix and the likely response will be "which part?"
Phoenix has grown rapidly in the last decade to become the fifth largest city in the United States. The surrounding metropolitan area encompasses more than 20 incorporated cities including Fountain Hills, Scottsdale, Tempe and Mesa. Together they provide an impressive playground of urban, suburban and rural environments to explore.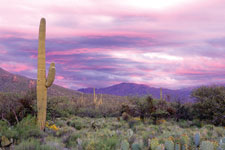 (Photo by Cay Uwe Kulzer)
For gays and lesbians, the Phoenix area has also matured. Despite the recent passage by a narrow margin of a statewide constitutional ban on gay marriage, Phoenix recently approved a domestic partner registry. It has a large annual Pride celebration and a very active Gay and Lesbian Chamber of Commerce . From 1996 through 2003, Tempe was America's largest city with an openly gay mayor, Neil Giuliano.
Resorts, dining, attractions, culture and lots of cactuses — with so many ways to keep busy, or simply relax and enjoy the scenic desert environment, it's easy to see why gay visitors can find themselves enjoying Greater Phoenix.
Stay
From the time the Arizona Biltmore opened its doors in 1929, it was clear that the Phoenix area would be known for its wonderful – almost magical – resorts. The Biltmore, with its Frank Lloyd Wright-inspired design, continues to attract those seeking luxury and comfort. Other recommended properties include the CopperWynd, an intimate resort with just 42 guest rooms and villas that also has a extensive tennis center, and the new InterContinental Montelucia, which offers spectacular Spanish-style accommodations and outstanding spa at the at the foot of picturesque Camelback Mountain. For fans of the gay-embracing Kimpton Hotels, FireSky is a tribute to the four elements as well as exceptional accommodations.
Eat
A woman's place is in the kitchen – well, at least when it comes to lesbian chef Silvana Salcido Esparza, owner of Barrio Café. Chef Silvana serves muy bueno upscale Mexican cuisine in a relaxed art-filled setting, earning her numerous awards and a spot in the Culinary Hall of Fame. Openly gay Arizona State Sen. Ken Cheuvront (one of five gay Arizona state legislators) is also owner of Cheuvront. His restaurant is well-known for its excellent artisan cheeses and global wine list. And while hotel restaurants have traditionally poor reputations, the Westin Kierland's deseo, serving imaginative Latin-influenced dishes, and the Valley Ho's Cafe Zuzu, serving classic American comfort food with a contemporary twist, offer very good eats.
Do
To travel to Phoenix and not visit Taliesin West, Frank Lloyd Wright's winter home and architectural school, is grounds for forfeiture of one's membership to the gay club. Designated a National Historic Landmark, the property provides unique insight into Wright's life and work. For an interesting and inspiring experience, the Desert Botanical Gardens provides 50 acres of beautiful outdoor exhibits that are home to 139 rare plant species from around the world. Phoenix's Heard Museumis a good place to learn about American Indian cultures and art. Its School Days exhibit, which highlights the federally run boarding school system that was designed to forcibly "civilize" Indian children, is an emotional reminder of the struggles any community can face as a result of bigotry.
Play
Gay nightlife in Phoenix is as hot as the city's weather – which averages in the mid-80's but can easily surpass the 100 degree mark in the summer… but remember it's a dry heat. Among the area's popular spots are: Charlie's, a welcoming country Western bar that has been going strong for nearly 25 years; www.Amsterdam.com, a spiffy piano bar with a reputation for marvelous martinis; and Karamba, a Latin-flavored dance club. Phoenix also plays host to one of the best gay rodeos, the Road Runner Regional, which is a great opportunity to watch homo cowboys and cowgirls at their best.
More information about Greater Phoenix is available at www.visitphoenix.com.