You won't find inanimate recreations of dungeon flogging scenes or the bucolic ribaldry of leatherfolk at the Olympia campsite on display at the Madame Tussauds wax museum downtown. It is, however, exactly the sort of fare on offer at the annual Scarlet's Bake Sale, marking its 37th year Feb. 7. And the bake sale takes the cake, in that flour, eggs and sugar come out tasting an awful lot better than wax.
Among the stars of this charity event, with this year's proceeds benefiting GLOV (Gays and Lesbians Opposing Violence, the GLBT anti-violence task force), is Tim Woody. This former Mr. D.C. Bear has repeatedly won kudos for his bake-sale creations, particularly in the "most creative" and "best individual" categories.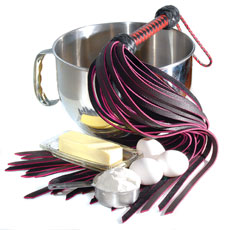 Cake ideas for Scarlet's Bake Sale
Photo by Todd Franson
"People keep asking me, 'What are you doing this year? What are you making?'" Woody says with a laugh. "But you'll just have to wait and see."
While the thought of baking a cake from scratch may leave culinary novices scratching their heads, Woody attests that aside from the right equipment — cake pans, for example — some patience and attention, baking from scratch is within the grasp of most wannabe chefs. Despite his many bake-sale victories, Woody doesn't consider himself an expert baker. Apart from learning the cake basics from his mother when he was growing up, he says he's simply relied on an innate sense of how things should taste. The secret to his Scarlet's success, however, is flair.
"It's more of a production, not just a cake," he says, giving credit for his bake-sale wins to off-the-wall concepts and creative execution. A playful concept, says Woody, can go further in this context than a perfectly executed recipe.
There is one element, however, he insists cannot be abandoned or imitated: love.
"You can't find love in a box. You can't find a sick and twisted sense of humor in a box, either."
With generic recipes for cake and frosting, there's really no limit to what you might create, from a basic layer cake to a sweet reproduction of the Stonewall riots. The cake becomes your building blocks, while a white frosting becomes your palette, thanks to the miracle of food coloring.
Basic Chocolate Cake
This recipe can be used for two 9-inch cake rounds, or one 13-by-9-inch rectangle.
1 cup of buttermilk
1 cup of water
2/3 cup of vegetable oil
2 cups of granulated sugar
2 eggs, room temperature
1 teaspoon of baking soda
1/2 teaspoon of salt
2 cups of all-purpose flour
3/4 cup of unsweetened cocoa powder
Preheat the oven to 350 degrees. Grease and flour the cake rounds or rectangle baking pan. In a large mixing bowl, combine the buttermilk, water, oil, sugar, eggs, baking soda and salt. Use a wire whisk to whisk these ingredients until well combined. Add the flour and cocoa powder and whisk vigorously until smooth. Divide the batter evenly between the two rounds, or pour the entirety into the rectangle pan. Bake for 30 to 35 minutes, until the top of the cake springs back to the touch. Cool the cake 10 minutes before removing from the pan or rounds.
Cream Cheese Frosting
Not only can food coloring be used to transform this basic white frosting to any color of the rainbow, flavor extracts can also be employed to add a complimentary flavor to your cake, from raspberry to root beer. With both color and extracts, work sparingly, as a little goes further than you might imagine.
12 ounce package or cream cheese (Neufchâtel cheese may be substituted for a lower-fat frosting)
1 stick (1/2 cup) of superior unsalted butter, room temperature
4 teaspoons of vanilla (pure or imitation) extract (add only 2 teaspoons if you're adding another extract)
3 cups of confectioner's (powdered) sugar
Cut the cream cheese and butter into a large mixing bowl. Add the other ingredients and, preferably with an electric mixer, mix the ingredients into a fluffy consistency. If by hand, begin with a large spoon, mixing till ingredients are fully blended. Continue with a wire whisk till the frosting is fluffy. Colors or additional extracts may be added as the frosting begins to fluff.
Scarlet's Bake Sale will be accepting cake donations at the bake-sale site, the D.C. Eagle, 639 New York Ave. NW, from 2 to 4 p.m. the day of the sale, Saturday, Feb. 7. Cakes will be auctioned from 5 to 9 p.m. For more information, call Stephen Decker at 202-210-7553, or Patrick Grady at 703-863-7295.