Tag Adams can still hear director Chi Chi LaRue commanding him on set with her chosen nickname.
"I always knew when she would start out by saying, 'You know I love you, Taglet,' that I was in for something," says D.C.'s most popular porn star-in-residence. The nickname combines his first name with the term piglet, connoting his adventurous sexual proclivities. But Adams hasn't heard the command for a while now, having retired from the adult film industry almost two years ago.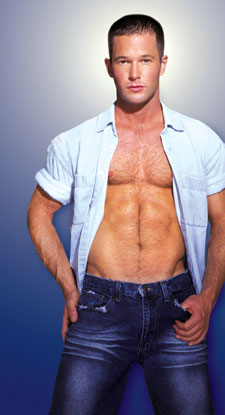 Tag Adams
"It's true," Adams says, adding that this interview marks the first official announcement of his retirement. The reason for the lag time? There are still films being released that star him. "Since stopping filming I have had about 10 new videos come out," he says, noting that many of them are "best of" sets that include scenes with the famous bottom.
Adams got his start in porn in 1994 under the pseudonym Chet Roberts. It was Adams' sly way of getting back at the school bully of the same name who had threatened him growing up in Hanover, Pa. Just as soon as he started though, he quit, eventually settling down in Winchester, Va., with his then-boyfriend. At the encouragement of that boyfriend, the former twink returned to porn about seven years ago, this time as the more muscular, hairier Tag Adams.
He had a good run in porn, starring in more than 50 films, including many of the industry's biggest-budget productions. He won a total of seven GAYVN Awards, the gay adult film industry's highest honor, including 2005's Performer of the Year.
"I don't have anything negative to say about the business, since I had the best guiding me throughout my career," he says, pointing to LaRue as an example. "You just really have to watch the decisions you make, because you really can't hide anything you may do wrong. It requires more than a love for sex."
Adams recalls one of his funniest moments in the business involving an especially difficult position. LaRue, who doesn't actually work in drag, was directing a group scene in a Falcon Studios video.
"She had one guy on his hands and knees with me on top of him, back to back, with my feet in the air. As the action was getting hotter, the sweat started flying — so did I. I was sliding all over him — and off of him." Adams credits a little balancing-assistance from his fellow actors, as well as some great editing, for a scene that "turned out really hot."
With porn behind him, Adams is now working toward a career in interior design. His day-to-day life is fairly routine: "I'm still walking my dog through the streets of D.C. Not much else has changed for me."
But with the timelessness of film, the recognition may linger for years to come. Surprisingly, those nods occur less in D.C. than in more rural areas of the mid Atlantic, such as when Adams is out of town visiting friends or family.
"It usually happens when I am least expecting it," he says. "That's when I often catch a look from someone letting me know they know."