In the country that gave the world Hollywood, the home theater may be particularly at home. Certainly it's a popular amenity at America's most famous home at 1600 Pennsylvania Ave. According to the online WhiteHouseMuseum.org, Jimmy Carter even screened Midnight Cowboy in the White House "Family Theater."
For the rest of us, "home theater" may be a nebulous term that can range from a used TV and the speakers within, to elaborate, custom-made arrangements of screens hidden in walls and audio systems that can rattle your bones. With the Academy Awards — aka the gay Super Bowl — heading to a TV near you Feb. 22, it's a good time to take a closer look at what's important on the home-viewing front.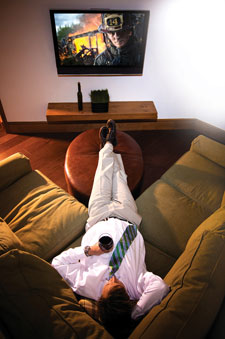 "I don't ever have a 'home theater,'" admits Margaret Murray, executive director of One In Ten, the local group behind the annual Reel Affirmations gay film festival. "I don't know that it makes a difference anymore. Now, no matter what the event is, people are logging into Google. During every little red-carpet moment, people open their laptops."
So if video could kill the radio star, the laptop could kill the home theater? Murray will certainly have a chance to find out as she zips around town to various One In Ten fundraising house parties on Oscar night, part of the new "Armchair Oscars Party," of which Metro Weekly is also a sponsor.
If she makes it to Bob Davidson's stunning home, however, she'll find that Internet and metaphoric rabbit ears may make good bedfellows — and that the marriage goes far beyond reading snarky blogs about leading ladies' fashion flubs.
"Having the theater linked to a media-center computer makes it interactive," Davidson says of his Chevy Chase set-up, which includes a wireless keyboard, as well as the option of streaming video from the Internet. "We have a great time with YouTube."
But interactivity is small potatoes compared to the full scope of architect Davidson's home theater, for which he hired Source One Incorporated of Gaithersburg, Md., for the media installation. Step down, through the Tuscan stucco arch and enter a wonderland of Arts and Crafts Movement influences. Hidden above the glass Art Nouveau doors leading to his wine cellar is the retractable screen — 10 feet wide and eight feet tall. The projector, offering DVDs, high-definition TV and all the rest, is hidden in the chandelier. The sectional, leather chairs, massive stone hearth and 20 overstuffed pillows offer generous seating for 11, though Davidson adds the absolute capacity seems never to have been reached. He's invited 45 for Oscar night, expecting about half that, and can easily augment with the large plasma TV on the floor above the theater, boasting a mere five speakers, versus the home theater's nine.
On a scale within easier reach, Rob Morton and George Ceaser of Bowie have nearly as much screen — about 7 and a half feet by four feet — though their rec-room trappings may not be as grand as Davidson's.
"I don't use it as much as I'd like, but I really do enjoy it," says Morton, who adds that their home theater is likelier to draw a Super Bowl crowd than an Oscar entourage. Actually, Ceaser and Morton's theater may be dark Feb. 22, unless they decide to fire up the Wii, which is also plugged into their giant screen.
But speaking of lighting, Morton says it's crucial in a dedicated theater space.
"We can make it pitch black, but you want some dim lighting," he says. "We're installing a series of wall sconces with dimmers."
The real trick to a successful home theater, however, may be in the human components rather than the technological ones.
"What really makes a home theater good isn't just audio and video," says Davidson, adding that for a recent screening of the anniversary re-release of Blazing Saddles, it wasn't the picture quality or sound that were the hit of the party. It was the props. "I bought cowboy hats — a dozen for $5, paste-on moustaches, a bunch of bandanas and handcuffs. We just had a blast."