Defying stereotype and tradition, Brian Simerson of MOMIX thinks dance is becoming less gay.
"There do seem to be fewer gay men and lesbians in dance these days, from what I've seen," says the out Simerson, who has been involved with MOMIX for 15 years. The company has had a few same-sex pieces over the years, and it currently counts two other gay and lesbian dancers in a roster of 20. Still, says the 36-year-old Simerson, even MOMIX "tends to be more heterosexual."
Which is not to say it doesn't have gay appeal.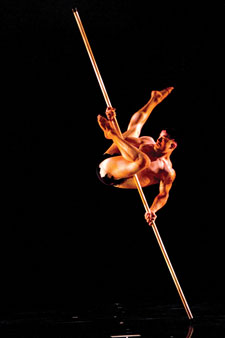 MOMIX
(Photo by Don Perdue)
"MOMIX really offers a full spectrum to many, from young to old," Simerson says. "The people who don't usually come out to see proper dance really love the show, because it really does offer such a variety of movement. It's everything, and all of it, combined into one. It's one big cake."
Moses Pendleton created MOMIX nearly three decades ago as an offshoot of his highly regarded Pilobolus dance company. Drawn from ballet, modern dance, even theater, MOMIX creates strange and unusual tableaux out of movement and clever costuming. There are similarities between the so-called "dancer-illusionists" in MOMIX and the entertainers in Cirque du Soleil, though Simerson notes MOMIX is more "streamlined" and "very simple in nature." Also, MOMIX still plays proper theaters.
Taking the stage at D.C.'s historic Warner Theatre this weekend will be something of a homecoming for Simerson, a Virginia Beach-native who danced as an adolescent with what is now D.C.'s Kintz-Mejia Academy of Ballet. "I used to dance with them in D.C. back when I was a ballet boy," he says.
Simerson joined MOMIX one day after he graduated from New York University. "[Now] I'm one of the columns," he says with a chuckle, referring to his longevity with the troupe. He's the oldest member, in both employment and age.
Simerson looks forward to being the oldest in the troupe, as well as one of its few resident gays, for a while longer. "My body feels stronger than ever, actually," he says.
MOMIX will perform its "Best Of" show Friday, Feb. 20, and Saturday, Feb. 21, at 8 p.m. at The Warner Theatre, 513 13th St. NW. Tickets are $29 to $59. Call 877-598-8497 or visit www.wpas.org.