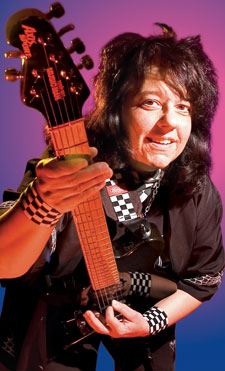 Pauline Anson-Dross of Wicked Jezabel
(Photo by Todd Franson [file photo])
Pauline Anson-Dross is ready for Cupid this year. "Oh yeah, we're feeling the love — any excuse for a party!"
Anson-Dross' popular, lesbian, party-rock band, Wicked Jezabel, will throw a concert and dance the night before Valentine's Day at the VFW in Morningside, Md., near Andrews Air Force base.
"It's a very, very gay-friendly place," says Anson-Dross, whose former band, the Outskirts of Town, performed a reunion show in the space last month.
"It's a really nice, big room, with an old-fashioned wood floor that's perfect for dancing on," she adds. There's also a small side room where anyone interested can play poker.
There will be prizes and contests throughout the night, including a couples dance contest. "Any gender or gender combination can compete," Anson-Dross says. "We look beyond gender." And a photographer will be on hand "for Valentine's Day couples who are all dolled-up and feeling perky and fabulous."
A local six-member band that includes Pauline's partner, Davi Anson-Dross, Wicked Jezabel is on a regional Valentine Weekend Tour of sorts. After this Friday in Maryland, the band will play in Fredericksburg, Va. And Sunday is the Washington Area Music Association's annual awards ceremony, the Wammies. Wicked Jezabel is nominated for the WAMA Fan Favorite Award.
One of this year's nominees in the Wammie Pop/Rock Duo or Group category is the Fabulettes, a local vocal group who will warm up the crowd for Wicked Jezabel at Friday night's VFW dance. The Fabulettes perform early '60s girl-group pop, from the Shirelles to the Marvelettes. "Girl groups were focused on the basics of romance," says the Fabulettes' Diana Quinn. Sounds perfect.
The Wickedly Fabulous Valentine's Dance is Friday, Feb. 13, from 9:30 p.m. to 1:30 a.m. at VFW Post 9619, 6527 Suitland Road, Morningside, Md. Tickets are $12. Call 301-735-5290 or visit www.wickedjezabel.com.