Missy Higgins became a pop star in her native Australia with her first hit, the piano-churned "Scar." Five years later, she's finally starting to catch on in the United States.
"I don't know what it is. I'm thinking repeated loops of this is finally paying off," Higgins says of her second album, On A Clear Night, released here exactly one year ago. Now Higgins is on her first headlining tour, with a full band, playing esteemed, mid-sized venues around the U.S., including D.C.'s 9:30 Club.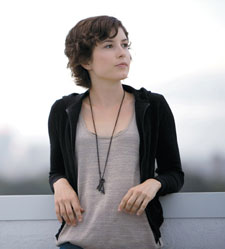 Missy Higgins
(Photo by Steve Baccon (courtesy WBR))
"It's been quite different, and it's been more rewarding in a way," Higgins says, about her slow rise in America compared to instant fame Down Under. "It feels like more of a grassroots effort here."
The 25-year-old came out publicly as bisexual in late 2007, after years of rampant speculation, especially in her homeland. "I became increasingly comfortable talking about it as I became clearer in my head as to who I am," she says. Ultimately, she says, coming out was less traumatic than she had feared. "I don't know what I expected it to be like, but modern society is much more open than I gave it credit for," she says, adding that being out is "a real sense of relief."
During her gig opening for the Indigo Girls last summer, the celebrated lesbian folk-pop duo asked Higgins to perform with them at several turns. She's still savoring that. "To be able to be part of their harmony, which is out of this world, and to be asked to sing a couple of their songs that I grew up with — that was an incredible experience." — Doug Rule
Missy Higgins performs Monday, March 2 at the Nightclub 9:30, 815 V St. NW. Doors open at 7 p.m. Tickets are $25. Call 202-265-0930 or visit www.930.com.