Many words come to mind when attempting to understand the rise of porn as a near-mainstream commodity in the gay world: Ingenuity. Technology. Business Savvy.
Oh, and let's not forget horny.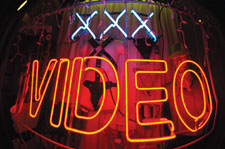 Whichever way you look at it — in magazines, computer screens, high-def televisions or cell phones — porn isn't just here to stay. It's here to play.
And like any business grown to gargantuan size, porn is its own maze of fascinations and contradictions. Porn has its own politics, from the treatment of performers to the debate over bareback movies. Porn has assiduously cultivated a veneer of sleazy glamour that takes it as far as the heights of European fashion runways, while amateur porn has boomed by eroticizing the drab second-hand Ikea living rooms of a horn-dog America.
The roving eye of porn sees all. No fetish is too niche, no location is too public. In the age of pocket video cameras and broadband Internet connections, we're all porn stars now.
Articles in this special series
From the Top
Newly slim and still outrageous after 20 years, legendary director Chi Chi LaRue is just getting started
Post-Porn
Tag Adams is enjoying the quiet, porn-free life
Local Hot Shots
Those guys next door? They're starring in porn
Keeping It Real
Online porn sites blur the distinction between real and fantasy, amateur and professional
Selling Porn
Accessories and in-store appearances help keep retail relevant