Vance Garrett will turn 30 this year. And he'll celebrate by going to New York's Black Party, the 30th edition of which takes place next Saturday, March 21.
Actually, Garrett is the Black Party's new director. He's eager to leave his mark.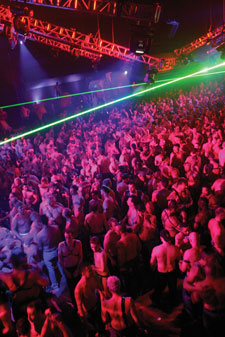 The Black Party
"It's about shedding of skin, to see what's underneath to keep it relevant for my generation and the next generation to come," says Garrett.
"It almost feels like a fresh beginning, a genesis," agrees Stephen Pevner, longtime producer of the party and head of its parent organization, the Saint-At-Large, alluding to the year's Garden of Eden theme. Each year the Black Party draws upwards of 5,000 revelers to New York's cavernous Roseland Ballroom. They come to help usher in spring, a bonding tradition that started at the old Saint nightclub in 1981. The party is known for being more than just a standard circuit, leather or fetish event. It is, Garrett promises, more of everything.
"We have what I believe will be the biggest Black Party to date, in terms of the number of performers, the talent involved and the overall production," he says. This year's event will expand beyond traditional leather and fetish performances to incorporate the Japanese dance form butoh, as well as acrobatics.
"[The Black Party] is typically not like any other party in the world," adds Pevner. "It's a kind of merger between a dance party, a sexy party and a kind of five-act opera — for 18 hours."
DJ Boris will open the event, followed an hour or so before sunrise by Eddie Elias. The legendary Junior Vasquez, amazingly a Black Party DJ virgin, will close, spinning after 10 a.m. until well into the afternoon. Guy Smith will handle lights until about 9 a.m., when Vasquez's own Darren Kawa will take over.
Pevner says Vasquez, unlike closing DJs in the past, will not play an "encore" set of disco classics from the Saint era. "Personally, it felt like it was getting a little long in the tooth," he says. Instead, Vasquez is being tasked to reflect the past 30 years of dance music but keep it current and forward-looking.
Snake imagery features prominently in promotions for the party, but Garrett wants to assure those easily rattled by snakes – and Pevner says they've "been getting lots of letters, begging us not to have snakes" – that they need not worry. "We have taken precautions so that someone doesn't have to confront something that they don't want to."
Eden Rites XXX: The Black Party takes place Saturday, March 21, at New York's Roseland Ballroom, 239 West 52nd St. Doors open at 10 p.m. Tickets are $125 at the door. Visit www.saintatlarge.com for more information.