A few years ago, Bebe Neuwirth created an uproarious caricature of conservative firebrand Ann Coulter on Al Franken's Air America radio show.
"I think she has serious emotional problems," says Neuwirth of the notoriously right-wing Coulter, adding, "I mean, I'm not a psychiatrist, though I played one on TV."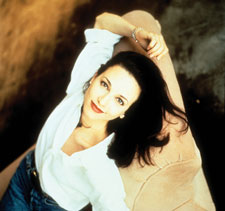 Bebe Neuwirth
(Photo by Mark Hanauer)
The psychiatrist to which she refers is, of course, Lilith Sternin, the Emmy-winning role Neuwirth played for years on the sitcoms Cheers and Frasier. But while she may be best known for her TV appearances, Neuwirth has for decades been a Broadway sensation, starring in such high-profile musicals as Damn Yankees and A Chorus Line, and winning Tonys for her breathtaking turns in Chicago and Sweet Charity.
On Thursday, April 2, Neuwirth will bring her showbiz sizzle to Strathmore with her cabaret act, Stories With Piano.
"This is not My Life in Showbiz," the 50-year-old cautions. "I'm not old enough to do that by any means. This show is mostly not from the world of Broadway."
Stories with Piano includes standards Neuwirth hand-picked from an eclectic bunch of composers including Irving Berlin, Stephen Sondheim, Tom Waits, Edith Piaf, the Beatles and Kurt Weill. "Musically and emotionally I think the songs hang well together," she says.
Neuwirth, who lives in New York City and is getting married next month, was recently featured in a reading of a musical adaptation of The Addams Family, in which she played (who else?) Morticia opposite Nathan Lane's Gomez. But the production, tentatively scheduled for a 2010 Broadway opening, has yet to be cast. "Nothing is officially announced," Neuwirth says, "[but] what we've done so far is fantastic."
The actress generally portrays strong, confident, domineering women. She claims it's not by design.
"I'm not an especially confident person," she says. "I'm not an especially domineering person. Though if you want, you can ask my fiancé if he thinks I'm domineering."
Bebe Neuwirth performs next Thursday, April 2, at 8 p.m. at the Music Center at Strathmore, 5301 Tuckerman Lane, North Bethesda. Tickets are $32 to $78. Call 301-581-5100 or visit www.strathmore.org.