Last year, Out Magazine named budding actor Cheyenne Jackson its Entertainer of the Year. "It was a great honor," says Jackson, best known as the star of Broadway's Xanadu. "But in terms of what I have to offer, they ain't seen nothing yet."
From Broadway to television to film, Jackson is certainly one of today's hardest-working men in show business. The actor, who got his start in Washington state but who has called New York home for the past few years, is even preparing to launch a recording career.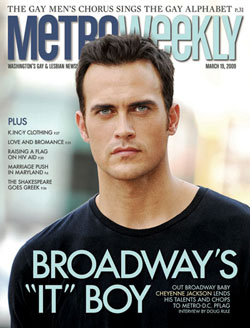 Cheyene Jackson
"I want to stay challenged and I want to stay busy," he says. "I work really, really hard. My family would say too hard because I never seem to give myself a break. But I love it."
Jackson will soon hit the New York stage again to star in an Encores! production of Finian's Rainbow. He's continuing to appear on television, guest-starring on shows including Ugly Betty and Lipstick Jungle. He's also set to star in Fox's new summer series, Glee, and has several films in the pipeline.
Two weeks ago in New York, Jackson performed to sold-out crowds a "very personal" one-man cabaret he's created. He plans to perform a version of the show at the Kennedy Center this fall, when he'll be featured as part of the prestigious "Barbara Cook's Spotlight" series.
But the Idaho-born, New York-based actor will make his first stop ever in Washington this weekend, as a special guest and honoree at Metro-D.C. PFLAG's 12th annual gala. Jackson, whose father named him after a 1950s television Western, is thrilled to become part of the PFLAG family. "When I was 19 and 20, my favorite part of the gay pride parade in Spokane was always when the PFLAG people came by," says the 33-year-old. "Seeing the families and stuff was the most moving to me."
The third of four children raised in a rural area on the Washington-Idaho border, Jackson says his parents are not yet members of PFLAG. "And that's because my mom and dad live in Idaho and I live [in New York]," he says. "It's still, you know, baby steps."
METRO WEEKLY: Probably your most famous turn on Broadway to date has been as Sonny in Xanadu, the musical based on the 1980 film. Is it true you had performed and starred in the musical in a workshop production, but you weren't actually set to appear in it on Broadway?
CHEYENNE JACKSON: Right. Jane Krakowski did both of the workshops [with me] and then she couldn't continue with it. Her show 30 Rock got picked up and she couldn't do both. I didn't want to do it without her because we had created it together. So I opted not to do it on Broadway. They cast it, and then James Carpinello [cast as Sonny] broke his foot. I was the only one who could learn it quick enough because I had created it so they asked me to come in.
MW: The show was a surprise hit.
JACKSON: Yeah, it sure was. People expected it to last a few months and we were there 15 months. It was definitely very, very rewarding. For the naysayers, it felt good. People in this town, I hate to say it, but everybody loves to watch everybody else fail. That's the way it is. It is a supportive community, but it also is a very competitive community.
MW: Were you a fan of Olivia Newton-John's before Xanadu?
JACKSON: Actually my brother was a bigger fan. My brother was all into her when she did her Physical album and that whole thing. I wasn't all into her like the other gay boys, I didn't really know any of her music. But I know it now.
MW: Like many actors, you got your start as the understudy or standby to many Broadway musicals. It took you several years before getting cast in a leading role.
JACKSON: Oh, yeah. My first three years here, that's all I did. I understudied Gavin Creel and Marc Kudisch and Chris Sieber in Thoroughly Modern Millie, all who are like my three best friends now, which is funny. Then I did Aida and I understudied Will Chase and Adam Pascal. And then for [the 2005 Elvis Presley musical] All Shook Up I was cast as the understudy, [but the lead dropped out] and I ended up getting the part. I was definitely the understudy for six or seven big Broadway boys. That's a tough gig, being an understudy and a standby. I think they are the unsung heroes because it's a tough job and not everybody can do it.
MW: Because the understudy knows the part inside and out, but doesn't generally get to perform?
JACKSON: You don't get to do it. You can go three weeks without ever having to do it and then you have a half-hour and they say, "You're on." And you say, "Shit!" You have to get out there and not just do the part, but do the part opposite the leading lady who is usually a star. And also people are disappointed that Adam Pascal or whoever isn't in it, so you have to overcome their perceptions. It's a tough thing.
MW: What inspired you to become an actor?
JACKSON: I had done theater on the side [in Seattle] and got my Equity card, but it wasn't my bread and butter by any means. I was working at a magazine in Seattle. I was an ad exec. Two things happened that kind of made me light a fire under my tuchus: 9/11, and then we had a death in our family. Both of those things really brought home the idea that life is short. I thought, "You know what? Screw this."
Everybody had always said I should move to New York and see what happens. But I just didn't have the balls, quite frankly. I just didn't have the confidence and I didn't have the wherewithal to get it together and quit this high-paying job. And, of course, my partner was in Seattle and there's that whole logistical nightmare.
By the time I moved to New York, I was just turning 27, which is about eight years older than most of the people when they first start out here. All these 19- and 20-year-old kids getting out of Julliard and stuff. But I'm glad I came when I did because I had life experience and my head was screwed on a little tighter than it was when I was 19. So it all works out as it should, I think.
MW: Growing up, were you always singing?
JACKSON: I was. I grew up in a little, teeny mill town right on the border of Washington and Idaho. Literally, the river ran between the two states and we lived right on the river. About 1,200 people in the town — everybody works at the paper mill or the sawmill.
We lived on 40 acres. We didn't have running water for a time, and we had an outhouse. It definitely was like a Little House On the Prairie beginning. We didn't have community theater or children's theater. My mom taught us to sing, me and my sister. I have two brothers, but they're both tone deaf. Music was always in our house. My mom has a beautiful, beautiful voice. Untrained, but just beautiful and natural. And she always played Joan Baez and Joni Mitchell and Bob Dylan and Elvis — it was always a huge part of my life. So as soon as I found out what theater was, what Broadway was, I thought, "Oh, that's what I'll do with my life." Just a matter of getting all the pieces in place.
MW: You came out to your parents when you were 19, after having moved to Spokane. How did they react?
JACKSON: It was terrible. My parents were devastated. They really had to mourn their idea of what they thought my life would be.
My parents are very Christian. We grew up very evangelical, born-again Christian, so there was that whole aspect. For a good couple of years, we didn't even really speak because I had to give them time to deal with their new version of who I was, even though I was just exactly the same.
It took awhile, but now it's great. After a few years, they started to realize I was the same person. It's really a testament to their open-mindedness and my patience, and both of those things together.
When I hear people who have come out to their families and they're like, "They don't understand me and I'm never talking to them again," I really think that somebody's not giving. I had possibly the worst-case scenario, [and] if my family and I can get through this, anybody's family can. It's a matter of trust and respect and talking it out.
My dad is a Native American, Vietnam vet, the manliest man in the West. My brother is a pastor who preached on the 700 Club. It's like the antithesis of everything I am. But through faith and patience and respect, you get through. You really can. You just have to try. You have to work at it. It's still not easy, but you only have one family. That's what we've all come to agree.
MW: Obviously you were out even before you moved to New York. And you just decided you weren't going to bother with the closet?
JACKSON: I really didn't give it any thought. I'd been out for so long — 14, almost 15 years. When I got my first big break in All Shook Up, a New York Times interviewer asked me if I was gay and I didn't even think about it. I guess I did have a moment's hesitation and I was just like, "Yeah, yes, of course." I think my agents at the time were having a conniption, because it was my chance for my first big break and you don't want to be pigeonholed and whatnot.
I just believe that if you're true to yourself, you're going to get rewarded for that somehow. Who knows how that will manifest itself, but it's always been that way for me. If you truly are open, people respond in whatever capacity. And I may have not gotten parts because of it, but I can't imagine being in the closet. I have famous friends who are in the closet and I see the pressure they're under. I see what it does to them, always having to be pronoun non-specific when they're talking in interviews, always having to talk around it. I couldn't do that. No way. I don't have the energy.
MW: Now that you have a budding television and film career, are you looking to move to Hollywood, to leave Broadway?
JACKSON: Oh, no. I'm a "Broadway baby." I'll always do Broadway. I think my agents would like me to move to Hollywood. I'd be in the forefront of casting directors' minds more [that way]. But no, my life's here, my family's here.
MW: Obviously, you have had great success as a romantic lead on Broadway and you're openly gay. Do you think that's a possibility in Hollywood?
JACKSON: Yeah, why not? I have never played by the rules in terms of that anyway. As far as I know, I don't think there's ever been an openly gay guy cast as a romantic lead in a TV show. There have been gay guys that came out after they were cast, but I plan on being the first to go in being cast. You know what I mean? I seem to have unwittingly been a trailblazer in a lot of aspects anyway. That is to say, I'm always cast as the guy who gets the girl, and I have a hard time getting cast as a gay guy. Anyone who knows me in my personal life would think that's hilarious.
I just believe it's about talent. If you've got talent and you can convince people that you are into this woman or this man or whatever it is you're doing, and people connect with you, that should be what it's based on. Unfortunately, it's not always the case.
MW: You made your film debut in 2006 in the Oscar-nominated film United 93. You played Mark Bingham, the gay rugby player who helped overtake that flight from 9/11 hijackers before it crashed in Pennsylvania. How did you get that role?
JACKSON: I had auditioned along with so many other people in New York. We didn't know much about the movie. We just knew that it was about 9/11 and about that exact flight, United 93. There wasn't a script. It was a completely improvisational audition, unlike anything I had ever experienced audition-wise. They had us improvise that we were on a plane that had been hijacked and that was all the information we got. It was an amazing experience, to start with a film of that caliber and film it for three months in London and get to work alongside the most amazing filmmakers ever, and then also tell this story that's so important and so raw.
MW: Do you have other film projects in the works?
JACKSON: I did a film called Hysteria last year that is still in turnaround – they're still editing it and stuff. It's a psychological thriller, but I'm sure they'll market it like a bad horror movie like they normally do. There is an audience for those types of movies. I don't know if it will go straight to video or what.
MW: You're set to star in Glee, a sitcom that will air on Fox this summer. What's it about?
JACKSON: It's about the worst high school glee club in America. But they're just full of heart and full of funny misfit characters, and they just want to succeed so bad. Matt Morrison plays the teacher and he loves music and he's really passionate about it. It's great. The writing is fantastic. I'm hoping that Middle America can grasp it, because it's so clever and fun. Usually the shows that I love that are the really witty, great, well-written ones, go right over peoples' heads. The No. 1 show in America right now is Two and a Half Men. I rest my case. So I'm hoping that people will give us a shot and see it for what it's worth.
MW: And what is your role in this?
JACKSON: I can't say. It's top-secret. [Laughs.] Suffice it to say, I've never done anything like it and people will definitely see a different side of me.
MW: When will you be able to reveal your role?
JACKSON: I don't know. I honestly don't have the answer to that. I've learned the hard way that I don't say anything until the network says "Go for it."
I did a workshop of [Mormon: The Musical, a satire from the South Park creators]. I didn't realize it was a secret and somebody on the red carpet asked me what I was doing and I said, "Oh, I'm doing this Mormon musical." I didn't say anything about it because I barely knew anything, but the New York Post picked it up, it got everywhere, and I got some angry calls, like "That's a secret!" I learned my lesson.
MW: You also have an album in the works.
JACKSON: I do. I had planned to be in the studio by this time and my producers are sitting on their hands waiting, but I've literally gone from these last four TV shows back to back to back. You know, you have to strike while the iron's hot.
MW: What kind of music will it be?
JACKSON: Still to be determined. It's kind of eclectic, which is like me. You can't put me in one category, so that's kind of our ongoing discussion. But there will definitely be something for everybody.
MW: Are you hoping for a successful career as a recording artist?
JACKSON: Yeah, definitely. I like to "go big or go home." If you're not going to knock it out of the park, I don't really see what the point is. If it's not a huge, giant success, I'm not going to be upset. But I definitely want to try. I don't just want to put out a little Cheyenne Sings Rodgers and Hammerstein's Love Songs and then it's sold at two little stores in New York. I want to go big.