In a dimly lit townhouse near Dupont Circle on a recent Wednesday night, four gay friends share an obsession: the mysterious murder of Robert Wone.
"It's a classic game of Clue," says Michael Kremin.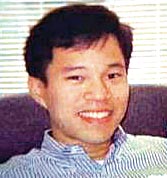 David Greer continues the sentiment. "The lights go out and the lights go on and there's a dead body."
Douglas Johnson interjects, "And everyone is throwing their hands up going, 'I don't know."'
It only takes a few seconds before one of the four longtime friends, to include Craig Brownstein, jumps in to remind everyone that the murder of Wone, a 32-year-old lawyer who lived with his wife in Oakton, Va., and died from multiple stab wounds while spending the night in the District at the Swann Street townhouse of his fellow alumnus, local gay attorney Joseph R. Price, was not a game.
It was, instead, a reality played out two and a half years ago in the home Price shared with his partner, Victor Zaborsky, and their then-roommate, Dylan Ward. Today, the three tenants of the Swann Street home, who claim an intruder killed Wone, face charges of conspiracy, obstruction of justice and tampering with evidence.
"Nobody has been charged with murder," Brownstein says. "Nobody has spent time in jail, and a man was murdered. That's problematic."
Locals should be familiar with the Wone case, which local media have followed since it happened, late on the night of Aug. 2, 2006.
The most recent development in the case occurred Feb. 26 when D.C. Superior Court Judge Brook Hedge postponed till September a planned Feb. 27 hearing regarding a $20 million wrongful death lawsuit brought by the Wone family, to allow time for the criminal case involving the three tenants of the Swann Street townhouse to be completed. The Wone family is asking for access to the three defendants' telephone records in the weeks leading up to Wone's murder.
For Brownstein, Greer, Johnson and Kremin, who sought a new obsession after the 2008 presidential campaign, developments in the fall of 2008 made the Robert Wone case the most titillating topic of discussion. That was mainly due to a 14-page affidavit released by Metropolitan Police Department in late October, suggesting that the three gay men living in the Swann Street townhouse were hiding information and that the crime scene had been tampered with. It was enough to inspire Brownstein, Greer, Johnson and Kremin to create a blog titled, "Who Murdered Robert Wone?" for which they've given themselves the title of editors.
Visitors of the blog are given the opportunity to post their thoughts on every aspect of the case and the editors often respond to comments and posts using their own names.
"We're not hiding behind aliases," says Brownstein. "We freely use our names, and we [have] taken those steps to be fully transparent."
Brownstein works in public relations for Edelman and has more than 15 years of journalism experience under his belt, including work as a producer for C-SPAN. It was at C-SPAN that he met his partner of the past 12 years, Johnson.
Johnson, also a journalist, currently works for Voice of America, and in addition to C-SPAN has contributed to the New York Times, National Public Radio and other publications. Kremin is a digital-media consultant who has lived in Washington for more than two decades. And Greer, currently a speechwriter for a trade association, has a career that has included a brief stint as a theater critic for Metro Weekly, as well as a working on former President Bush's Advisory Council on HIV/AIDS in 2003.
"We want to work with … everybody who has some sort of vested interest in reporting on this case," Greer says. "I don't need any credit. The only reason we put our names forward is because people felt you had to, for integrity."
Price, Zaborsky and Ward, each facing several counts of conspiracy, obstruction of justice, and tampering with evidence, are scheduled to appear at an April 24 status hearing, at which a trial date is expected to be set. They don't face murder charges, and the men behind "Who Murdered Robert Wone?" say their blog is not intended to imply guilt or make accusations of these three defendants whom they have never met.
"We take the defendants at their word," Brownstein says. "But we have trouble matching their word with the word of others. We're looking for more information to resolve this."
More information is sought at every level.
For example, once the criminal trial is complete, they editors say they hope to recruit one of the jurors who will have served on the case to write a blog post about the experience. It's something the editors have already done with a medical examiner, regarding the drug tests that were conducted on Wone after his injuries showed no sign of struggle.
"We reached out to a medical examiner because there had been a lot of discussion about what possible drugs might have been employed," Johnson says. "What it opened up was an explanation of, frankly, 'How does a coroner do his or her job?"'
Greer says the blog, which the men maintain during their free time, provides the space to explore these topics in depth they don't find elsewhere.
"When I would go to dinner parties and talk about this case, you could talk about it in a hushed tone for a certain amount of time. And then it wasn't polite to talk about it any longer, but it was still on everybody's mind. You can feel that in the response that the site is getting."
Greer is specifically referring to the bondage, discipline, and sadomasochism (BDSM) angle of the story. According to the 14-page MPD affidavit released last fall, "Further investigation, including interviews with several witnesses familiar with Price, Zaborsky and Ward, revealed that the three occupants of the Swann Street residence … were involved in a three-way relationship. Ward had a bedroom of his own on the second floor of the residence and was in a personal, intimate relationship with Price. This relationship included a dominant-submissive sexual relationship with Ward in the dominant role and Price in the submissive role, as related by witnesses and as captured in multiple photographs of Price recovered from his computer."
The affidavit also concludes that, "The evidence demonstrates that Robert Wone was restrained, incapacitated, sexually assaulted, and murdered inside 1509 Swann Street."
Kremin, who at one point worked for a coroner, says the nature of Wone's stab wounds are similar to what you might see in a "ritual murder."
"But then it also looks like a sex party that involved drugs, gone bad," he adds. "So what is it?"
Johnson says he and his fellow editors tackled some of the "squeamishness" elicited by some of the details of the case by inviting a licensed therapist from San Francisco who has practiced with the BDSM community there, to offer his perspective on what could have happened that night.
"It was his opinion: 'Here's how I see what may have happened.' In his experience as a therapist, the dynamic that played out between these three or four individuals, including Robert Wone [as a participant], was fairly provocative. It was frankly an idea that had never occurred to me that he was offering. We presented it as nothing more than this is one therapist's perspective."
While there's a presumption of the defendants' innocence, Greer says no one has explored the BDSM angle "in a real thoughtful way."
"The BDSM, as we have said on the site, it's the contradiction of Joe [Price]'s character," Greer says, pointing to Price's position in the community as the former head of Equality Virginia and as a GLBT-rights attorney.
"There is one sort of image that we put forward in order to gain our civil rights, and that's sort of a 'white-picket fence,' that we're all just mirror images of straight couples. This case doesn't fit nicely into that portrait."
With a wide range of conspiracy theories and topics at hand, it's only natural for the four editors of the blog to disagree on some things.
"We have four very strong personalities, we're very opinionated on everything… and perhaps we give in to hyperbole at times," Brownstein says. "We really have to battle that demon, at least in our posts, to make them fair."
Take, for example, the "Robert Wone was gay or gay-curious" theory.
"It's a question that constantly comes up," Greer says.
"We're not making the accusation that either Robert was gay or that he was even curious," Johnson adds. "[But] if people are asking questions, we don't want to stick our fingers in our ears."
Would Wone have gone out of town to explore his curiosity, or would he have turned to someone he knew, trusted and felt safe with? It's a topic the editors discuss on the blog, with some disagreement, based on their own personal experiences.
While they might disagree on different theories, everyone is in agreement about the purpose of the blog, and the possibility of never knowing what happened inside the Swann Street townhouse on that August night.
"The puzzle of what happened is ultimately that a man was murdered," Johnson says. "Somebody did it. And that's what we're about. We're about pursuing who did it and what happened. The legal trial is not about finding the truth about what happened that night. It's about finding legal guilt or innocence on those charges."
Kremin says, "If they're convicted and there isn't a murder trial, we will never know. At the end of the day, this may still be a complete mystery."
While Wone's case may remain a mystery, the editors say their site serves a purpose regardless, if only to emphasize the humanity of this tragedy.
The editors of the blog visited Wone's gravesite in January at the National Memorial Park cemetery in Falls Church. A picture of Wone's tombstone now marks the header of the blog.
"We did get some flak as far as, 'Did you check this out with the family?"' Greer says. "But we also think that … it was doing justice to the case. It's no longer just the photo of Robert in the office. You need to see where Robert is today."