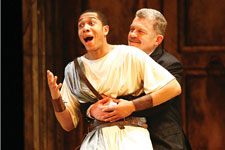 Alas, where to begin? There are but two ways of looking at director Ethan McSweeny's interpretation of Euripides' Ion: It is either a masterpiece of tour-bus accessibility or a violation sufficient to draw the fiery wrath of the god Apollo. Put another way: If you like musical theater, scrapbooking and the confident rattle of your Centrum Silver bottle, this is the Greek tragedy for you.
There is much to be said for bringing a contemporary flair to works that might otherwise be desperately dry and pedantic to modern eyes, but unless that flair contains the deeper spark of irony, it's bound to fizzle. Here, despite short-shorts, camcorders and the (increasingly theatrically ubiquitous) security detail avec earpieces, you'll find more irony in a Jeep Cherokee commercial. McSweeny's attempt to update this story of an abandoned baby who grows up to discover his complicated and not-so-happy parentage results in nothing less than a full-metal-jacket dumb-down of the highest order. Where the interpretation might call for wit, McSweeny and co-conspirator and adaptor David Lan offer up visual gags or one-liners more befitting a Tom Arnold "comedy." In place of ingenuity, McSweeny goes for cutsie, the best of it derived from far better, more imaginative works. The only — and huge — exception to this is the presence on stage of the accompanying cellist, Caleb Jones, who hits it out of the park.
Yet nothing about this near-tragedy is more tragic than the fact that so much fine talent is subsumed in this mire of uneven mediocrity.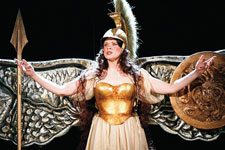 'Ion:' Carol Rosegg
The principals and the ensemble keep a fast pace and handle the choreographed moments well, but few succeed in breaking free of their kitschy bonds. With his good looks, natural warmth and surprising versatility, Keith Eric Chappelle, in the title role, looks well-poised for some kind of stardom involving a screen. Though oozing commitment and potential, he needs the right directorial guide to become the very effective, perhaps even remarkable, stage actor he might yet be. Here, however, he never quite sheds his showman's veneer. Still, Chappelle nicely exudes the essentially incomplete and questing nature of a man who carries the burden of abandonment. He reflects credibly the boy inside who yearns to be held in his mother's arms.
In the role of his maybe mother, Creusa, is an emphatic Lisa Harrow, channeling perhaps a bit too much Judi Dench for comfort. Harrow has a compelling drive but seems to be playing to an arena rather than the Sidney Harman Hall. Her heavy breathing and silent howls appear painted onto her performance. Perhaps it's her way of compensating for the absurdity of the interpretation: If you can't beat it, run with it.
At the core of McSweeny's vision is his Greek chorus, a collection of clichéd females types plucked from the hell of American mainstream media. Shamelessly, McSweeny even includes that hackneyed modern archetype — the "sassy" African-American lady. Though played with as much understated grace as possible by Laiona Michelle, this is so tired it's comatose. Had it all been offered with irony and satire, the chorus could have brought a clever sweetness to the production. Served as pure schlock, it's a foul dish.
The great reminders of what this production could have been are the ever-wonderful Floyd King and Tana Hicken in small but beautifully rendered parts. Thankfully, King is largely left to his own devices and he delivers his Old Counsellor with the kind of comic-timing atop underlying depths that one expects from the Shakespeare Theatre Company. Similarly, Hicken, as Pythia, the strange Priestess who has raised Ion like a son, gives us the only true moments of pathos in her simple but magically effective evocation of loss.
There are those who will find this the most painless piece of classical theater they are ever likely to see while others will consider it cultural torture. You know who you are.