Several songs on U2's new album, No Line on the Horizon (



), clock in at over five minutes, featuring long instrumental passages. It's as if the band heard too much from its singer Bono over the years. And who hasn't? In the past decade, Bono has become better known for his solo humanitarian and international political activism than for his work in the Dublin quartet that gained him stardom in the first place.
"Shush now," The Edge, Adam Clayton, Larry Mullen Jr. – even Bono himself – chant. Literally, chant. On the set's "Unknown Caller," which clocks in at six minutes, the band chants as if they're in a military drill. Most of this song's chants are embarrassing computerized messages that imply far more than the band likely intended. "Re-start, and re-boot yourself/You're free to go," goes one refrain.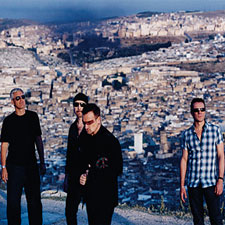 U2
No Line on the Horizon finds the world's most popular rock band recharged after more than four years since its last album — and the new set hits harder than anything we've heard from the band in at least two decades. It's also its most disjointed effort. The band has said it didn't have a clear direction when it set out to make the record with longtime producers Brian Eno and Daniel Lanois, and it shows. A couple grisly garage-rock tunes, including the absolute mess of a first single, "Get on Your Boots," a couple grand and atmospheric epics, a handful of trademarked arena rock anthems — but only a few songs, all told, worth listening to again and again.
Grand gestures don't compensate for often weak lyrics. And the grandiosity certainly doesn't compensate for middling melodies, an affliction striking far too many tracks here – surprising, from the melody makers behind such indelible tunes as "Sunday Bloody Sunday," "Where the Streets Have No Name," "One" and "Beautiful Day," to name just a smattering. Until now, U2's skill at melody making was almost unfailing.
"Magnificent" is one of those strong exceptions here, and a case all by itself for U2's continued relevancy. The whole album germinated with the band in Morocco. This melancholic track features subtle traces of those surroundings, with Arabic sonic sentiment. "Only love, only love can leave such a mark," Bono sings. "But only love, only love can heal such a scar."
Bono yelps and wails in greater preponderance here than on recent albums, becoming almost unhinged at times. The album launches with the bristling title track, with verses featuring Bono wailing and the Edge playing gritty, growling guitar that recalls the White Stripes as much as U2. And on the most epic track, "Moment of Surrender," Bono wails as he plays a wayward soul as this organ-fueled hymn takes its sweet, soulful time reaching its climax. The effect is haunting and moving. It's too bad the album gets weaker as it goes, with boring and unoriginal songs like "Cedars of Lebanon," which sounds like a pale imitation of Thievery Corporation-style chilled global pop.
Later this year, after a summer stadium tour, U2 plans to release a companion album with more meditative songs, based on the principle of pilgrimage and drawn from the same recording sessions. Most likely, the sound will register similar to that of "White as Snow," built on the traditional hymn "O Come, O Come Emanuel." Bono sings the song in the third person, as if he were a soldier dying from a bomb, and these were his last thoughts. "If only a heart could be as white as snow," Bono sings. It's not as high concept as it sounds, or at least, it's not too high concept; it's a rare gem at the end of No Line on the Horizon.
In any case, the companion already sounds like it should be more cohesive – and better – than this. It won't take much.
Advertisement

| | | |
| --- | --- | --- |
| U2: No Line on the Horizon | Depeche Mode: Sounds Of The Universe | Pet Shop Boys: Yes |