As one familiar with England's wild and windy Norfolk coast, there is much that resonates in the Washington National Opera's production of Benjamin Britten's Peter Grimes. Set in a post-war fishing village somewhere between Norfolk and the more southern Suffolk, set designer Robert Innes Hopkins' cluster of plain buildings amid a volatile sky nicely evokes this part of England's southeastern coast at its desolate best. And though this coast is now popular with cosmopolitan weekenders and dedicated ornithologists, even the briefest perusal of a local village newsletter reminds one that the picturesque settlements dotting the coastal road have not lost all of their insular ways and deeply held traditions. Indeed, these villages mark the edge of England's Big Sky territory known as the Fens, a vast area of marsh-turned-farmland worked for centuries by the locals who are still referred to as Fenlanders.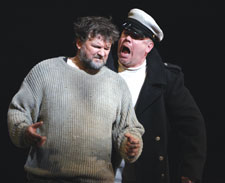 'Peter Grimes:' Washington National Opera
It is a pleasure to be aware of this context when seeing Grimes, but it is by no means essential. Britten, a master of poignant, economical storytelling, wastes no time in dropping us immediately into the middle of this dark, utterly unforgiving tale. In the very first scene we learn that the fisherman and loner Peter Grimes is suspected by his village neighbors of somehow murdering the young apprentice who died while working aboard his fishing boat. And though Britten grips us instantly with the mystery of whether Grimes is some kind of abusive monster or merely a terribly unlucky man, along with the question of what the village is going to do about it, he refuses to give us easy answers. We must live with the uncertainty of whether the "evidence" directs us to share the so-called righteous condemnation of the villagers or whether it is nothing more than a pretext for the villagers' animalistic urge to oust an outsider.
Soaring among these themes with breathtaking emotional power is Britten's score, played beautifully by the WNO orchestra under the hand of conductor Ilan Volkov. This is spectacular music, at once evocative of the uncontrollable energy of the sea as it threatens the village, and the roiling sea of human emotion as it threatens to destroy lives. Britten captures despair, horror, awe and the human cry. Though some may balk at the underpinnings of atonality in Peter Grimes, patience will be rewarded with perhaps the most breathtaking aural experiences found in contemporary opera.
Strikingly good as the tortured Grimes is Christopher Ventris, whose bold, lyrical tenor matches beautifully the disturbing intensity of the music. An excellent, credible actor, he skillfully exudes the unsettling ambiguousness of this man whom we will never really know. He creates memorable presence, repulsive even if innocent, truly repugnant if guilty. The scenes in which Grimes genuinely seems to mourn the death of his first apprentice juxtapose disturbingly with his later manhandling of the boy's replacement. And director Paul Curran subtly shows us the vulnerability of these children without resorting to anything maudlin or clichéd. It is thus all the more disturbing and haunting to wonder at their fates.
Soprano Patricia Racette takes the role of Ellen Orford, the one village woman who, almost despite herself, carries a torch for Grimes and gives him as much benefit of the doubt as she can. Racette gracefully and precisely captures the sad poignancy of this woman who somehow seems to sense — and mourn — the inevitable. Her strong but sweet tone clears the orchestra with ease as she touches on the lost childhoods, and ultimately the lost lives, of the workhouse boys who have been indentured to Grimes, even as she fails to dissuade Grimes from his maniacal work ethic and whatever else may lie beneath.
Bass-baritone Alan Held as Captain Balstrode, Grimes' only other ally, sings with richness and dexterity and his affable but thoughtful Captain makes an interesting counterpoint to the aggressively driven Grimes. Mention must also be made of tenor David Cangelosi as the trouble-making villager Bob Boles, who embodies effectively the free-floating menace inherent in the village.
PETER GRIMES
March 26 and 29
April 1 and 4
Kennedy Center
Opera House
http://
www.dc-opera.org/
Of course, the villagers, who appoint themselves as Grimes' ultimate judges, jury and executioners, are as potent here as the raging seas and the WNO chorus does a fine job. The singing here is huge, nuanced and excellent, and some of the choreographed references to a post-war celebratory mood are fascinating when set against the readiness of this group to turn on one of their own.
At times, commentators have seen this opera as Britten's metaphor for his experience as a gay man during an era when it was still considered criminal. Britten himself did not affirm this interpretation. In this production, the possibility that Grimes is a self-denying homosexual surfaces in the way that he can never quite connect with Orford, who makes herself so clearly available. How far one can take this interpretation is just one more of the mysteries inherent in an opera not to be missed.