Sonia Rutstein was as disheartened as every other gay person by the passage last fall of California's Propositon 8, the anti-gay marriage initiative. "We move so much forward," she says, "then it's like 10 steps back again." But the Baltimore singer-songwriter knows firsthand that the key is perseverance.
"I play all over the world," she says. "Every year I play a little bit farther and for more people. It's very much one to one. And through my concerts that sense of connectivity happens." Rutstein is both a solo artist – who goes by SONiA – and leader of the folk-based band Disappear Fear, which she started with her sister Cindy nearly 22 years ago. She earned her first Grammy nomination five years ago with the studio album No Bomb Is Smart.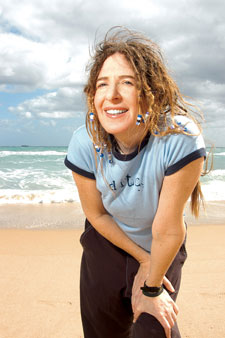 SONiA
"It's meant as a way to get introduced to SONiA and Disappear Fear's music," she says of the wide-ranging compilation Splash, her most recent release. In addition to several live tracks and previously unreleased studio productions, the set includes several tracks from 2007's world-music focused Tango, with songs in Spanish, Hebrew, Arabic and English. SONiA loves the challenge of learning languages: "It's like brain candy. The words just kind of slip around, and you laugh at yourself."
She plans to record a blues-focused Disappear Fear album in the near future. First, though, she's working on producing an "eclectic" debut from young violin prodigy Sam Weiser, whom she met last year when both were on the tour honoring Daniel Pearl, the Jewish-American journalist beheaded in Pakistan earlier this decade.
Next Wednesday, March 18, Disappear Fear will play what SONiA calls "a special performance" at Wolf Trap. "It's with most of my original members — my original drummer, my original guitarist, my original bass player. So I'm very excited." Only her sister Cindy, who now lives in Seattle and focuses fulltime on being a mother, can't make it.
SONiA and Disappear Fear perform Wednesday, March 18, at 8 p.m. at The Barns at Wolf Trap, 1645 Trap Road, Vienna. Tickets are $18. Call 703-255-1900 or visit www.wolf-trap.org.