The stoop is a culture all its own.
It's a city thing, somehow different than the rural or small-town front porch. It's the original social-networking site.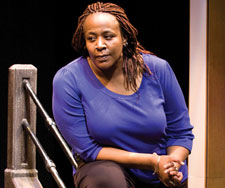 Dael Orlandersmith
(Photo by Matt Goldenberg)
One's front stoop can be a source of pride or the source of a long-running neighborhood feud. In some places sweeping your neighbor's stoop is seen as an act of kindness. In others, to clean a stoop that is not your own is an insult, the implication being that one's neighbor does not care about his home or community.
In yet others, to attempt to clean a stoop with anything short of a bucket of soapy hot water, a coarse brush and a few hours of elbow grease is considered a complete waste of time.
It is makeshift bar and barber shop. A place where the news of the day is shared, the gossip of the street is traded and the memories of the past are as solid as the front steps themselves.
Dael Orlandersmith knows the language of the stoop. She knows the power and community that can exist and grow and thrive on nothing more than the three steps climbing from sidewalk to project door.
More importantly for audiences going to Studio Theatre to see her perform her one-woman show Stoop Stories, she knows how to translate the culture of the stoop in such a way that it is instantly familiar. These are the family stories of an entire neighborhood, urban legends that involve neither a bathtub full of ice nor a cryptic message scrawled in lipstick across a motel mirror.
This is the story of a Polish immigrant who falls in love with the legendary Lady Day while drinking in his favorite corner bar. The dream of a little girl who finds respite in library books and in the patience of neighborhood librarian. The promises of a failed rock star who swears one day she will get her music back from the needle and her guitar from the pawn shop.
There is no moral here and that's what makes Stoop Stories as luxurious as the days of spring that are creeping up around us here in our nation's capital. Orlandersmith lets her words meander out with the rhythm and syncopation of the successful poet that she is. The tales of her New York are offered in prose, in poetry and in snatches of music and body language that is as expressive as any written word could hope to be. We are given Black Harlem and Spanish Harlem, bridges and divisions, sounds and sights and smells that conjure days gone by, neighbors packed up and moved away, and families as rooted to the block as those cement stoops.
As is always the case with the one-person show, the central element to its success or failure is the storyteller. Rarely is there a set to hide behind or a catalog of effects to mask weakness or shortcoming. It's a tightrope walk without a net.
Orlandersmith is in complete control from the moment she steps on stage. With a strong voice and commanding presence, she moves us beyond what we see to what she wants us to see. She becomes the man trying to find the club where Nina Simone is singing, even though the street is filled with people in plastic pants and pink hair. She is the young girl who holds tightly to her poetry even though the world is trying to beat it out of her. She is our guide, our friend and confidant and trusted companion on a walk through streets and neighborhoods we know even if we've never seen or heard or smelled them.
Orlandersmith has pulled up a milk crate and has a few Stoop Stories to tell. You'd do very well to head to Studio Theatre to hear them.