In some places it's Guerilla Gay Bar. In others, like D.C., it's Guerilla Queer Bar. Maybe it's political. Maybe it's just a fun night out. Whatever the name, whatever the mood, the premise is simple: Gay people descend unannounced on a traditionally straight bar for an evening of mixing and mingling. About six years ago, it was an idea that appealed to Boaz Green.
"I'd gone to visit a friend in San Francisco," says Green. "He and his friends were involved in Guerilla Queer Bar there. I thought it would be a nice addition to gay life in D.C. A few friends from law school and I decided to give it a try."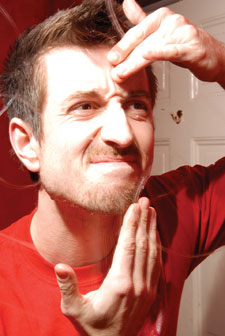 Name:
Karl Jones
Age:
31
Occupation:
Event planner
Hometown:
Tulsa, Okla.
Time in D.C.:
8 years
Orientation:
Queer
Favorite Bar:
Brewer's Art, Baltimore
Signature beverage:
Stout beer and Sparks alcoholic energy drink (tie)
Motto:
Constantly re-evaluate yourself.
And so they did, organizing two successful outings. Then, says Green, the grassroots Guerilla effort "lost steam."
While that might have been the end of Guerilla Queer Bar in Washington, the fates tied Karl Jones (an acquaintance of Green's), Amy Mulry and Christopher Trott together. The three went on to give Washington five years of monthly Guerilla Queer Bar events under the motto "We're here, we're queer, we want a beer."
As with any good show, the curtain eventually falls. The April 3 Guerilla Queer Bar, its five-year anniversary, will also mark the end of Jones, Mulry and Trott's involvement. You'll likely still find Jones and Trott at Taint, the monthly dance party at DC9, but Mulry plans to spend more quiet nights with friends as she works her way through graduate school. It's a transition that Green, 34, partnered and working long hours, can appreciate. Like his long-term successors, however, he also hopes for a continuation.
"It was nice to see other people take on Guerilla Queer Bar," he says. "The concept is that it doesn't depend on the personalities behind it. I'm glad it popped up again. It would be nice if someone does it later on. It's valuable."
Maybe someone will. The future has yet to be written. Until then, there's next weekend's party to look forward to. But if you want to know where it's going to be, you'd better get yourself onto the Guerilla Queer Bar e-mail list at www.guerillaqueerbardc.com, because whether we've come to the end or not, there is still the protocol equivalent of the secret handshake.
THE PLOTTING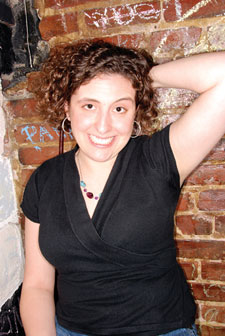 Name:
Amy Mulry
Age:
29
Occupation:
Fundraiser
Hometown:
North Plainfield, N.J.
Time in D.C.:
12 years
Orientation:
Queer
Favorite Bar:
Trusty's
Signature beverage:
Gin and Tonic
Motto:
Everything happens for a reason.
SOME GUERILLAS DO their plotting in jungle strongholds, others in urban crawlspaces. In this case, it was at NGLTF.
"I met Karl really randomly and we really hit it off," Mulry says of her serendipitous meeting with Jones doing volunteer office work at the National Gay and Lesbian Task Force office. She alone answered the ad for volunteers Jones posted on the QUALM (Queers United Against Laughable Mainstream) listserv.
His choice of QUALM as his medium offers a glimpse into Jones' motivations for wanting to revive Guerilla Queer Bar. He may not have been laughing at the mainstream, but he had hoped for more nightlife options after moving here from Arkansas eight years ago.
"Given the inordinate number of intelligent and interesting people in this city, I was really surprised there weren't already tons of diverse options," he says. Everything centered on diva-based club music and dance parties specifically catering to gay men.
"I'm a community organizer at heart, and that's kind of all I've ever known," says Jones. "I'm interested in doing things because I want to build community more so than make money…. [And] I'm interested in things that are rough around the edges."
Had Jones and Mulry been a couple of straight kids, maybe this initial meeting would have led to marriage and children. Instead, their union birthed the renewal of Guerilla Queer Bar in Washington.
"I loved him!" Mulry says of her first impression of Jones. "He has such great energy. It was really easy to talk to him, we were laughing. Sometimes you meet someone and you just get a really good vibe."
As the two labored for the Task Force, the conversation turned to nightlife, then to Green's attempt to launch Guerilla in D.C., and how much fun it had been. It was a short hop from there to wondering aloud why the two of them shouldn't try to meet the challenge. Not only could they be friends, the idea of being nightlife partners with Guerilla Queer Bar sounded just as exciting.
"I was like, 'I'm going to do this. This will be fun. This will be good,"' Mulry remembers. "I'm really glad I did."
THE EXECUTION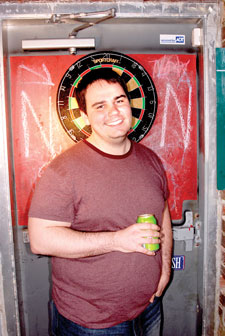 Name:
Christopher Trott
Age:
27
Occupation:
Copy editor
Hometown:
Jacksonville, Fla.
Time in D.C.:
9 years
Orientation:
Gay
Favorite Bar:
DC9
Signature beverage:
Vodka-soda
Motto:
If you seek a pleasant peninsula, look around you.
WITH GREEN'S HELP, Jones and Mulry were on their way to re-establishing Guerrilla Queer Bar in Washington.
Though a little late to the game, Trott quickly established himself as the third leg of the Guerilla Queer Bar stool. Five years ago, having spotted the e-mail announcement, Trott went to his first Guerilla Queer Bar.
"I met Karl there through a mutual friend," he recalls, adding that the event was just what the doctor ordered for the recent Georgetown University graduate stuck in a rut and trying to find his post-college bearings. "I was just sort of enthusiastic, I guess. And Amy and Karl…realized that it was getting big enough that a third person would help. So they just sort of asked me if I wanted to do it."
The cabal was complete.
But rather than marshal their GLBT forces and allies for a series of straight-bar invasions, these three shared values that manifested themselves in far less militaristic ways than one might have suspected. This was not about conquering clubs, but creating community.
"I like the idea of being able to integrate straight friends into my gay life," says Trott, explaining that as the monthly Guerilla Queer Bar scene evolved, it became ever more a way to do just that. "At some of the later Guerillas, I was able to have fun with everybody in the same place, rather than this sort of segregated idea of 'straight bar/gay bar' and you can't mix. I like the idea of shaking things up a little for straight people, in a not-so-in-your-face way. There would be a crowd of gay people at a straight bar, but it wasn't a capital-P protest."
Trott emphasizes that while Guerilla Queer Bar offered an alternative night out, his involvement was not a sort of protest against — or judgment of — a more typical night out in Gay Town.
"I'm pretty ghettoized," he admits with a laugh. "I mean, I live at 17th and R. Laziness just means I go to the bars on 17th Street. But I like to do different things, so Guerilla Queer Bar was a good option for accomplishing that. It was not meant to be a judgment on the ghettoized gay scene. It was just meant to be another option. Doing it once a month helped avoid the appearance of thumbing our noses at the mainstream gay idea. It was just a once-in-a-while alternative. I think that's one of the reasons it appealed to a lot of people."
The community-conscious outings also held an obvious appeal in wonky Washington, offering, says Jones, "jokingly ironic political activism."
"Even if their job sucks at the time, or they don't feel like they're being effective at their nonprofit, or they hate the senator who they're working for and the compromise they just made," says Jones, "they can come to Guerrilla, have a beer, and meet straight people and make a little bit of a change somehow."
Mulry says the dynamic created by the three was crucial for Guerilla Queer Bar's success over these five years, even if that meant she and Trott were often the disciplinarians countering Jones' flights of fancy.
"In temperament, we're a bit different," Mulry explains. "Karl is kind of the idea person: 'Let's do this! Let's try that!' And Chris and I are not. Chris is good at that: 'No, we're not doing that.' We kind of work well like that, because we're not all running off in different directions."
While they work well together, they also work well with the venues.
"Every bar we go to loves us, has great things to say and tells us to come back monthly," Jones says. "The bartenders love us because queer people tip well and they're really well behaved."
Jones and Trott both point to the same night at Georgetown's Rhino Bar & Pumphouse as their favorite Guerilla Queer Bar outing.
"I was a big proponent of that location because I went to Georgetown and I had never gone to Rhino as an undergrad," says Trott. "It has this horrendous reputation as kind of trashy college drinking bar."
Rhino also has a reputation for being popular with Marines. But, as Jones tells it, Guerilla lesbians took over the pool tables, and then Guerilla gay guys started moving the bar tables to clear a dance floor. Eventually, even a reluctant group of macho Marines surrendered to the mayhem and started dancing.
"It was a fun, ridiculous dance party," Jones confirms. Mission accomplished.
"What amazes me about all the other cities [with Guerilla Queer Bars] is the philosophy behind it really seems to be the same," Trott says. Where he's spotted Guerilla Queer Bars executing missions — "I have a Google alert for any time the phrase comes up, which is super nerdy" — organizers seem to share those core values expressed by Jones, Mulry and himself.
"It's really just about integrating and sort of broadening everyone's horizons," says Trott. "It's not a super-militant thing now. I think the original San Francisco one was meant to be more militant and in-your-face. These days, a lot of the stuff I'm reading suggests that it's not. It's meant to show that we can all get along no matter where we are."
As important as blending the gay and straight communities together, Guerilla Queer Bar helped cross other community lines, as well.
"From the start I really wanted it to be something with both men and women, because the D.C. scene is very segregated in that way," Mulry says, adding that she's proud Guerilla Queer Bar got off the ground with a woman involved.
Another bright spot for Guerilla Queer Bar is that it provided a less-intimidating outing for GLBT folks just discovering the tribe, allowing them a gay night in an otherwise straight bar.
One regret she points to is Guerilla Queer Bar's shortcomings along racial lines.
"For the most part, it's been a pretty white crowd, and D.C. is not a white city," she offers. "I really wish there'd been better outreach on that end. I remember an early one, two African-American women had come to a Guerilla. I remember seeing them sitting at a table by themselves. Frankly, I'd had a really bad day. I'd had something really major happen that week and I wasn't in my usual mode of 'Welcome to Guerilla!' and I really regret it. One of them e-mailed later and she was really upset that no one came over to say hello — at all, not just the organizers, but none of the patrons — and that there was definitely a racial component to it. I felt really bad that I hadn't gone above and beyond."
There is no doubting, though, that Guerilla Queer Bar has been gaining popularity. Jones says Guerilla Queer Bar has 2,000 people on its Yahoo! group listserv and 1,000 members in its Facebook group. And networking sites — Facebook, in particular — have made organizing easier.
THE DEBRIEF
EIGHT YEARS SINCE he moved to Washington, Jones says D.C.'s gay nightlife has improved mightily with multiple gay-friendly events at straight bars, and even several gay bars hosting events featuring alternative music and mixed crowds.
"It's fun to be able to party hop to things that I want to do," he says, having co-promoted several parties in the city, most notably Taint at DC9 and Crack, now at Town.
From his perspective, D.C.'s increased options for alternative nightlife allow his other parties to be simultaneously more experimental and more professional in their productions. For Taint, that means "to continue challenging ourselves to feature new music." For Crack, that means "to continue to develop our sense of humor and become more professional with our comedy."
Still, he's stepping down from Guerilla Queer Bar, as are Mulry and Trott.
"We've all kind of started taking on new responsibilities, and we're all in relationships now and don't go out as much," says Jones, who has moved to Baltimore since starting Guerilla Queer Bar.
Mulry can't help but interrupt herself with some sentimental laughter as she dissects her relationship with her Guerilla Queer Bar compatriots, a bond she's not ready to leave behind.
"I've become very close with them," she says. "I consider them both very good friends. I know that will continue after Guerilla ends. I've never had a fight with either of them. I can't even imagine having a fight with them."
As his tour of duty comes to an end, Trott reflects on the mission and can say with Guerilla gusto — though gusto in Trott's case may sound a bit like an endearing Eeyore after snorting a pleasant blast of nitrous oxide — that it's been a job well done.
"I'm super-happy with everything we've done with it," says Trott. "It's been one of my favorite things over the last five years to do in the city, in terms of doing something different, meeting new people and having fun. It's been a big deal. It's been a huge part of my life. Proud is definitely a word I would use."
As some of the world's great military minds have scanned their battlefields and likely felt a resonance in their souls, Gen. Mulry is no different. Perhaps it's the power she'll miss the most.
"I just kind of love…when it's at the height of the night and I find a corner of the bar from where I can look out over the room and I see a lot of people having a good time, a lot of people who wouldn't have been there if there hadn't been a Guerilla. That makes me so happy. I love that. That's my happy memory."
The next Guerilla Queer Bar event will be held Friday, April 3. For more details, sign up to receive the location when it is announced by visiting www.guerillaqueerbardc.com.