There's something a little off about T-shirts that pay homage to the famous "I [heart] New York" logo by swapping "New York" out for the name of another city.Try putting in "D.C." It doesn't look right. Sort of like a lesser imitation of the original, to say nothing of the differences in style between the Big Apple and Big Government.
"D.C. is a little more buttoned up," says Richard King, gay designer and owner of the locally-based K.INC Clothing. Accordingly, King decided to come up with a clever improvement on the theme, expressing civic pride with D.C. style. He reworked the whole approach, getting rid of the image of the heart symbolizing "love," before finally settling on "I Heart the 202."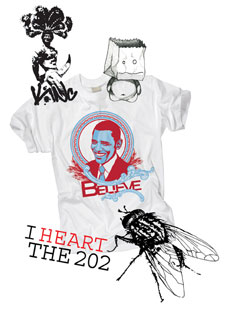 K.INC designs
It's just one of the many T-shirts the 34-year-old sells on K.INC Web site, an enterprise he launched in 2004. "[I did it] out of annoyance that there were so many T-shirts with 'clever little sayings' on them," he says. "I got tired of seeing those around. I thought I would bring fine art and what I've learned in graphic design to the T-shirt."
The South Korean native, who came to Hanover, Md., with his parents as a young child, studied fine art and graphic design at the University of Maryland. He's currently earning his certification in Web development from the Boston University's Center For Digital Imaging Arts, on the school's D.C. campus in Georgetown.
So, how do you know if a K.INC original is right for you?
King says his shirts are popular among "guys with a sort of upbeat sense of humor. These shirts are not worn by an Abercrombie & Fitch crowd."
His designs, which adorn T-shirts for both men and women, include everything from an inspired President Obama drawing on a shirt called "Believer," to a silhouette of a female doing what comes naturally. That one's called "Girl Fart."
So how does King find inspiration?
"Randomly," he says. "Just reading, seeing what the trends are, and what everybody else is doing. It's sort of like everything else: It just sort of comes to you."
King says that being gay is a fixed variable in his formula for creativity.
"It's typically said that homos are attuned to fashion and design, and are aesthetically pleasing," he says. "I think that's definitely the case with me."
Locals who frequent JR.'s might remember King as a former bartender at the gay mainstay, where he pulled drafts and mixed martinis for four years. But bartending is merely a means to help pay the bills. First and foremost, King is an artist.
"I'm starting to do screen prints on plywood," he says. "I'm getting back into painting with acrylics and just drawing."
No doubt he'll be getting many of his new designs down to a T.
Richard King's shirts can be found at Meeps, 2104 18th St. NW and at Circle Boutique, 1736 14th St. NW, or online at www.kincclothing.com.