Some four and a half years ago, the original American Idol vowed in song to "take a risk, take a chance, make a change and breakaway."
"I'll spread my wings and I'll learn how to fly," Kelly Clarkson sang on the title track to 2004's Breakaway. "I'll do what it takes, 'til I touch the sky." She certainly broke away from simple Idol-worship with that hugely successful album, her second, winning over even more converts to her brand of power-pop.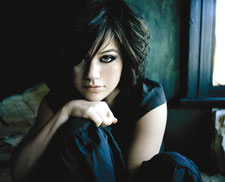 Rekindled greatness: Clarkson
But then, like Icarus in Greek mythology, she apparently got too confident in her ability, failing to heed the warnings of her mentor, pop-Svengali Clive Davis. She didn't merely touch the sky with her 2007 follow-up My December. Her wings got scorched by the sun, and she fell to earth.
Sure, that's laying it on a bit thick. My December moved a million copies in the U.S. alone, after all. So for all its disappointment, it wasn't exactly a flop. Still, did you hear it? Forget about that dark, dreary, tuneless tragedy if you can — and Clarkson's latest will more than aid in the cause. All I Ever Wanted is a return to form for the 26-year-old Clarkson. The sound is bright and sunny, her voice amped up and electrifying, and she tackles punchy power-pop chords, big choruses and clompy beats to make her contemporaries and wannabe successors, from Pink to Miley Cyrus, jealous.
Even her album cover reflects how much brighter the sound is here, with Clarkson wearing a yellow shirt under a black leather jacket, and a splotch of sun behind her. Not to mention the too-cute glimmers on the edges of the title banner.
"Maybe I was wrong for trying to pick a fight," Clarkson sings on the album's mammoth first single, "My Life Would Suck Without You." But if she's referring to going against Davis' advice to include more catchy power-pop on My December, the fight was worth it. My December seems to have been a useful mistake, a lesson learned. It allowed Clarkson to get her pop bearings, to see what she can and cannot do.
Ultimately, All I Ever Wanted is everything you could want at this point in time. It's her best set yet. While "My Life Would Suck Without You" isn't quite as pleasingly perfect as "Since U Been Gone," her original outing with Swedish producers Dr. Luke and Max Martin, it is insanely catchy, and a surefire way to make you smile, even dance, in spite of the lyrical odds: "Being with you is so dysfunctional… But I can't let you go."
Despite the bright sound, the lyrics throughout the album are more consumed with being hurt, feeling conflicted, getting peeved. It takes work to make Clarkson happy, even content. Another standout track from the album, "Whyyawannabringmedown" is an angry song wholly built from the blaring bridge of her Breakaway hit "Walk Away."
"Don't Let Me Stop You" is another direct descendant of "Walk Away," especially with its vulnerable lyrics. "If you wanna leave, baby, you can leave," Clarkson sings. "Just don't pretend that you're into me, if it ain't true/No, don't let me stop you."
KELLY CLARKSON
All I Ever Wanted
Sony/BMG
$18.98

Clarkson co-wrote six of the tracks here – three more than Breakaway, but seven less than My December. She split the difference, and got it twice as good. She writes chiefly with Ryan Tedder, of OneRepublic ("Apologize"). His heavy production hand certainly weighs down the proceedings now and then here. "Already Gone," for example, sounds like it came straight out of Leona Lewis' overproduced hit factory. And no surprise: Tedder co-wrote and produced "Bleeding Love." There are some other misfires here, including the bland "Save You," which isn't saved by its experimental classical bridge (though it does add some interest.)
"I Do Not Hook Up" and "Long Shot" were originally recorded by Katy Perry. Clarkson more than makes these anthems about beating the odds at love her own. Too bad they aren't actually her own, since it means Perry, who seems to be spreading like mold on your favorite cheese, will be getting royalties.
Clarkson co-wrote two songs toward the end of the set, and both feature a sunny, surfer-girl vibe. "I Want You" is especially winsome, with Clarkson at her most whimsical, channeling '60s girl groups and pre-Timbaland Nelly Furtado. "I want you-you-you, you-you-you-you. Oh, ah, ah-ah-ah, I want you," she sings. The feeling is certainly mutual once again.
Advertisement

| | | |
| --- | --- | --- |
| Kelly Clarkson: All I Ever Wanted | Depeche Mode: Sounds of the Universe | Franz Ferdinand: Tonight |