Neil Tennant wants to rekindle the romance. "I'd survive with only memories, if I could change the way I feel," the Pet Shop Boys frontman sings on "The Way It Used to Be," from the duo's new album, Yes (


). "But I want more than only memories. A human touch to make them real."
Chances are, your memories of the Boys run deep. The pioneering dance/electronica duo of extrovert Tennant and introvert Chris Lowe emerged in the mid-1980s, just as the dance/electronica genre was coming into full bloom. They've since inspired and worked with everyone from Madonna to David Bowie, Kylie Minogue to Robbie Williams. Even Liza Minnelli tapped the Boys to produce an album.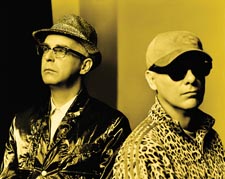 Pet Shop Boys; Tennant and Lowe
(Photo by Alasdair McLellan)
But memories are mostly all that's left now. And not just because the British duo hasn't had much success stateside in more than a decade. Tennant and Lowe's recorded output has left us wanting, as well. Just when you get the notion things may change — 2006's Fundamental, for example, was actually decent, and the duo's best set since 1999's Nightlife — along comes Yes. Oh sure, there are several good songs here, but several good songs don't a good album make, especially when there are several times as many bad ones.
At a few turns here, the duo even sounds like it's running out of ideas, musically as well as lyrically. If the Boys are not "Being Boring," to quote an earlier hit, too often their music is.
Occasionally here, it's so boring — and Tennant's signature wan tenor so lifeless — it's comical. "Building A Wall," for example, is a satire on our culture of fear and xenophobia. But the music is bland, featuring a wall of cheap, dated sounds, hushed and distorted. The lyrics are trite, and repeated ad nauseam. "I'm building a wall, a fine wall," Tennant labors. "Not so much to keep you out, more to keep me in."
"The Way It Used to Be" is actually one of the stronger songs on the set, and it's bristling with feeling. There's a faint rumble of electric guitars in the background, and dramatic tempo shifts and backing chorus, with electronic flourishes like the Boys of yore. The song harkens back to the classic Very, the very best Pet Shop Boys album.
For Yes, the Boys hired the production team Xenomania, responsible for recent success of several young British pop acts (Girls Aloud, Sugababes). But Xenomania doesn't make the Boys sound young. Diffident, sure — the Boys seem a bit reticent to do or say anything too outlandish here.
About the perkiest the Boys get is on the back-and-forth drive of first single "Love, Etc." "Too much of anything," Tennant advises, "is never enough." "You need more," the backing chorus repeatedly chants in this swinging satire of overindulgence. "Pandemonium" is a bit tinny and all-too-predictable in sound, and its lyrics, about the sparks set off by a new love, are uninspired: "Is this a riot or are you just pleased to see me?"
"You don't have to be in who's who to know what's what," Tennant launches into "Did You See Me Coming?" a Minogue-esque superficial ditty. And the second verse, the inverse of the first: "You don't have to be what's what…" Why why?
Also perplexing is the album's final track, "Legacy," a forlorn, soporific, self-referential ballad. "That's it. The end," Tennant talk-sings. "Look at me, I'm so over it. And you, you will get over it…in time." The song features a weird, punk-style bridge that comes from out of nowhere, as if the duo is trying to wake us up, or hold our interest.
Too late. We're so over it.
Advertisement

| | | |
| --- | --- | --- |
| PSB: Yes | Depeche Mode: Sounds of the Universe | Erasure: Total Pop, First 40 Hits |