During his elementary school years, you wouldn't find Brian Watson on the busy playground with the other kids during recess. Instead he preferred to stay inside his school's empty cafeteria, practicing the piano.
"I did a lot of things independently. My maturity level was different," the 27-year-old says, adding that he was an only child until his sophomore year of high school. "I wasn't interested in videogames. I was interested in music."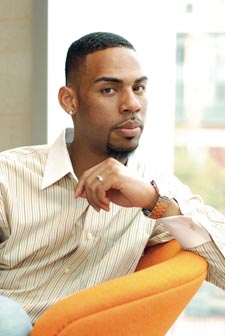 Brian Watson
Watson's maturity might also be attributed to his nights with his mother while growing up in Oklahoma.
"My mom was a counselor for a group home. She would take me to work sometimes," he recalls. "She would work the graveyard shift. I would see the group homes with two or three people in one room, and the state that they were in."
He also saw the positive impact the transitional home had on the people who lived there.
"We would see them years later, and they would talk about how they'd improved and how they had kids now. I think that's probably really how I got into doing the type of thing that I do."
There's also the "nurturing environment" he was raised in, which Watson attributes to his family and church.
"It's always been first nature to me to help people out."
And he has done just that since leaving behind dreams of becoming a high school music teacher. Instead, he completed a medical-assistant program at the Delaware County Community College. He moved to Washington afterward.
In the summer of 2008, Watson, who today works as the director of programs at Transgender Health Empowerment, helped launch the Wanda Alston House, the city's first transitional home for GLBT youth, ages 16 to 24. That and other efforts have garnered him prominence among the city's GLBT community. In addition to being celebrated as one of tomorrow's leaders with a Metro Weekly Next Generation Award, Watson has been named a Capital Pride Hero and honored with the Gay and Lesbian Activists Alliance's Distinguished Service Award.
The recognition is worth more than many might realize. Watson says there are some days he thinks about throwing in the towel.
"Trying to argue for more money from the City Council, or trying to write grants and then you don't get the money, things like that can be really, really discouraging. But the fact that I'm able to see the difference that I'm making helps," he says. "That's really what encourages me. And not that I do it for awards, but I think that when things like this happen, you realize that you must be doing something right."
In addition to working for THE, Watson is president of the D.C. Coalition of Black Lesbian, Gay, Bisexual and Transgender Men and Women, he serves on the advisory committee to the Mayor's Office of LGBT Affairs, and is involved with several other GBLT, HIV/AIDS and health-related organizations.
"I used to hear people say, 'If you don't do it, somebody will.' But over time I've come to find there's not always someone else who's willing to step up. Not all the time will somebody be there, who will take the time that you would take, to work on a specific issue.
"While it may be sometimes a little tiring, I enjoy it at the end of the day."
When he's not working, Watson likes to perform, lip-syncing to artists such as Sylvester, Tevin Campbell or Justin Timberlake. He also likes the simple things in life: movies and shopping.
Thinking about the road ahead, Watson says he wants to go back to school to become a licensed independent clinical social worker. He also wants to launch a nonprofit organization someday.
"I think it would probably be around training businesses and government agencies to be more sensitive around LGBT issues, and probably provide training on an ongoing basis," he says. "No one really does that. While different agencies may provide training here and training there, you don't really have an entity that just specializes in LGBT issues and transgender issues."
To up-and-coming activists who are hoping to make a difference in D.C., Watson offers a little bit of advice.
"At the end of the day, like anything, it's hard work. You will get opposition. You will get older people telling you that you don't know what you're talking about. You get younger people who don't care what you're talking about. But if you have a passion for it, and if you think it's right, definitely do it. We need more young leaders. We need people to step up."