P Street Beach isn't really a beach, but that won't keep organizers of Youth Pride Day from making some waves with this year's lineup at the grassy park near Dupont Circle.
Crowds coming out for Youth Pride, running from noon to 5 p.m. on Saturday, April 25, can expect variety at the event, which premiered in D.C. in 1996: plenty of speakers, a dance lesson/performance on how to vogue, and music from local artists, including the soulful sounds of noon:30.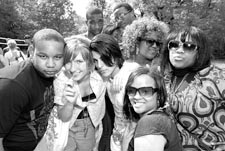 Participants in a former Youth Pride Day in DC
Nikisha Carpenter, 30, president of the Youth Pride Alliance, which organizes the annual event, will open the celebration at noon with a welcoming.
"I'm excited that it's been 13 years," Carpenter says of Youth Pride's longevity. "Christopher Dyer [director of the Mayor's Office of LGBT Affairs and founder of the Youth Pride Alliance] and other board members back then had a vision for youth to socialize and network and find other support in their community and I'm just happy to be continuing that legacy."
Carpenter first attended D.C.'s Youth Pride Day in 2000, the same year she arrived in the District from Peoria, Ill., for a job opportunity.
"It was amazing and I wanted to be a part of it."
She joined the Youth Pride Alliance board in 2006.
Carpenter says she knew she was a lesbian in high school, but didn't feel like she had a support system until she came to Washington.
"It wasn't that bad," she says of Peoria, "but it's the Midwest. I was in college at the time and trying to figure it all out. It wasn't until I moved to D.C. that I found a community of people like me, that we were supportive of each other."
Robin Wood, 24, vice president of the Youth Pride Alliance, says he knew he was gay when he was 14.
"It wasn't really a surprise," he says. "I knew that I was different."
Wood says he did not really come out until he was in college because he feared what might happen if he were to come out.
"I was in a high school environment where the only other kid who was gay was just taunted mercilessly. I grew up in Boulder, Colo., and it's a very welcoming an accepting community as long as you're talking about helping homeless people and other social-justice issues. The gay thing for youth was not really on the table."
In other words, there was nothing like Youth Pride Day.
"There was a sense of isolation without there being something that made young people visible and celebrated that part of that community," Wood says. "It made it easy to feel like maybe there was only one other kid in my area that felt that way, or identified the way, I did."
Wood adds that a Boulder-based Youth Pride Day back when he was coming to terms with his sexual orientation could have made things much easier.
"I probably would have come out in high school had there been an event like Youth Pride where I could build a social network outside of my high school."
But he waited a few years, until 2003, when he came to D.C. to attend George Washington University. It was when he was working at the National Gay and Lesbian Task Force that he attended his first Youth Pride Day in D.C. and decided to get involved.
Carpenter says it was Youth Pride Day's atmosphere, geared to GLBT youth between 13 and 21, that inspired her to get involved.
"Capital Pride does a lot and they're starting to incorporate more youth into their events," she says. "But Youth Pride gives kids the opportunity to get exposure to groups and to network. They can see other youth like them, meet new people — we get kids from D.C., Maryland and Virginia — so kids you might not see in school or at other events."
Paul Marengo served as the Youth Pride Day director from 2002 to 2006. Marengo, 38, came out when he was 16, and says his family was very supportive from the beginning. This year he is serving as the chair of the Youth Pride Alliance. He says this year's festivities will emphasize HIV/AIDS-prevention efforts.
"The HIV/AIDS rate has gone up and is nearing epidemic proportion, so there's more of a prevention message from the different organizations and speakers this year," Marengo says. "There will be a lot of fun stuff for the kids as well, so there's not just listening to speakers."
That includes games on the field, and entertainment on the stage, including "testimonials."
"Testimonial speakers talk about their coming-out experience for about two to three minutes. One of the reasons we have testimonial speakers is for youth who are maybe not out, who can see sort of themselves onstage. It also allows GLBT youth to meet other GLBT in a safe-space setting. It allows them find services that they may need in a safe environment. It's a Pride event for kids."
Youth Pride Day is scheduled for 12-5 p.m., Saturday, April 25, at P Street Beach, at P and 23rd Streets NW; the Infatuation dance, for people ages 13-21, is scheduled for 5-9 p.m. at the Church of the Pilgrims, 2201 P St. NW; tickets $5. For more information visit www.youthpridedc.org.