"People should expect a different look from what they normally see," says Cherry Fund co-chair Allen Sexton, talking about the nonprofit organization's annual weekend event. This year's parties are being organized under the umbrella Taste 4 Life, rather than as a full-scale Cherry Weekend with its own independent productions. Most events are being held on nights when host clubs already have an established following, such as Apex's Thursday College Night. And all patrons will pay only slightly increased cover charges to attend.
"We're making sure we don't have any outlandish pricing," says Sexton. "And we're not having to pay for any venues this year. We've scaled back across the board so that at the end of the day, we are giving more back to the community."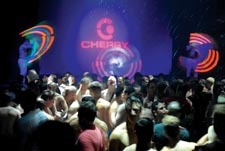 Cherry
Host venues have made arrangements to give proceeds from the parties to the Fund. In a month or so, the Fund will announce how much was raised, inviting nonprofits targeting HIV/AIDS to apply for grants. The Taste 4 Life moniker is a reflection of the Fund's renewed focus on fighting HIV/AIDS.
This year's festivities include a fashion and style show at Town Thursday evening, an art event at the Carnegie Institution Saturday afternoon and a couple women's parties — one at Fab Lounge Friday, another at Cobalt on Saturday.
But the main attractions remain its dance parties. Friday night's event is at the new Ziegfeld's/Secrets complex. The club's Ladies of Illusion will perform a special "major production number" to open the night, and Taste 4 Life volunteers will dress up both floors for dancing. Ziegfeld's resident DJ Spike will rotate with Cherry veteran DJ Jace, while upstairs, gay circuit DJ Sin Morera will spin tribal house tracks, for both the club's dancing patrons as well as its usual cavalcade of strippers.
Saturday night marks the Fund's debut at Town, as well as the D.C. debut of Montreal DJ sensation Stephan Grondin. Sexton says organizers will be working a "wow factor" for the party, adding lights and d&eaccute;cor. The weekend culminates at Cobalt Sunday night, with DJ Paulo, one of the circuit's very best. Sexton has high expectations for the night, in particular praising the club's remodeled dance floor.
"It should be an intimate party, with a great crowd and lots of energy," he says.
The Cherry Fund's Taste 4 Life is this weekend. For complete details, visit www.cherryfund.org/weekendevents.shtml. To order weekend passes, please visit www.boxofficetickets.com/cherry.