Where's the rage in Outrage?
Director Kirby Dick, who last covered the Motion Picture Association of America's rating system in This Film Is Not Yet Rated, tackles a seedier topic in his latest documentary, Outrage: the hypocrisy of likely gay officials who vote against the GLBT community. In a film that crisscrosses D.C. multiple times and wanders up and down the halls of Congress, Outrage examines a series of sensational stories from a psychological and sociological perspective in an attempt to make sense of men who vote against their very self-interests. Yet in doing so, Outrage manages to make sex scandals academic and dull.
Admittedly, Dick captures his audience fast by playing audio excerpts of everyone's favorite Idahoan, former Sen. Larry Craig, trying to explain that he tapped a police officer's foot in a bathroom stall. Scenes from Craig's press conference, featuring his ironic "thank you all very much for coming out today" welcome, and his interview with Matt Lauer with his wife by his side, tell his story in a manner that is both amusing and sad. Let's be honest — hypocrisy framed well can be funny and the sheer desperation of Craig's denials is laughable. But Dick blows his wad too soon on Craig's story and the rest of his examples turn repetitive.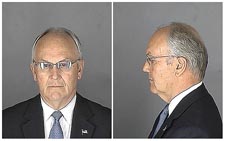 Larry Craig featured in the documentary 'Outrage'
Other greatest hits of recent outings that Dick focuses on include Rep. Edward Schrock of Virginia who immediately resigned, the failed outing in 1992 of Louisiana Congressman Jim McCrery, and the crotchety former New York Mayor Ed Koch. The cases against these men range from hard evidence gathered by blogger and professional outer Michael Rogers, to unconfirmed "I know a guy who says…" stories. What is never up for debate is the harm these accused officials do in office, voting against law after law that would provide legal protection for gay and lesbian Americans.
One of the running profiles throughout the film is Florida Governor — and potential Republican presidential nominee in 2012 — Charlie Crist. Using stories gathered by local reporters and "trends" such as Gov. Crist's dating patterns during election season, it's clear that we're supposed to believe that he's a gay man trapped in the closet. And Dick makes a compelling case.
A far less compelling case is Dick's assertion, stated at the beginning of the film, that mainstream media outlets are engaged in a vast conspiracy which allows these gay men (no closet-lesbians are profiled) to stay in the closet. One theory is that the media, perhaps by promoting a need for reporters to stay in the closet, are not doing their jobs properly. Whether a person's sexual orientation is relevant to a story, because there are certainly countless instances when it has been used against gay people, isn't broached.
The biggest impediment facing Dick in making this movie, and one he doesn't really overcome, is getting into the heart of his subjects. Understandably, the very fact that many of these closet cases are still living comfortably back by the shoe rack make firsthand accounts pretty hard to come by. The exceptions are former New Jersey Gov. Jim McGreevey and his ex-wife, Dina Matos McGreevey. They alone put a voice to the subject at hand; he explains why denying his sexuality was so important and she professes her innocence in the whole ordeal.
OUTRAGE

Directed by Kirby Dick
95 Minutes
No Rating
Opens May 8
Landmark E Street Cinema
The vast majority of people interviewed for the documentary are openly gay, high-profile, well-coached movement leaders who analyze the situation. It's a who's who of gay insiders (mostly white and mostly male) sitting in stylish settings and saying the right things at the right time. And that's how a story about outings, and sex scandals, and illicit affairs, and double lives becomes an over-thought dialogue.
Despite all the condemnation and raging — well, griping is a more appropriate word to match the tone of the film — most of those interviewed are adamant that it's the closet which is the real focus of their anger. It's a "hate the closet, not the closeted" mentality. If only we lived in a world where people could be themselves, then things wouldn't be so bad.
One of the most important themes from To Kill a Mockingbird is Atticus' statement that it's impossible to know a person until you try on his shoes and walk around in them for a while. Dick is trying to understand politicians who deny their own identity and self-worth, but he can't put his audience in their shoes because the closet door is locked too damn tight. It's a valid attempt, but he doesn't get very far down the path of understanding before his film starts to limp.